---
Gerd Stuhlmacher
Partner
Norton Rose Fulbright LLP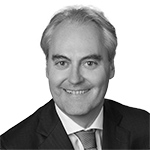 Gerd Stuhlmacher
vCard
---
Related services and key industries
Beratungsfelder
Branchenschwerpunkte
---
Biography
Gerd Stuhlmacher ist Rechtsanwalt für Energierecht in München und Mitglied des deutschen Energy Teams.
Er ist anerkannter Experte in allen Aspekten des deutschen und europäischen Energierechts, insbesondere beim internationalen Geschäft mit Strom, Gas und LNG. Neben der Strukturierung von Commodity-Transaktionen aller Art hat er sich insbesondere auf die Compliance mit Marktaufsichtsregeln spezialisiert. Gerd Stuhlmacher hat umfassende praktische Erfahrung in Preisanpassungsverfahren, Umstrukturierungen und M&A-Transaktionen im Energiesektor.
Gerd Stuhlmacher stieß 2017 als Partner zu uns. Zuvor war er seit 2008 Director of Legal and Compliance bei E.ON Global Commodities SE, wo er die gesamten Handels- und Vertriebsaktivitäten des E.ON-Konzerns in Deutschland und weltweit verantwortlich begleitete. Er begann seine Karriere bei E.ON in München im Jahr 1999.
Er vertrat E.ON im Legal Committee des BDEW sowie in den Industrieverbänden Eurogas und EFET und initiierte diverse Initiativen zur Erstellung neuer Energiehandelsverträge nach EFET-Standard und zur Überwindung regulatorischer Hindernisse im grenzüberschreitenden Handel.
Gerd Stuhlmacher studierte an der Freien Universität Berlin mit den Schwerpunkten Wettbewerbs-, Kartell- und Gesellschaftsrecht und legte dort sein zweites juristisches Staatsexamen 1997 ab.
Gerd Stuhlmacher ist deutscher Muttersprachler, spricht fließend Englisch und verfügt über gute Spanischkenntnisse.
---
Ausgewählte Mandate
Representing a leading energy trading company in price adjustment disputes regarding long term LNG and gas import contracts.
Advising a German energy wholesale company on disputes regarding the validity and enforceability of power supply contracts with industrial customers.
Advising a gas storage provider on disputes on long term capacity booking and storage agreements.
Advising various utilities/energy companies on energy trading matters, including agreements for physical and derivative trading, long term supply and offtake agreements regarding power, gas and LNG as well as netting opinions.
Advising various utilities/energy companies on compliance matters, including defense against insider trading and market manipulation allegations, advice and training on compliance with national and European market regulation and trade sanctions, introduction and training on general compliance programs and internal investigations.
Publikationen
Herausgeber "Grundriss zum Energierecht", ein Grundlagenwerk zum Energierecht, 1. Auflage 2010, 2. Auflage 2015
Autor von "Insiderhandelsverbot auf den Energiemärkten – eine völlig neue Welt?", RdE 2012, 32
Autor von "Unlauterer Wettbewerb und Werbung für Energieprodukte" in Säcker, Berliner Kommentar zum Energierecht, 1. Auflage 2004
Co-Autor von "Energie- und Warenderivate" in Zerey, Handbuch Finanzderivate, 4. Auflage 2016
Co-Autor von "Energiehandelsverträge" in Schöne, Vertragshandbuch Stromwirtschaft, 2. Auflage 2016
Co-Autor von "Energiehandelsverträge im Stresstest", E.M.W. 3/2009 (mit Michael Cieslarcyk)
Mitgliedschaften und Aktivitäten
Herausgeberbeirat der Corporate Compliance Zeitschrift des C.H. Beck Verlags
Förderverein des Instituts für Energierecht an der Universität Köln
Lehrbeauftragter für Europäisches Energierecht an der Fachhochschule Kufstein in Tirol (A)
---