---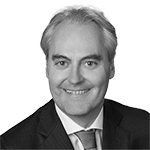 Gerd Stuhlmacher
vCard
---
Related services and key industries
Related services
Key industry sectors
---
Biography
Gerd Stuhlmacher is a regulatory lawyer based in Munich and a member of the German energy team.
He is highly regarded for his knowledge in all aspects of German and European energy law, including international trading of electricity, gas and LNG. Besides the structuring of all types of commodity transactions, he focuses on compliance with regulatory requirements of the energy trading market. Gerd also has first-hand experience in price adjustment disputes, corporate reorganizations and M&A transactions in the energy sector.
Gerd joined the firm as a partner in 2017. Before joining the practice, he had been the Director of Legal and Compliance for E.ON Global Commodities SE since 2008, where he was responsible for providing legal support to the group's German and global trading and wholesale activities for over ten years. He started his career with E.ON in Munich in 1999.
He represented E.ON in the Legal Committee of BDEW, the German Energy Industry Association, as well as in Eurogas and EFET, both industry associations for European energy companies. He initiated multiple initiatives for the creation of new trading contracts based on the EFET-Standard and overcoming regulatory obstacles in cross-border trading.
Gerd completed his qualification as a German lawyer in 1997. He holds a law degree from Freie Universität Berlin, where he focused on competition, antitrust and corporate law.
Gerd is a German native speaker, is fluent in English and has a good command of the Spanish language.
---
Representative experience
Representing a leading energy trading company in price adjustment disputes regarding long term LNG and gas import contracts.
Advising a German energy wholesale company on disputes regarding the validity and enforceability of power supply contracts with industrial customers.
Advising a gas storage provider on disputes on long term capacity booking and storage agreements.
Advising various utilities/energy companies on energy trading matters, including agreements for physical and derivative trading, long term supply and offtake agreements regarding power, gas and LNG as well as netting opinions.
Advising various utilities/energy companies on compliance matters, including defense against insider trading and market manipulation allegations, advice and training on compliance with national and European market regulation and trade sanctions, introduction and training on general compliance programs and internal investigations.
Publications
Editor of "Introduction to Energy Law" ("Grundriss zum Energierecht"), a comprehensive textbook on all aspects of Energy Law, 1st edition 2010, 2nd edition 2015
Author of "Insider Trading Prohibition at Energy Markets - a complete new world?" ("Insiderhandelsverbot auf den Energiemärkten – eine völlig neue Welt?"), RdE 2012, 32
Author of "Unfair competition and marketing of Energy products" ("Unlauterer Wettbewerb und Werbung für Energieprodukte") in Säcker, Berlin commentary of Energy Law (Berliner Kommentar zum Energierecht), 1st edition 2004
Co-Author of "Energy and commodity derivatives" ("Energie- und Warenderivate") in Zerey, Handbook Financial Derivatives (Handbuch Finanzderivate), 4th edition 2016
Co-Author of "Energy Trading Contracts" ("Energiehandelsverträge") in Schöne, Contract Handbook Power Business (Vertragshandbuch Stromwirtschaft), 2nd edition 2016
Co-Author of "Energy trading contracts under stress testing" ("Energiehandelsverträge im Stresstest"), E.M.W. 3/2009 (with Michael Cieslarcyk)
Memberships and activities
Editorial committee of the German monthly "Corporate Compliance Magazine" of C.H. Beck publishers
Sponsoring Association of the institute for energy law at the University of Cologne
Lecturer for European Energy Law at the Fachhochschule Kufstein, University for applied sciences.
---
Knowledge
Publication | April 10, 2018
Publication | March 2018