Giorgio Manca
Senior Associate
Norton Rose Fulbright Studio Legale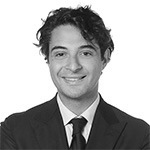 Giorgio Manca
vCard
---
Related services and key industries
Related services
Key industry sectors
---
Biography
Giorgio Manca is an employment and labour lawyer based in Milan. His practice covers contentious and non-contentious work.
Giorgio has extensive experience in matters relating to commercial agency contracts. He regularly advises clients on individual and collective dismissals, transfers of undertakings and on the daily management of employer-employee relations.
He has advised companies in negotiations with unions during mass redundancy procedures and has considerable expertise in helping companies active in a wide range of industry sectors to reach mutual termination agreements with commercial agents.
Giorgio has represented clients in litigations before the Italian employment courts. On a recent matter, he advised a leading company active in the consumer credit sector in relation to a major litigation involving one of its former agents.
Giorgio graduated with honours (cum laude) from LUISS - Libera Università Internazionale degli Studi Sociali in Rome. He is an Assistant Professor of Employment Law at Università degli Studi dell'Insubria, in Como and Varese.
He regularly writes for legal publications. His recent publications are:
"Variazioni peggiorative e concorrenza delle filiali non sono giusta causa di dimissioni dell'agente", Quotidiano del Lavoro, Il Sole 24 Ore, May 21, 2018
"Ferie arretrate: no all'indennità sostitutiva per il dirigente apicale", Diritto 24, Il Sole 24 Ore January 30, 2017
"Arresto per detenzione di sostanze stupefacenti: legittimo il licenziamento per giusta causa", Diritto 24, Il Sole 24 Ore, October 12,2015
"L'efficacia esimente della delega di funzioni", Diritto 24, Il Sole 24 ore, May 25, 2012
"Ricognizione della disciplina delle clausole flessibili ed elastiche nel rapporto di lavoro part time", Quaderni di Giurisprudenza del lavoro, n. 2, 2013.
Giorgio's native language is Italian. He is fluent in written and spoken English.
---
Rankings and recognitions
Legalcommunity Labour Report 2018, The best in Italy

. Ranked; noted as our key strengths: "(1) expertise and practice in all areas of employment law; (2) technical skills, professionalism, timeliness and responsiveness; (3) knowledge and understanding of the market and the company's business; (4) presence and availability of the partners; (5) international network and strong presence in Italy". Client comments included: "One of the most brilliant lawyers od his generation"; "He has extensive experience in matters relating to commercial agency contracts, transfers of business, mass redundancies projects and union negotiation, including at a national level. He has also a massive experience in relation to company welfare programmes and bonus plans: he recently advised an international cosmetic group in the implementation of its smart working programme".

Legalcommunity Labour Report, The best in Italy (0217): Ranked; clients comments included: "Giorgio Manca delivers a pragmatic approach and support, trying always to understand the business reality".
Legalcommunity Labour Report, The best in Italy (2016): Ranked; client comments included: "Giorgio Manca is a young, well-prepared and energetic lawyer".
Speaking engagements
Giorgio Manca was a guest speaker at a conference on November 25, 2016 hosted by Confindustria, Italy's leading organization representing the manufacturing, construction, energy, transportation, ITC, tourism and services industries in Italy, to discuss Italy's new Jobs Act. Topics discussed included individual dismissals and mass redundancies, fixed term contracts and temporary work, new rules about employees' duties and monitoring employees at work.
---
News
December 21, 2018
July 30, 2018
April 19, 2018
Knowledge
Publication | August 2018
Publication | July 2018
Publication | May 2018
Publication | September 2016