---
Outlook on the expansion of reimbursement for telehealth services
Global | Publication | December 2020
The Medicare Physician Fee Schedule final rule has just been released. In its March 17, 2020, Medicare Telemedicine Health Care Provider Fact Sheet, CMS expressed its intent behind expansion of telehealth services. "With the emergence of the virus causing the disease COVID-19, there is an urgency to expand the use of technology to help people who need routine care, and keep vulnerable beneficiaries and beneficiaries with mild symptoms in their homes while maintaining access to the care they need." Over the next several months, CMS expanded the number of services for which Medicare reimbursement is available when provided via telemedicine, as well as having expanded the means by which telemedicine may be delivered. Most importantly, CMS provided reimbursement for telehealth at the same rate as in-person visits while alleviating the requirements that patients reside in rural areas, or be present in certain defined healthcare facilities when receiving care via telemedicine.
The effect of these changes was a dramatic expansion on the number of patients treated and services delivered through telemedicine. CMS Administrator Seema Verma noted in a July 15, 2020, Health Affairs blog post that, while 13,000 individuals ordinarily receive telehealth services per week, 1.7 million individuals had received telehealth services in the last week of April 2020 alone, and 9 million beneficiaries had received a telehealth service between March 17, 2020, and June 13, 2020. Notably, the expansion of telehealth services did not, in particular, favor rural beneficiaries over other populations. Ms. Verma had noted that 22% of rural beneficiaries received some form of telehealth service in the above timeframe, whereas 30% of urban beneficiaries received telehealth services during the same time.
Because of this marked expansion of services through telehealth technologies, and the apparent popularity of the receipt of care via telemedicine, CMS has started its evaluation as to whether certain expansions should remain after the COVID-19 public health emergency has ended. In her July 15, 2020, Health Affairs blog post, Ms. Verma stated that "CMS is reviewing the temporary changes we made and assessing which of these flexibilities should be made permanent through regulatory action. As part of our review, we are looking at the impact these changes have had on access to care, health outcomes, Medicare spending, and impact on the health care delivery system itself." The factors cited by Ms. Verma demonstrate CMS's joint interest and reluctance in expanding the availability and reimbursement for telehealth services. "Telehealth will never replace the gold-standard, in-person care. However, telehealth serves as an additional access point for patients, providing convenient care from their doctor and health care team and leveraging innovative technologies that could improve health outcomes and reduce overall health care spending."
The three considerations outlined by Ms. Verma, including (i) clinical appropriateness of telehealth services, (ii) appropriate payment rates, given differing resource needs for telehealth services, and (iii) potential for overutilization, fraud and other unwarranted depletions of the Medicare trust, were echoed by the Medicare Payment Advisory Commission (MedPAC) in its September 4, 2020, meeting on expansion of telehealth in Medicare. In investigating whether CMS should make expansion of telehealth reimbursement permanent, MedPAC noted that "telehealth services have the potential to increase use and spending under a [fee-for-service] payment system," and that "current evidence on how telehealth services impact quality of care is limited and mixed." In that September 4, 2020, meeting, MedPAC had proposed a solution under which continued availability of expanded reimbursement might be available for physicians practicing in advanced alternative payment models (A-APMs), but not necessarily for all physicians practicing in the fee-for-service environment. MedPAC surmised that by extending telehealth reimbursement in the A-APM context, Medicare could realize both increased enrollment in shared risk models as well as protection against over-utilization of telehealth services. While CMS has not yet adopted MedPAC's proposed solution to the telehealth expansion question, MedPAC did reiterate its concerns in comments to the 2021 Outpatient Prospective Payment System and Medicare Physician Fee Schedule proposed rules. In its comment to the Medicare Physician Fee Schedule proposed rule, MedPAC recommended that
[P]olicymakers should be cautious in expanding coverage of telehealth services by evaluating whether individual telehealth services balance the principles of cost, access, and quality. For example, expanding the coverage of tele–mental health services at urban originating sites could increase program costs substantially with expanded access to care, but it is unclear whether the quality of care beneficiaries receive would improve. As CMS considers whether there should be a 30-day limit, 3-day limit, or no limit on the frequency of subsequent telehealth physician visits during a nursing facility stay, CMS should balance the desire to improve access, lower costs, and to provide high-quality care.
Similarly, in its comments to the Outpatient Prospective Payment System proposed rule, MedPAC stated that
[U]se of telehealth services offers a mixed picture. Some studies found that telehealth services can improve access to care, reduce costs, and improve quality. Other studies caution that expanded use of telehealth could harm quality or increase spending. Moreover, it is not clear that the technology will always perform as needed, as malfunctions of the equipment can occur, raising the possibility of increased frequency of adverse events for patients receiving these services.
The Medicare Physician Fee Schedule final rule has just been released. Both Ms. Verma's and MedPAC's comments indicate that telehealth expansion may be not as complete or as immediate as perhaps some in the healthcare industry would prefer. This approach was borne out in the Medicare Physician Fee Schedule final rule, where CMS finalized a handful of procedures for permanent inclusion on the telehealth services reimbursement list, and expanded the list of telehealth procedures that would be eligible through the later of the end of the calendar year in which the COVID-19 public health emergency ends or December 31, 2021, but did not implement wide-scale permanent telehealth services reimbursement policies.
While there have been several legislative proposals focused on expansion of telehealth services, the results of the 2020 elections and pending Senate elections in January make it difficult to predict when such wide-scale telehealth expansion may become a reality. Nonetheless, the potential for expanded reimbursement for telehealth services will likely continue to be a part of the payment policy discussion in the near term.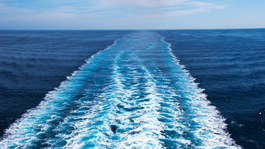 Publication
Women at sea: What you don't see
Nina Varumo is a freelance portrait and documentary photographer based in Stockholm. A recent project of hers Kvinnor till sjöss ('Women at sea') is on ongoing photo series highlighting the working life of female seafarers in order to change the stereotypical image of what and who is a seafarer.
Publication
"Double materiality": What does it mean for non-financial reporting?
Companies have been publicly reporting on their financial performance for over a hundred years. However, they are increasingly having to make public non-financial disclosures relating to sustainability and environmental, social and governance (ESG) matters as a result of rules, laws and regulations issued by stock exchanges, governments and regulators worldwide.