---
Daily blog - live from Paris
Global | Publication | November 2015
Day 12 - December 11, 2015
What is expected to be the penultimate text of the Paris Agreement was released just after 9pm last night. It has significantly fewer brackets than the version released on Wednesday and landing points appear to have been reached on some critical issues, such as the level of ambition, the long term goal and the review mechanism.
The purpose of the Agreement is to hold the increase in the global average temperature to "well below 2C above pre-industrial levels and to pursue efforts to limit the temperature increase to 1.5C", which would appear to be a win for the small island developing states. The ambition clause also reaffirms the 'common but differentiated approach' is to be used in implementation.
The long term goal has been framed as "peaking of greenhouse gas emissions as soon as possible...and to take rapid reductions thereafter towards reaching greenhouse gas emissions neutrality in the second half of the century".
In terms of targets, parties are required to prepare, communicate and maintain successive nationally determined mitigation contributions and pursue domestic measures to achieve these contributions. Stocktaking will take place every 5 years with the first to occur in 2023.
The loss and damage clause has ballooned with different options for both its ambit and the mechanism to address it. Either a new mechanism will be developed or a strengthened Warsaw Mechanism will be implemented.
Numerous square brackets are still present in the finance section, with financial resources currently being described as [new], [additional], [adequate], [predictable], [accessible], [sustained] and/or [scaled-up].
With respect to markets, there is still some text in the latest draft, but it remains square bracketed. Interestingly the expression 'internationally transferred mitigation outcomes' has been changed to 'international transferred emission reductions'.
The process now will be to iron out the remaining sticking points and as widely expected finance is likely to be the last hurdle to jump. The text is then subject to legal review and sign off, and translation into 6 languages, before it can be formally adopted. After a near all-nighter last night it's been announced that the original deadline of 6pm today for adoption of the text will be pushed back until at least Saturday. All eyes will be on the negotiators now to see how agreement can be reached on the final critical sticking points by tomorrow.
Day 11 - December 10, 2015
On Wednesday the Comité de Paris convened for the presentation of a revised version of the draft Paris outcome and was reconvened in the evening to hear parties' first reactions. Discussions continued partly in "indaba" (literally a council or meeting of indigenous peoples of southern Africa to discuss an important matter), a process which helped unlock negotiations in the Durban talks in 2011. A further "penultimate" revised text will be made available later today.
Wednesday's text already contains 75 per cent fewer square brackets than the previous draft. This is an encouraging sign of progress. There will be a specific indaba on the three "cross- cutting" issues encompassing differentiation of parties' responsibilities, finance and ambition. Initial reactions, particularly from developing countries, were positive but cautious. A key theme (as ever) was concern around moving away from the principle of "common but differentiated responsibilities" that is enshrined in the United Nations Framework Convention on Climate Change. The EU expressed concern that a mechanism to raise ambition in respect of emissions mitigation over time had been significantly weakened. It also expressed concerns about the problematic nature of defining a loss and damage mechanism that many developing countries are deeply wedded to.
Despite these concerns and many other stumbling blocks, the atmosphere in the negotiations remains constructive and positive. China's approval of the text as an acceptable basis for negotiations may have helped set the tone.
One element of the text which the private sector has been strongly lobbying for is in respect of market mechanisms. The current text reads:
Parties shall, where engaging on a voluntary basis in cooperative approaches that involve the use of internationally transferred mitigation outcomes towards ###, promote sustainable development and environmental integrity and apply robust accounting to ensure, inter alia, the avoidance of double counting, in accordance with guidance adopted by the CMA.
The International Emissions Trading Association is reported to have commented that "It's a workable text. It allows countries to cooperate on mitigation, and that cooperation can take place in a number of different forms. But the biggest point is it's all in brackets, which means it can be taken out. And if it does get taken out, we need to question the motivation there, because every country here should be concerned about the tools they have available to increase their ambition."
All eyes will now be on what parts of the text have "moved" in the early hours of Thursday and during the course of the day.
Day 10 - December 9, 2015
Day 10: It's looking like an all-nighter tonight. Following informal consultations and the first two meetings of the Comité de Paris yesterday and on Monday, we were expecting a revised text for the draft agreement to come out at 1pm CET but the release was delayed to 3pm (more on the text later). The parties will most likely be working through the night and all through tomorrow to attempt to finalise the agreement in time for the proposed deadline for formal adoption of the text at 6pm on Friday. The hope is that the new draft being issued today will have a number of brackets removed, although there will clearly be a significant number of points still needing wider discussion.
In a landmark development, Brazil and the EU have reached agreement on wording regarding carbon pricing, "robust accounting" and market mechanisms, significantly raising hopes that these critical aspects for business will be included in the draft text. Promisingly, the text also makes reference to using carbon markets to support mitigation measures in aviation and maritime transportation. We have heard however that there may now be alternative market mechanism proposals from Panama, the Umbrella Group and Canada - so watch this space. We have also been hearing that agreement has been reached on capacity building but are aware that big issues remaining for broader discussion include ratchet review process, climate finance and loss and damage, underpinned by differentiation on all counts. These are emotive issues and have long been expected to be the most challenging for parties to reach agreement.
All parties are still expressing support for the well-managed process by the COP President, with the emerging hope that a balanced text will eventually be achieved. As always anticipated, the next few days are expected to be a bit of a roller-coaster however. Some countries such as India and South Africa are being very proactive in negotiations but we expect that more parties will become more vocal in the closing days and hours, which many believe may lead to the Friday deadline being pushed back. As we know, the Le Bourget venue has been booked until midnight on Monday....
Day 9 - December 8, 2015
As COP21 passes the halfway mark, negotiations move into the hands of ministers and further from observers. The optimism that surrounded the much-publicised first days has become more subdued, with a strong sentiment that despite the sense of earlier optimism created by heads of state, less oversight from observers leads to a greater risk of losing key commitments to loss and damage, finance and ambitious emissions targets. As is often the case, the "success" or otherwise of the COP will be a matter of perspective.
The US delegation hosted an impressive side event underscoring the actions of the EPA to curb climate change (in the absence of having been able to put into place a federal emissions trading scheme). The event underscored the importance of private sector involvement in emissions reductions, including the development of new technologies and increased energy efficiency. The Clean Power Plan (one of the administration's key policy planks in this area) is intended to reduce emissions from the power sector by 32 per cent on 2005 levels by 2030,
One highly significant announcement that has emerged from COP but which has been somewhat lost in the excitement of the negotiations is the announcement of "Mission Innovation", which is intended to dramatically accelerate public and private global clean energy innovation to address global climate change. Twenty countries have committed to double their respective clean energy research and development (R&D) investment over five years. These include China, India, the United States, Indonesia and Brazil, which together represent 75 per cent of the world's CO2 emissions from electricity and more than 80 per cent of the world's clean energy R&D investment.
A parallel initiative called the Breakthrough Energy Coalition has been spearheaded by Bill Gates and includes a coalition of over 28 significant private capital investors from 10 countries. Acknowledging that current governmental funding levels for clean energy are insufficient and that the existing system of basic research, clean energy investment, regulatory frameworks, and subsidies fails to sufficiently mobilize investment in truly transformative energy solutions, the Breakthrough Energy Coalition seeks to mobilise large funding commitments for basic and applied research. By investing early and with a broad remit encompassing electricity generation and storage, transportation, industrial use, agriculture and energy system efficiency), the intention is to form a network of private capital committed to building a structure to help accelerate the change to the advanced energy future our planet needs. Investments will be focused on those countries that have committed to increase the size of R&D pipelines by participating in Mission Innovation.
Days 7 and 8 - December 7, 2015
Another Monday, and more police escorts and ministerial cars ferrying VIPs throughout Paris. Though nothing in comparison to last Monday's "invasion" of the city of light by heads of state, the presence of ministers from throughout the world can be felt in the streets.
As expected, on Saturday, the ADP "contact group" (negotiating the post-2020 agreement) convened, followed by the ADP closing. (For newcomers to COP lingo, ADP stands for The Ad Hoc Working Group on the Durban Platform for Enhanced Action.) The closing of the ADP represents a major milestone in the post-2012/pre-2020 negotiations, but the outcome of the discussions will not be known until later this week. Laurence Tubiana, France's "climate ambassador", assured parties that negotiations would continue on the basis of the ADP text that we reported on last week. She highlighted the importance of party ownership to make progress. There are clearly concerns that the ADP text doesn't get "hijacked". Venezuela, for example, called for sustaining the principles of party-drivenness, transparency and inclusiveness "until the final second of the COP." This will bring back painful memories from Copenhagen when desperation to come to some kind of agreement lead to negotiations between a limited number of parties and hence a refusal by the parties to do anything but "note" the relevant text. Despite calls from transparency, the negotiations from now on are likely to be increasingly difficult to follow from the sidelines.
A key focus for our on-the-ground team has been tracking the likelihood of some form of carbon pricing mechanism being included within the Agreement. The version of the agreement released on Saturday currently uses the expression 'internationally transferred mitigation outcomes' (with another new acronym to follow - ITMO's) and in both options presented in the text (under the heading of 'accounting') this expression does not suffer from the 'square bracket' curse. The key, of course, assuming this expression remains in the text, will be how this concept is implemented and much of this detail will remain to be dealt with in subsequent decisions at future COPs.
The consensus from the business community which is being expressed loud and clear at many of the business briefings is that carbon pricing, in some form, is critical to secure private sector investment. Associated themes are the need for regulatory certainty, ensuring competitiveness, facilitating linking, achieving environmental integrity and having appropriate accounting (both in terms of the 'what' and the 'how'). In a 'bottom up' world there is also an acknowledgement that the challenge of linking becomes more complicated once it expands beyond a bilateral approach.
Estimates of the value of the international carbon market are impressive at $400 billion by 2030 and $2 trillion by 2050. The issue is, of course, what role the Paris Agreement will have in facilitating this investment.
Day 6 - December 5, 2015
A new post-2020 agreement negotiating text was published on Friday morning to take account of discussions earlier in the week.
It is too early to gauge the reaction to the text, but frustrations have been expressed at the lack of progress. Issues around differentiation between richer and poorer countries' responsibilities with respect to mitigation, finance and transparency are said to be particularly contentions. The French Presidency is understood to be keen to get on with taking back control the of the text and discussing it with Ministers who are arriving on Monday next week - there will be a formal session to discuss the approach to taking the text forward on Saturday.
It will be important to ensure that the parties to the Conference feel that they remain engaged with the process in order to avoid a Copenhagen-style breakdown of negotiations. The COP Presidency seems to be well aware of this risk. Some of the "red lines" that have been declared to date include the requirement to include text with respect to loss and damage and beefed up commitments on proving finance. Loss and damage can be seen as a subset of climate adaptation - it relates to the fact that countries are already dealing with the impacts of climate change, the fact that this has a moral dimensions, and that mechanisms need to be put in place to reflect this.
An increasingly important aspect of the climate negations is the impact of climate change on corporates. This includes whether or not there are business models that will become obsolete in a world that is mitigating climate change, as well as business opportunities that could arise from addressing climate-related challenges. However, there is also increasing consideration of the impacts of climate change on global supply chains. Indications at one side event were that companies have been taking account of direct impacts of climate change on their businesses; however, much less work has been done on reviewing risks all along their supply chain (recent examples include floods disrupting the availability of hard disk drives and subsequent increases in prices and losses associated with delays in deliveries of hardware).
The role of institutional investors in respect of climate change has also been very prevalent during recent years and this was explored further at COP on Friday. As referred to in our pre-COP webinar, there have been some significant asset divestment commitments made over the last year. A number of investors have signed the Montréal Carbon Pledge, under which they commit to measure and publicly disclose the carbon footprint of their investment portfolios on an annual basis. The Pledge was launched on 25 September 2014, and is supported by the Principles for Responsible Investment (PRI) and the United Nations Environment Programme Finance Initiative (UNEP FI). Legal exploration of the relationships between climate change and fiduciary duties have been explored for many years. However, in a recent UNEP report, it was concluded that changes in investment practice and in public policy demonstrate that, far from being a barrier, there are positive duties on investors to integrate environmental, social and governance (ESG) issues and that failing to consider long-term investment value drivers, which include ESG issues, in investment practice is a failure of fiduciary duty. A number of investors at COP spoke about how they are addressing this and what the challenges and opportunities are going forward.
On a similar theme, the Governor of the Bank of England, Mark Carney held a press conference on Friday to announce the establishment of a taskforce on climate-related financial disclosures to be chaired by former New York Mayor, Michael Bloomberg. The task force is to be established following a proposal to the G20 that was submitted by earlier this month, calling for a dedicated body to promote and improve climate-related disclosures from listed companies around the world. Carney said that three key risks for the financial sector have been identified, being (i) physical risks e.g. in respect of the insurance sector, (ii) risks around director liability and (iii) most significantly, risks around transition and how smoothly or abruptly the financial sector will adjust to the impacts of climate change. The private sector currently has concerns around lack of information and can't judge how well companies are managing climate risk. There are over 400 schemes to provide this information but the private sector is not getting a clear picture at the moment.
We will be back on Monday to report on how events unfold over the weekend.
Day 5 - December 4, 2015
Day 4 saw more haggling over what is in or out of the text. We're expecting more developments in terms of timing and content tomorrow so stay tuned.
In other news, the IEA put forward its bridging scenario, with animated discussions following on carbon pricing, the role of coal in a low carbon world and the removal of fossil fuel subsidies.
One potential alternative put forward for coal as a stranded asset in a bridging scenario is the use of ultra supercritical technologies combined with carbon capture and storage which it's estimated could halve coal emissions.  It was pointed out that this might not have legs in the UK, with funding for a high profile CCS competition recently being cut.
With about 30% more potency than CO2, addressing methane emissions was also raised as an easy win but often overlooked in reducing emissions.
Similarly, with 2/3 of economically viable potential from energy efficiency not being realised, energy efficiency appears as another easy win. India was estimated to be able to reach China's growth in GDP in the next few years, but with 6 billion fewer emissions.
One observation which is cropping up across COP21 is the proactive role of cities, provinces and states in taking carbon action in the absence of clear signals at a national or global level. The majority of Canadian provinces and 7 Chinese provinces are now subject to emissions capping or trading schemes, and cities are increasingly looking at the need for, and opportunities in, sustainable development.
Two compelling statistics were raised at a green buildings discussion today: 1/3 of emissions currently come from buildings and in future 70% of the global population will live in cities. We're seeing new initiatives in smart cities, green buildings and sustainable construction but with these kind of figures a lot more will need to be done to coordinate and scale up efforts.
Finally, one of the key draws of the day was Al Gore speaking at an investor panel looking at the danger zone for fossil fuels and developing strategies for managing carbon asset risks. Mr. Gore was typically charismatic, answering the questions of must we, can we, and will we adapt and take appropriate action (needless to say with a resounding "yes") - and highlighting the role of business in mobilising action. Big questions asked focused on the role of pension funds in shaping low carbon investment appetite and the need for standardised accounting standards and better carbon data to help companies price carbon risk.
Day 4 - December 3, 2015
Day 3 saw a big focus on finance and getting funding into developing markets.
It's clear there needs to be a huge scaling-up of climate funding. With trillions of dollars expected to be needed each year, a dramatic increase in funds is vital to fund adaptation and mitigation measures for developing countries. It's also clear that both public and private finance is needed.
One source of climate funds which is attracting a lot of interest is the Green Climate Fund - the US$10 billion fund set up at the end of 2014 to fund projects in developing countries. Key questions being asked are how to get financing, how to get accredited, what makes a good project, what instruments are available and how to standardise processes and due diligence across the climate finance sector to mobilise further investment.
In the year since its establishment the fund 20 entities have received accreditation. At the last board meeting in Zambia during November, 8 projects were submitted for approval. Projects range across regions, sectors, small and large companies, and adaptation and mitigation.
Climate Finance 1, an innovative new Dutch/UK climate fund, sees public finance as a key means of mobilising private sector finance with differing levels of risk appetite so as to be able to offer a financing solution across all stages of a project. This will be an attractive model for developing countries.
Consistent with one of the key themes of this COP, climate finance represents a clear business opportunity as well as a necessity for meeting the broader climate policy aims of adaptation and mitigation.
Negotiations in respect of a post-2020 agreement are taking a familiar turn. Informal meetings / negotiations are breaking out alongside the formal contact group and spin-of groups. There are disagreements on how to streamline the text and how to take it forward. Though a number of individual issues are reported to have been resolved, including some text on on implementation and compliance, many areas of text remain contentious and the parties disagree on who should prepare new drafts and whether the period for negotiating should be extended before the text is presented to the COP for consideration. As usual, revised proposals are still being tabled by the parties and decisions on some elements are being deferred to further meetings for consideration. Ideally a completed document with very few options would be presented. However, it seems hard to imagine at this stage that this will be the case.
Day 3 - December 2, 2015
Day two is the new day one. Given the unusual presence of heads of state on Monday, COP got going in earnest on Tuesday. The ADP (negotiating the Paris agreement) made up for lost time by starting negotiations earlier than originally planned, which means that discussions have now been ongoing for a number of days (since Sunday). Many of the meetings have been open and there have been expressions of disappointment that parties still appear to be arguing over minutiae. As is often the case, there appears to be a wide gap between some of the statements made by heads of state and the actions of those negotiating on their behalf. Time is short. The ADP is planned to close in just a few days so that its findings can be sent to the COP for consideration and further worked on during the second week of COP. The process from that point onwards remains uncertain.
This summer at Carbon Expo in Barcelona it was made clear that France wanted an inclusive COP which involved significant private sector involvement. This appears to have been a very successful strategy. The atmosphere here at Le Borget conference centre is much more like a trade fair than any previous COPs. There is a wide variety of corporate participation, from presentations about sustainable coffee through to discussions about complex financing structures for renewables. Unlike COPs in the past, COP21 is not restricted to political deals, but is also giving rise to discussions about commercial deals and opportunities. This must surely be the way forward for COPs in future years.
Against this backdrop, the corridors at COP were alive with discussions about the potential opportunities arising from the 120-country International Solar Alliance (ISA), which was launched on Monday by India's prime minister Narendra Modi. In response to this alliance, Engie's chairman and CEO Gérard Mestralled announced the creation of the Terawatt Initiative, a not for profit association that will work with the ISA to establish the regulatory conditions necessary to achieve the ISA's global objective of one terawatt of additional solar capacity by 2030.
Day 2: December 1, 2015
After the close of the first day of the momentous COP21 climate negotiations in Paris, what's the mood in the exalted halls (or plywood walls) of Le Bourget? "Cautious optimism" was a common phrase, and there did seem to be a mood of positivity in the air. 150 heads of state taking to the stand to show their country's commitment to stepping up to the climate challenge is undoubtedly a strong statement.
One of the key shifts from the Copenhagen talks 6 years ago in 2009 is a focus on the opportunities coming out of a move to a low carbon economy. Yes there is still talk of common but differentiated responsibilities and conditional commitments - but alongside the environmental impetus for a global agreement there is also a strong recognition of the benefits for global and national economies.
Korea spoke about a new consumer market for saved power, net zero buildings and electric vehicles. Paraguay talked about its efforts to protect its forests, develop hydro projects and look at energy efficiency and clean fuels in transport. Barack Obama gave a rousing speech about this being the "moment we finally determine to save our planet", about fighting cynicism and the need for a long term strategy to give the world confidence in a low carbon future - highlighting the "hundreds of billions" of dollars which can be deployed if there is a strong signal to the market. Speaking soon afterwards, Chinese Premier Xi Jinping spoke about China's efforts in energy conservation and renewable energy capacity, about new policy measures to develop low carbon transport and green buildings, and about the development of a nationwide emissions trading scheme. Canada admitted that whilst at a national level it had perhaps been "less enthusiastic than some" in recent years about doing something about climate change, 86% of its economy is now covered by province-led emission trading schemes. India, in conjunction with France, launched an international solar alliance of over 120 countries, putting forward an initial US$30 million in investment capitalising on opportunities from falling costs, evolving technologies and better grid connectivity.
Climate finance and carbon pricing were also key items on the agenda for side events and for a heads of state session where 6 premiers came together to show their support for the need to develop a coordinated carbon price. Francois Hollande estimated that by 2020 most of the G20 would have carbon pricing in place and asserted that the current carbon price in the EU should by then have more than doubled. The Carbon Pricing Leadership Coalition was also formally launched, with the World Bank at the helm and a strong commitment to a carbon price from national and sub-national corners as well as big business, with Engie as a leading representative.
Another trend was a focus on Africa. In an OECD session on mobilising climate finance, the Africa Development Bank highlighted the need to scale up ambition to power Africa, harnessing potential in wind, water and geothermal projects, and raising prospects for double digit GDP growth. With US$62 billion of the US$100 billion per annum committed at Copenhagen for climate finance now deployed, there is at least another US$38 billion per annum to go.
As day 2 dawns, the VIP Heads of State leave and the negotiations get properly underway, there is now a feeling of let's get down to business. In the words of Angela Merkel, an agreement needs to be "ambitious, comprehensive, fair and binding." The next 2 weeks will see if this can be achieved.
Stay tuned for more developments and don't forget to join us at our side event in the IETA pavilion if you're at COP later this afternoon:
'The keys to successfully developing renewable energy projects in emerging markets'
15:30 – 17:00 – Tuesday, December 1
IETA – WBCSD COP21 Business Hub (pavilion 4, Hall 3) Conference Center (Blue Zone), Le Bourget, Paris
Day 1 - November 30, 2015
There was an unusual frisson in the air this morning in Paris. The city rang with the high pitched whistles of motorbike outriders ferrying heads of state though the wide boulevards.
A twenty first birthday is often seen as a celebration of "coming of age". Will the parties at the 21st meeting of the parties to the United Nations Framework Convention on Climate Change (UNFCCC) be able to demonstrate the maturity needed to thrash out an agreement? Hopes are high for a "successful" COP and Ban Ki-moon has stated that he believes that the stars are aligning. But more will be required to align than just the stars in order to bottom out the tumultuous negotiations that have been ongoing since COP15 in Copenhagen. If a "successful" deal results, then in many ways it will be because of dramatically different expectations to those of six years ago. Against this there is pressure not to adopt just "any old deal".
Central to the COP discussion is the question of how legally binding any "Paris Agreement" will be. No one seems to expect the parties to agree to legally binding emissions reduction targets at this stage. Equally they are aware that current commitments on the table are insufficient to achieve the objective of avoiding dangerous manmade climate change set out in the UNFCCC. However, there must be a legally binding element to the agreement in order for it to be credible. Back in 2011 the parties agreed to "...develop a protocol, another legal instrument or an agreed outcome with legal force under the Convention applicable to all Parties…", which would be completed no later than 2015, adopted at COP21 and come into effect and be implemented from 2020.
Against this background, it is essential that major economies can work with the outcome of the agreement. That is unlikely to be the case if the agreement has to go through the US domestic legislative process in order to be approved. International agreements can be adopted in some circumstances by the President acting alone, without the express approval of either the Senate or Congress. The more any Paris agreement reflects or complements existing U.S. law, the more likely the President has authority to enter into it without Senate or congressional approval. As such, legally binding elements of the agreement are likely to relate to framework/procedural elements. Some speculate that the agreement may say nothing at all about a compliance mechanism. But would this really matter? The Kyoto Protocol had one of the most robust compliance mechanisms at international law, but this did not in itself make it an agreement that successfully addressed climate change.
If you want to find out more about the background to COP and what we think the key issues are for the private sector then please visit our COP microsite. If you are at COP, please join us for our side event:
'The keys to successfully developing renewable energy projects in emerging markets'
15:30 – 17:00 – Tuesday, December 1
IETA – WBCSD COP21 Business Hub (pavilion 4, Hall 3)
Conference Center (Blue Zone), Le Bourget, Paris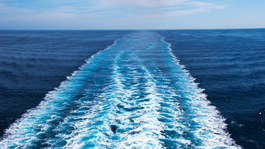 Publication
Women at sea: What you don't see
Nina Varumo is a freelance portrait and documentary photographer based in Stockholm. A recent project of hers Kvinnor till sjöss ('Women at sea') is on ongoing photo series highlighting the working life of female seafarers in order to change the stereotypical image of what and who is a seafarer.