---
The poet
RE | Issue 2 | 2012
Hour
Love's time's beggar, but even a single hour,
bright as a dropped coin, makes love rich.
We find an hour together, spend it not on flowers
or wine, but the whole of the summer sky and a grass ditch.
For thousands of seconds we kiss; your hair
like treasure on the ground; the Midas light
turning your limbs to gold. Time slows, for here
we are millonaires, backhanding the night
so nothing dark will end our shining hour,
no jewel hold a candle to the cuckoo spit
hung from the blade of grass at your ear,
no chandelier or spotlight see you better lit
than here. Now. Time hates love, wants love poor,
but love spins gold, gold, gold from straw.
Sarah Webster on Carol Ann Duffy's 'Hour'
When Shakespeare's Romeo and Juliet were disturbed by the lark, they could hardly believe it was day already. Artists, and lovers, have wanted to cheat time for all eternity. The seventeenth century poet Andrew Marvell famously summons up time's brevity in 'To His Coy Mistress'. The idea of needing currency to buy time may feel contemporary but when it comes to love it is as old as time itself – we are never poorer of time than when we want to spend it with our beloved.
Carol Ann Duffy was appointed Britain's poet laureate in 2009 – the first woman to receive this honour in 400 years. She has already, in two short years, covered herself in glory.
In 'Hour', Duffy draws out time, and derives joy from it. She talks not of minutes or hours but 'thousands of seconds'. Even the line endings refuse to be constrained by the usual boundaries of meter.
The rhythm helps, too. The style is light, languorous and old, with the slow melody of iambic rhythm, contrasted with stressed words grouped together, with the effect of feeling very present and contemporary. Duffy starts with phrases which feel bold and underlined – 'even a single hour', 'makes love rich' – and then shifts into a slower rhythm – 'but the whole of the summer sky and a grass ditch' – creating a sense of release and space, a suggestion of the meadow which forms the backdrop to the poem.
The last two lines bring it all together: the urgency, the contemporary feel of 'Now', and our ability to stop time, here and now, in the present moment. To make it last forever, like gold.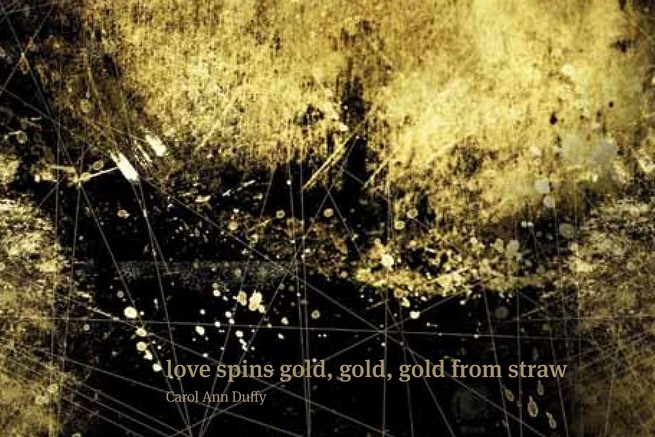 ---
'Hour' reproduced by permission of the author c/o Rogers, Coleridge & White Ltd, London. Image by Ivan Maslarov. Sarah Webster read English at Bristol University and is now one of our alumni.