---
An insight into the new ISDA Digital Asset Derivatives Definitions
Global | Publication | February 2023
Introduction
On 26 January 2023, the International Swaps and Derivatives Association, Inc. (ISDA) published the ISDA Digital Asset Derivatives Definitions (the Digital Asset Definitions) together with the Exhibits to the Digital Asset Definitions (the Digital Asset Confirmations and, together with the Digital Asset Definitions, the Digital Asset Derivatives Documentation). The Digital Asset Definitions are designed for use in privately negotiated derivatives transactions to document non-deliverable digital asset forwards and options where the reference asset is Bitcoin or Ether.
In the "Contractual Standards for Digital Asset Derivatives" paper published in December 2021, ISDA acknowledged the enormous growth of digital assets in the last few years and the corresponding increase in the number and diversity of market participants. It had become apparent that contractual standards were needed to promote the growth of safe, efficient and liquid global derivatives markets in relation to digital assets. To this end, ISDA brought together derivatives market participants, members of the crypto-asset community and other stakeholders to help develop common legal standards and definitions for digital asset derivatives, recognizing that crypto assets are a unique product class.
The Digital Asset Derivatives Documentation is the result of ISDA's initial focus on developing standard terms for products that exist and are traded in the digital asset derivatives market today. The new documentation aims to prioritize accessibility and usability, avoiding unnecessary complexity and the need for excessive customisation. The intention is to expand the Digital Asset Derivatives Documentation in due course to cater for other digital assets and other derivative products.
What are digital assets and what type of digital assets are covered by the new definitions?
Due to the digital assets market and underlying technology evolving at such a rapid pace, the working group decided against establishing a definition of "digital assets" as it could become obsolete in a relatively short period of time. The Digital Asset Definitions have opted for a generic reference instead and the term "Reference Asset" (defined in Section 8 (General Definitions) of the Digital Asset Definitions) simply refers to "the digital asset specified as such". However, as the preamble clarifies, at this stage the only "Reference Assets" expected to be covered are Bitcoin or Ether.
In its "Contractual Standards for Digital Asset Derivatives" paper, ISDA acknowledged the challenge of establishing a precise definition of what a digital asset is. The paper, instead, identified and distinguished certain key characteristics and features exhibited by digital assets and explored their relevance in the context of developing contractual standards for this asset class.
In its first version, the Digital Asset Documentation is designed for use to document non-deliverable digital asset forwards and options where the reference asset is Bitcoin or Ether. However, ISDA has noted that it could be expanded in the future to cover additional product types, including tokenised securities and other digital assets executed on distributed ledger technology (DLT).
How do the Digital Asset Definitions fit with the ISDA Master Agreement?
The Digital Asset Definitions are a definitional booklet published through ISDA's online 'MyLibrary' platform. As provided in the preamble, any or all of the provisions set out therein may be incorporated into a document (such as a Confirmation) by including wording in such document indicating that, or the extent to which, the document is subject to the Digital Asset Definitions.
Unless otherwise agreed between the parties, the latest version of the Digital Asset Definitions available on the trade date of a transaction will apply to such transaction, and the terms of that transaction will not be affected by any further updates in a later dated version of the Digital Asset Definitions.
An insight into the Digital Asset Definitions
The Digital Asset Definitions contain, broadly, three sets of terms:
General definitions and boilerplate provisions.



The Digital Asset Definitions contain definitions regarding their application, how they fit within the ISDA documentation framework and some general definitions. There is also section on business day conventions and a section on notices (to clarify certain aspects with respect to the notices to be given pursuant to the Digital Asset Definitions).

Terms relating to the specific products covered.



As noted above, the Digital Asset Documentation currently only caters for non-deliverable forwards and non-deliverable options. As such, Section 2 contains definitions and terms specifically for those product types and their settlement mechanics, such as, inter alia, terms regarding exercise and expiration of options, option styles, terms regarding the determination of forward and option cash settlement amounts and terms regarding source and corrections of the settlement price.

Disruption events and fallbacks.



The main part of the Digital Asset Definitions contains provisions regarding certain events which are likely to have an impact on the relevant transaction and which may require certain adjustments to the transaction to be made and/or which may merit the right of one or both parties to early terminate such transaction.

Disruption events can be divided in two categories:


Events the occurrence of which is objectively determined: these are unambiguous events that are observable by both parties (namely, Price Source Unavailability and Price Source Discontinuance). These events are triggered automatically on the date that event occurs and, consequently, no notice is required.

Upon occurrence of these events, an adjustment must occur in order for the transaction to be able to settle and, to this end, the fallback provisions will apply. The parties will apply the relevant fallback provisions in accordance with a waterfall.
Events the occurrence of which may not always be objectively determined: These are events that are either (i) observable by only one of the two parties (such as those related to hedging arrangements (Hedging Disruption, Increased Cost of Hedging and Change in Law – Hedging Illegality)) or (ii) observable by both parties but potentially ambiguous (Material Change in Methodology, Fork Event and Change in Law - Performance Illegality). These type of events can only be triggered by notification.

This category contains events which some parties may already be familiar with, as these are common for other types of derivatives. For instance, the Material Change in Methodology event set out in Section 4.2.3 of the Digital Asset Definitions is akin to the adjustment to indices foreseen by Section 11.1 of the 2002 ISDA Equity Derivative Definitions (the Equity Definitions), which entitles the parties to make certain amendments if the relevant index sponsor announces that it will make a material change in the formula for or the method for calculating the index or in any other way materially modifies that index. Equally, the Hedging Disruption Events in Section 4.3 of the Digital Assets Definitions are comparable to some of the Additional Disruption Events (as defined in the Equity Definitions) set out in Section 12.9(a) of the Equity Definitions.

On the other hand, a Fork Disruption is a bespoke event for the type of underliers covered by the Digital Asset Definitions. A Fork Event occurs when a change is made to the Reference Asset's blockchain protocol – or basic set of rules – and such change results in two or more digital assets. Upon the occurrence of a Fork Event, parties will need to consider if certain conditions are satisfied to determine whether a Fork Disruption Event has occurred and, consequently, whether the Fork Disruption Event Fallbacks will apply.
ISDA is working on a guidance note on the operation of the Fork Disruption Event. The guidance note will provide an overview of the provisions related to "forks" and highlight key features of the definition of "Fork Disruption Event" and the consequences of such an event. The guidance note is expected to be published imminently.
Section 5 of the Digital Assets Definitions provides certain terms relating to the early termination of a transaction, which will be relevant if a transaction is to be terminated early as a result of a disruption event.
Finally, it is worth noting that the Digital Asset Definitions contains a placeholder for a valuation methodology section. Given that in its first version the definitions only cater for a single price source and single observation date/time, no specific mechanics are required in relation to valuation methodologies. However, a placeholder has been reserved should it be required in a future version. This is a clear indication of the intention to continue developing the Digital Asset Definitions and expand its scope in due course.
What's next?
The Digital Asset Definitions have been ISDA's initial step in creating contractual standards for trading in digital assets, with the ultimate goal of promoting the growth of a safe, efficient and liquid global derivatives market in relation to digital assets. The definitions provide a contractual framework for digital asset derivatives under the ISDA Master Agreement and they are expected to be expanded over time to cover additional products and underliers.
Despite the rapid growth of digital assets in recent years, recent failures in the crypto market have emphasised even more the importance of having a clear, consistent contractual framework that spells out the rights and obligations of both parties following a default. All market participants, regardless of their categorisation, should know their assets are protected and understand their rights in the event of a default.
In light of this, the publication of the Digital Asset Definitions has been accompanied by the publication of a whitepaper ("Navigating Bankruptcy in Digital Asset Markets: Netting and Collateral Enforceability") addressing some of the legal issues raised by the recent bankruptcies of major crypto exchanges and market participants. The paper focuses on the importance of close-out netting and collateral arrangements for derivatives referencing digital assets and identifies several areas of focus for policymakers and market participants to ensure greater certainty.
The aforementioned paper will be followed by a second whitepaper (expected to be published in the first quarter of 2023) addressing issues relating to customer digital assets held with intermediaries, exploring specific questions on how they may be held, how those holdings might be treated in an insolvency scenario, and the relevant documentation and due diligence issues that would need to be addressed to achieve the intended level of customer asset protection.
The Digital Assets Definitions represent an important milestone in the creation of contractual standards for digital assets trading. However, to ensure that these definitions remain fit for purpose, it will be necessary to update them and expand its scope over time as the market evolves. The ISDA WG is already engaging with its members to consider its next areas of focus and the Digital Asset Documentation will, no doubt, continue to evolve.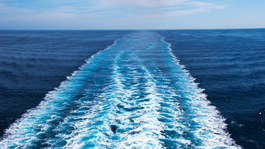 Publication
Women at sea: What you don't see
Nina Varumo is a freelance portrait and documentary photographer based in Stockholm. A recent project of hers Kvinnor till sjöss ('Women at sea') is on ongoing photo series highlighting the working life of female seafarers in order to change the stereotypical image of what and who is a seafarer.
Publication
"Double materiality": What does it mean for non-financial reporting?
Companies have been publicly reporting on their financial performance for over a hundred years. However, they are increasingly having to make public non-financial disclosures relating to sustainability and environmental, social and governance (ESG) matters as a result of rules, laws and regulations issued by stock exchanges, governments and regulators worldwide.