---
In our global diversity, equity and inclusion (DE&I) policy we commit to creating an inclusive environment where lesbian, gay, bisexual, transgender, intersex and queer (LGBTIQ+) colleagues can progress and develop their careers without fear of discrimination and/or harassment.
This commitment extends to our policies, practices, resources and DE&I initiatives. Examples of our initiatives include:
Supporting trans inclusion with policies and resources for managers and colleagues supporting someone transitioning/affirming their gender in the workplace
Developing gender neutral drafting guidelines for all regions. By using gender neutral language in legal documents and in every day correspondence, we are removing assumptions about others' gender as these can lead to misgendering individuals, or excluding non-binary individuals.
Encouraging and supporting people to add their pronouns wherever their name is displayed. Not everyone's gender is visibly obvious and some people choose to introduce themselves using their pronouns in order to avoid being misgendered. This creates an environment where people who may be trans, gender diverse or non-binary, can safely express how they wish to be addressed.
We regularly consult with our Pride network leadership and membership to ensure our policies and practices continue to support the needs of LGBTIQ+ members in the firm.
Supporting our people
Employee resource group: Pride
Our global Pride network takes a three-pronged approach to their work: networking, storytelling and partnering on joint initiatives.
The Pride network contributes to our diversity, equity and inclusion agenda by encouraging the recruitment, retention and professional development of LGBTIQ+ talent, providing guidance on LGBTIQ+ inclusive policies and identifying opportunities to participate in volunteering and pro bono initiatives which support the LGBTIQ+ community.
The network engages LGBTIQ+ employees and partners across all of our offices. We currently have active chapters in the US, Australia, Canada, Hong Kong, Singapore, the UK and South Africa. The network profiles leaders and role models and also provides opportunities for learning to hold space for people who want to learn how to be better, more active allies.
The network has also mentored other organizations' LGBTIQ+ employee resource groups and assisted in their growth and development. Furthermore, by building strong relationships with LGBTIQ+ networks within our client organizations, the Pride network has been able to amplify their inclusive impact outside of the firm.
Marching for Pride
Many of our Pride chapters around the world participate annually in LGBTIQ+ parades, including Pride in Calgary, Houston, London, Brisbane, Perth and Vancouver, Mardi Gras in Sydney, Midsumma in Melbourne and Pink Dot in Hong Kong and Singapore.
In Calgary, we are the sole legal partner for the Pride Parade.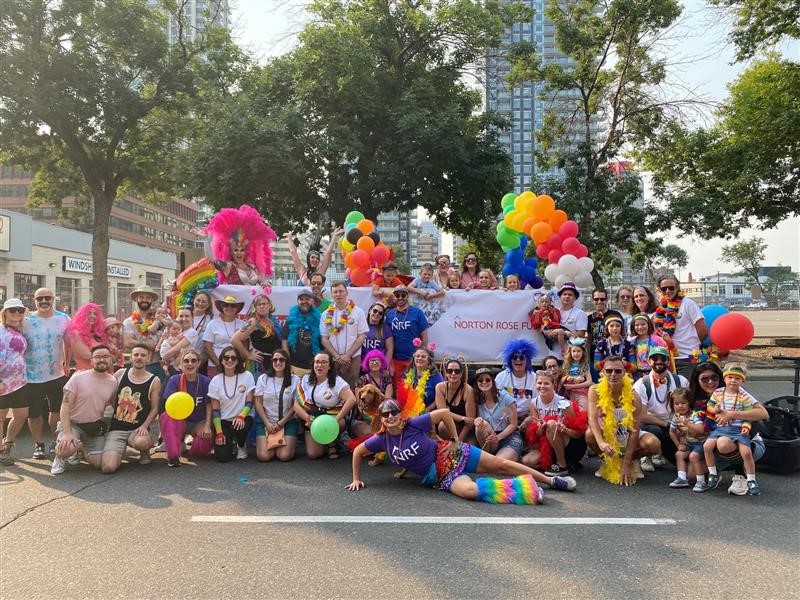 Perspectives
Storytelling and role modeling are key parts of how we created inclusive spaces within our firm. Our global Perspectives blog is an interactive way for everyone to join in the diversity and inclusion dialogue. It provides insights, opinions and experiences and encourages discussion, debate and a sense of community.
Since launching Perspectives, we have published more than 200 personal stories on the blog. See below for a selection of them.
Perspectives: Banter
Jack Mason, London
Perspectives: Being a donor
Tom Acland, Melbourne