---
Modernising European air traffic management - Should you be involved?
Global | Publication | December 2015
Introduction
In 2004, the European Union (EU) adopted the first Single European Sky (SES) legislative package. The objectives underlying the package were to enhance current safety standards and improve overall efficiency for air traffic in Europe. This included optimising air traffic capacity and minimising delays. SES was a recognition that existing air traffic management (ATM) systems were not suitable for managing the forecast increase air traffic and could not deliver the needed environmental and cost efficiency returns.
SESAR
The SES Air Traffic Management Research and Development programme (SESAR) is the technological pillar of SES. SESAR contributes to the implementation of the Single European Sky package by developing and overseeing the implementation of technologies and procedures for new-generation ATM systems. SESAR is a major public-private cross-industry project which is expected to run until 2030.
Three phases
SESAR started in 2004 with the Definition phase that delivered the ATM Master Plan. The Plan defines the content for the next generation of ATM systems and delivers roadmaps for the operational and technological changes required from stakeholders. This phase was executed by a consortium of representatives of EU airlines, aerospace manufacturers, airports and air navigation services providers.
In 2009, SESAR project moved into the Development phase to develop and validate the systems recommended in phase 1. The SESAR Joint Undertaking was established to manage the large-scale public-private partnership which involved around 3,000 experts in Europe and beyond in research and development programmes co-funded by the EU. The European Commission and EUROCONTROL were the founding members of the SESAR Joint Undertaking. Large stakeholders such as NATS, Airbus and Thales also became members.
In 2015, SESAR project moved into phase 3, Deployment. In this final phase concepts and technologies developed through the SESAR Joint Undertaking are brought into operation across Europe. A large consortium of EU airlines, air navigations service providers and airports was selected to be responsible at a management level for SESAR deployment and for monitoring implementation. The consortium is called, appropriately, the SESAR Deployment Manager.
The cost of taking the ATM systems into full deployment has been estimated at around €300 billion. On the benefits side, the European Commission estimates that the investment will generate significant economic value, including:
enhancing performance by tripling the current capacity;
improving safety by a factor of 10;
reducing costs for airlines by 50%; and
reducing air transport's impact on the environment by 10% per flight.
The cumulative positive impact on EU GDP is estimated to be €419 billion.
For entities like airlines whose operations interface with ATM systems in Europe, it is timely to get involved. These new generation of ATM systems will, sooner or later, become compulsory either by law (e.g. in several airports nominated under EU legislation) or by the need to synchronise one's own technology with technologies of other stakeholders (e.g. an airspace user will need to equip its aircraft with technology compatible with the new technology used by the airports to which it flies).
Funding
Importantly, for a set period of time, the systems will be part-funded by the EU. If an entity does not take the opportunity to get involved in a project selected for EU funding, they may face the risk of having to bear the full cost of the new technologies and, for the period during which they do not upgrade, also bear the risk pf operating with desynchronized technologies.
For selected projects, funding is being distributed according to the following percentages:
up to 50% for studies and implementation of infrastructure
up to 50% for ground equipment
up to 20% for airborne equipment
The EU funding for SESAR presently comes from the Connecting Europe Facility (CEF). This is an integrated financial instrument for investing in EU infrastructure in relation to Trans-European Network projects covering transport, energy and telecommunications. The total budget of the CEF earmarked for transport related projects between 2014 and 2020 is €26.2 billion and approximately €3 billion is allocated for SESAR implementation until 2020.
Getting involved
In 2015, the SESAR Deployment Manager delivered the first ATM deployment programme. As required by EU legislation, the programme provides a comprehensive and structured work plan of all activities necessary to implement the next generation ATM systems.  The updated version of 30 September 2015 identifies the projects selected for part-funding through the CEF Transport Call 2014 and recommends an optimum time for implementation.
To benefit from EU funding an entity will have identified the ATM systems of relevance to them in the ATM deployment programme and will have submitted a proposal for an implementation project under the annual CEF call.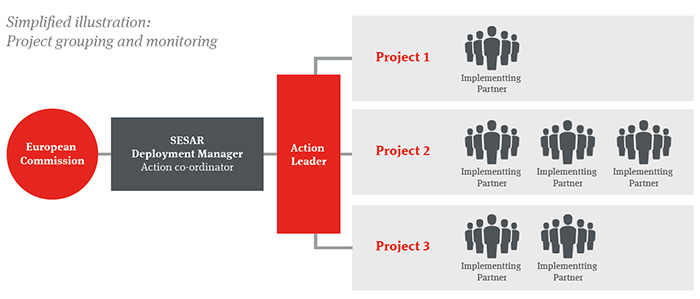 A proposal for an implementation project can be submitted and subsequently taken forward by more than one entity (e.g. an airport and an airline) or an entity on their own (e.g. an air navigation service provider). Entities whose projects are selected will have become Implementing Partners.
In terms of monitoring and control, SESAR implementation projects are typically grouped under larger actions, led by an action leader and coordinated by the SESAR Deployment Manager.
Examples of selected projects include the procurement of radio direction finder supporting SES performance and works under the Heathrow Airport Resilience Programme (i.e. a series of projects delivering improvements in infrastructure, process and IT capability across the airfield and in airspace).
The call for proposals for the initial programme was made in 2014. The second call was launched on 5 November 2015 with a maximum available funding for SESAR of approximately €800 million.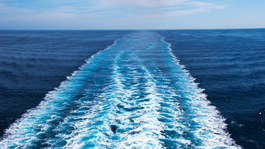 Publication
Women at sea: What you don't see
Nina Varumo is a freelance portrait and documentary photographer based in Stockholm. A recent project of hers Kvinnor till sjöss ('Women at sea') is on ongoing photo series highlighting the working life of female seafarers in order to change the stereotypical image of what and who is a seafarer.
Publication
"Double materiality": What does it mean for non-financial reporting?
Companies have been publicly reporting on their financial performance for over a hundred years. However, they are increasingly having to make public non-financial disclosures relating to sustainability and environmental, social and governance (ESG) matters as a result of rules, laws and regulations issued by stock exchanges, governments and regulators worldwide.