---
"It is not our differences that divide us. It is our inability to recognize, accept, and celebrate those differences." – Audre Lorde
George Floyd's death and countless other incidents from 2020 and prior years have brought racial inequity and systemic racism in society into sharp focus. These collective events have served as the catalyst to implement meaningful change in how we recruit, support and recognize all of our diverse staff and lawyers.
We have spent the last several months deliberating and examining what we need to do differently within our own organization to proactively confront the vestiges of racial bias head on.
In our unwavering commitment to advancing racial equality, we formed the Racial Equity Council. The Racial Equity Council is comprised of US partners, non-partner lawyers, and business services personnel. Our mission? To improve the experience of our Black personnel and to support our firm's racial equity.
To date, the Racial Equity Council has implemented a number of initiatives:
Sponsorship program: designed to serve as a career accelerator for Black non-partner lawyers, pairing protégés with partner sponsors and partner advocates to ensure steady workflow and skill development as well as connecting them with leadership to best position them to achieve career goals.
Racial bias programming: directed firm investment in programming designed to combat racial bias.
Promotion and advancement: examined and improved our process for filling non-lawyer positions—mandating that openings are more transparent and that a diverse slate of candidates is considered, ensuring fair and equal opportunities for advancement at the firm.
Speaker series: launched a quarterly speaker series with the dual objectives of fostering community within, and providing professional advice to, the Black NRF community, and educating all firm personnel on topics relating to racial equity.
Affinity groups: created affinity groups for Black female lawyers, Black non-partner lawyers and Black business personnel.
Law students and laterals: scrutinized our historic recruiting efforts of Black law students and lateral lawyers.
Professional development: increased awareness of all professional development opportunities and resources for non-lawyer personnel, including a manager training program, practice coordinator academy and a tuition reimbursement program.
While we appreciate and understand that the road to racial equity is long and arduous, we recognize the unique opportunity we have in this particular moment in time, and with the full support of our management, we are primed to effect real and lasting change for our Black personnel and for our firm and in our communities.
Racial equity habit-building challenge
In honor of Black History Month, our Racial Equity Council invites you to join our Black History Month Racial Equity Habit-Building Challenge. This program is a variation of the ABA's "21-Day Racial Equity Habit-Building Challenge©," in which we, as a firm, participated last summer, as modified by the ABA Section of Labor and Employment Law and the REC. The 21-Day Challenge concept was conceived several years ago by Diversity Expert Eddie Moore, Jr., to advance deeper understandings of the intersections of race, power, privilege, supremacy and oppression.
Through this updated version of the Challenge, each day we identify at least seven resources, or "assignments"—including articles, videos, podcast episodes, books, and movies—that offer diverse perspectives on a broad range of issues related to Black history, racial equity and the experience of racism in America. While most of the resources are brief, we also included longer assignments that can be completed within the month. The goal of the program is to assist each of us on the journey of increased awareness, empathy, and understanding as we continue to confront these issues in our daily lives.
29-Day Challenge: Racial equity habit-building challenge
Day
Resource
1
Article: Laura Morgan Roberts and Anthony J. Mayo, Toward a Racially Just Workplace (November 24, 2019) – 5 minutes
2
Podcast: How to Not (Accidentally) Raise a Racist, Longest Shortest Time Podcast) – 50 minutes
3
Book: Ta-Nehisi Coates, Between the World and Me, Random House Publishing (2015) – 152 pages
4
5
Video: Megan Ming Francis, Let's get to the root of racial injustice, TEDTalks (March 21, 2016) – 20 minutes
6
Interactive Experience: Project Implicit, Implicit Association Test (IAT), (This exercise requires navigating the sign up for the tests, which includes answering a series of questions for the researchers, but it is recommended that everyone do at least these tests: Race, Skin Tone, and Weapons-Race– 30 minutes
7
8
Article: James McWilliams, Bryan Stevenson On What Well Meaning White People Need To Know About Race: An interview with Harvard University-trained public defense lawyer Bryan Stevenson on racial trauma, segregation, and listening to marginalized voices, Pacific Standard (updated Feb 18, 2019) - 15 minutes
9
10

Podcast: John Biewen, Seeing White (14-part series podcast, 2017), S2 E14: Transformation

(00:45:00)

Podcast: John Biewen, Seeing White (14-part series podcast, 2017), S2 E2: How Race Was Made (00:30:00)

11

Article: Karma Allen, More than 50% of homeless families are black, government report finds, ABCNews (Jan. 22, 2020) – 4 minutes
Article: Scott Winship, Richard V. Reeves, and Katherine Guyot, The Inheritance of Black Poverty: It's All About the Men, Brookings (March 22, 2018 – 3 minutes
Documentary: Ava Duvernay, 13th – scholars, activists and politicians analyze the criminalization of African Americans and the US prison boom (available on Netflix) – 1 hour 40 minutes

12
Article: Hannah Giorgis, Black Art is dangerous because it marries the personal and the political, The Guardian (Feb. 22, 2015) – 4 minutes

13

14
15

Perspectives in Poetry

Perspectives in Music

The Beatles – Revolution #1
Nina Simone – Revolution (Parts 1 and 2)
Nina Simone - Mississippi Goddam

16
Article: Peggy McIntosh, Unpacking the Invisible Knapsack of White Privilege – 10 minutes
17
18
Article + Videos: N. K. Jemisin, How Long 'Til Black Future Month? The Toxins of Speculative Fiction, and the Antidote that is Janelle Monae, Blog (Sept. 30, 2013) – 20 minutes
19
Article: Sam Dylan Finch, 9 Phrases Allies Can Say When Called Out Instead of Getting Defensive, Everyday Feminism (May 29, 2017) – 10 minutes
20

Article: Jolie A. Doggett, 4 Questions About Hair that Black Girls Are Tired of Answering, HuffPost (Feb. 14, 2020) – 4 minutes
Article + Video: Jessica Moulite, Exclusive: Rep. Ayanna Pressley Reveals Beautiful Bald Head and Discusses Alopecia for the First Time, The Root (Jan. 16, 2020) – 10 minutes
Video: Hair Love, Oscar®-Winning Short Film (Full), Sony Pictures Animation, YouTube (Dec. 5, 2019) – 7 minutes

21
22
23
Various mediums: The Smithsonian's National Museum of African American History and Culture today launched Talking About Race, a new online portal designed to help individuals, families, and communities talk about racism, racial identity and the way these forces shape every aspect of society, from the economy and politics to the broader American culture.
24
25
Video: Verna Myers, How to Overcome Our Biases? Walk Boldly Toward Them, TED Talk – 18 minutes
26
Podcast: Nice White Parents, a five-part series about building a better school system and what gets in the way – varies
27
Article: Janice Gassam, Your Unconscious Bias Trainings Keep Failing Because You're Not Addressing Systemic Bias (Forbes, Dec. 29, 2019) – 5 minutes
28
Docuseries: Amend: The Fight for America, an exploration of the Fourteenth Amendment as the most enduring hallmark of democracy in the United States – varies
29
Create your own 21-Day Racial Equity Habit Building Challenge © with help from Eddie Moore Jr., 21-Day Plans
We encourage you to read/review some or all of the materials, to share these resources with your friends, family members, or coworkers, and to engage in thoughtful discussions. Here are a few reflection questions that may be helpful:
What did I learn?
What resonated with my experiences?
What challenged me?
How will this impact the way I operate in the world?
The suggested resources are just a small sample of the information available, and we encourage you to look outside these suggestions and extend your journey beyond this project. We appreciate your participation, and we look forward to our continued work together to enact meaningful change.
Contacts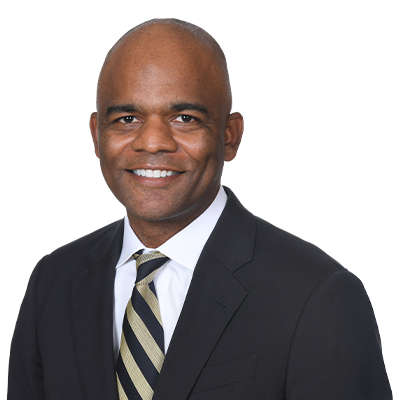 Co-Head of Financial Restructuring and Insolvency, United States