---
Alexandra Daoud
Partner, Patent Agent
Norton Rose Fulbright Canada LLP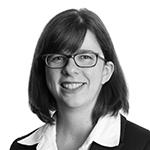 Alexandra Daoud
vCard
---
Related services and key industries
---
Biography
Alexandra Daoud has a background in electrical engineering and practises in all areas of information technology, such as electronics, software, telecommunications and optics. She also practises in the fields of electromechanics, business methods, medical devices, and bio-IT.
Ms. Daoud's practice has been focused on drafting and prosecuting patents for over 18 years. She is highly knowledgeable in all aspects of patent procurement, including drafting and filing patent applications, managing patent portfolios, conducting freedom-to-operate opinions, and generally assessing infringement and validity of patents.
Throughout the years, Ms. Daoud has developed extensive knowledge in various technical areas, such as wireless technology, telecommunication systems architecture, communication protocols, hardware devices, high-voltage electrical switches and substations, energy distribution systems and networks, semiconductor devices, image processing, object detection, image colour correction, edge detection, encoding/decoding data, graphics display devices, graphics processing, and RFID.
Ms. Daoud has experience with control systems in many industries, including industrial control systems for controlling equipment or machines, control systems for manufacturing and production, and control systems in the aerospace industry. Her experience in the aerospace industry also includes engine architecture, energy storage, power management, propeller systems, signal conditioning, electric machines, in-flight restart systems, and engine starting systems.
Ms. Daoud regularly works on patents for new software applications for computers and mobile devices, in fields as varied as time management/organization, online travel/booking, social media, gaming, online collaboration platforms, behavioural analytics, food order and delivery, vehicle sharing and managing, object tracking, and mobile device cameras.
In the medical field, Ms. Daoud has experience with various types of imaging technologies, such as fluoroscopy, x-rays, CT-scans, and ultrasounds. She has also worked with laboratory management software, surgical tools, image segmentation, image calibration, 3D imaging and object reconstruction, custom-made implants, dosing regimens, and diagnostics software.
At the Canadian Intellectual Property Office, Ms. Daoud has successfully overcome non-statutory subject-matter rejections for computer-related inventions post-Amazon.com. Ms. Daoud's extensive experience with US patent practice also allows her to navigate the complexities that often arise with subject matter eligibility, particularly regarding abstract ideas, fundamental economic practices, methods of organizing human activity, and mathematical relationships/formulas.
Ms. Daoud works with large corporations to build strong and robust patent portfolios. She also works with small and medium-sized companies to assist in implementing effective and thorough IP strategies, with a global perspective on value creation and risk management. She accompanies start-ups in the decision-making process for intellectual property management and has been involved in the due diligence reviews of intellectual property portfolios.
She has written widely on patent trolls, software patents, and business methods, and is a frequent speaker on patent issues.