---
Nov 9: Gender, innovation and science day at COP26
Global | Publication | November 2021
23 world governments, including China, India, the UK, US and EU, announced new plans to accelerate investment in low carbon technologies through "Mission Innovation". Four such missions have been launched this week, including on the decarbonisation of cities and industry, the integration of bio-refineries and on carbon monoxide removal technologies. Last week similar "missions" were also launched on decarbonising power systems and global shipping. The Mission Innovation programme has high profile financial backing from the likes of the World Economic Forum and Bill Gates. The initiative ultimately aims to decarbonise hard-to-abate sectors by scaling technologies and bringing down their costs, and will work by sharing experiences and best practice, and channelling both public and private finance into R&D and demonstration projects.
There are notable examples of private sector innovation already emerging out of the Mission Innovation and Glasgow Breakthrough initiatives, such as the announcement of new commercial-scale green steel facilities due to be deployed by 2030, as well as the 15 large corporations involved in concrete production and usage who have launched the "ConcreteZero Buyers Club", whereby its members will pledge to ensure a percentage of the concrete they produce is net zero by 2030. A similar initiative already exists for steel (the SteelZero initiative). More broadly, 40 of the largest cement and concrete producers have pledged reach net-zero by 2050, and cut emissions by at least 25 per cent by 2030. Concrete is thought to contribute between 4 and 8 per cent of all man-made carbon emissions, and so decarbonisation efforts will go a long way to contributing towards global net-zero.
Pre-COP, the global chemical industry also moved to accelerate their transition to net-zero with the launch of a new platform to promote collaboration, sharing of early-stage risk and joint investment opportunities. The Low-Carbon Emitting Technologies (LCET) initiative, launched in conjunction with the World Economic Forum, is intended to become a stand-alone organisation by the end of 2023, and will act as a project development company for the design and development of a variety of R&D activities.
Slightly away from COP, but nonetheless significant, nuclear power appeared to get a boost as both France and the UK committed to build more fission power plants. The UK Government announced £210m for Rolls-Royce, to be more than matched by the private sector, in order to progress the design of small modular reactors (SMRs) and to navigate the regulatory process for their deployment across the UK. It is hoped that each SMR could power a million homes, and would be built in factories before being transported to its use site, and therefore could be significantly easier and cheaper to build than traditional nuclear power stations (the cost and complexity of project development being the two main barriers to development over recent years). Meanwhile, French President Emmanuel Macron announced that France would restart construction of new nuclear power stations in order to progress towards net zero but also protect energy security and stability. Europe has been rocked by big increases in wholesale gas prices this summer, bringing firmly back into view the importance of a solid baseload power source, particularly as intermittent renewables grow in their share of power generation.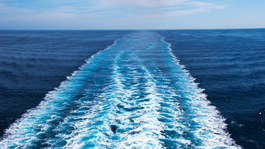 Publication
Women at sea: What you don't see
Nina Varumo is a freelance portrait and documentary photographer based in Stockholm. A recent project of hers Kvinnor till sjöss ('Women at sea') is on ongoing photo series highlighting the working life of female seafarers in order to change the stereotypical image of what and who is a seafarer.
Publication
"Double materiality": What does it mean for non-financial reporting?
Companies have been publicly reporting on their financial performance for over a hundred years. However, they are increasingly having to make public non-financial disclosures relating to sustainability and environmental, social and governance (ESG) matters as a result of rules, laws and regulations issued by stock exchanges, governments and regulators worldwide.