---
With ongoing trips to Ukraine, New York senior counsel and former New York Governor George Pataki's humanitarian efforts continue with the establishment of modular homes for displaced Ukrainian refugees
Global | Press release - People | April 2022
New York senior counsel and former New York Governor George Pataki has been making frequent humanitarian trips to Ukraine and its Hungary border through his nonprofit, Pataki Leadership Center, to support efforts aiding Ukraine war refugees on the ground level. Following meetings with officials in the Ukrainian government, Pataki has established modular homes for displaced refugees in Ukraine.
More than five million refugees have fled Ukraine to neighboring countries since the Russian invasion began in February, but more than seven million refugees have been displaced from the east to west within the borders. Pataki identified this opportunity to help these refugees in Ukraine by providing modular homes.
Although the United States passed a large aid package, it had not arrived and "the crisis is now," he said in a recent Fox News interview.
"What is a grave concern is that this refugee flow is going to dramatically increase and the next wave are anticipated as not having any place to go, so they will have to stay at or near the border, and there are no facilities," Pataki said. "The fear is that there is going to be, in a very short period of time, an inability to deal with the massive number of people who are forced to flee with nothing."
Governor Pataki has been working with groups in the US, such as the Greater New York Hospital Association, to arrange for more resources. They will be flying three loads of medical supplies into Hungary to travel across the border for parts of Ukraine where the supplies is badly needed.
During his time in Ukraine and Hungary, Pataki met with officials from Hungary, visited health care facilities and shelters and spoke with aid groups providing food, medicine and transportation at the borders in Hungary. While millions have fled Ukraine, the country has a population of over 43 million, with many who are unwilling or unable to flee. It is many of these people who are in desperate need of basic necessities from medicine to food and shelter.
Pataki recognizes President Zelensky's resolute strength and the fierce, unyielding spirit that has inspired both the Ukrainians and the west. He also encourages the US to do as much as it can to aid Ukraine, including the defense of their aerial space.
"When we ask Ukrainians what they most want, the answer we always get is, 'Close the sky,' because families, homes and towns are being devastated from above by the Russian military," Pataki told Maureen Dowd in her powerful New York Times article, "Zelensky Answers Hamlet." "And it's very disappointing not to be able to answer that question. I understand we're not going to create a no-fly zone, but we should give the Ukrainians the material support to enable them to create their own no-fly zone."
Pataki's establishment of modular homes for displaced refugees from Ukraine is a terrific undertaking and the first of its kind. Given the limited amount of resources, he is trying to get support from other sources to establish significantly more modular homes. The first shipment of about 20 foldable units arrived on April 3 in Solomonovo in Zakarpattia Oblast, a village just across Ukraine's border with Hungary and Slovakia. As Pataki described in a recent interview with CNN, "Well, so far we're working on building our 40th home. We have 20 that we put up in western Ukraine. We have 10 that the Ukrainian government has set up in Bucha to actually show that they're building back there. And we're in the process of building 10 more in Ukraine right now that -- most of which will keep at this refugee center."
Efforts to establish modular homes is something that is lifesaving to so many of the displaced Ukrainians. But the need is for 400,000, as indicated by Pataki, and he and the Foundation are seeking other mechanisms of support to increase the temporary shelters as the need is so great and appreciated.
Pataki continues his fundraising efforts through the Pataki Leadership Center to provide food, housing and healthcare for refugee families as they struggle to cope with their forced displacement. For more information or to make a donation, visit www.georgepatakicenter.com/ukraine.
Governor Pataki shaking hands with the Governor of Zakarpatia at entrance to state capital in Uzhgorod, Ukraine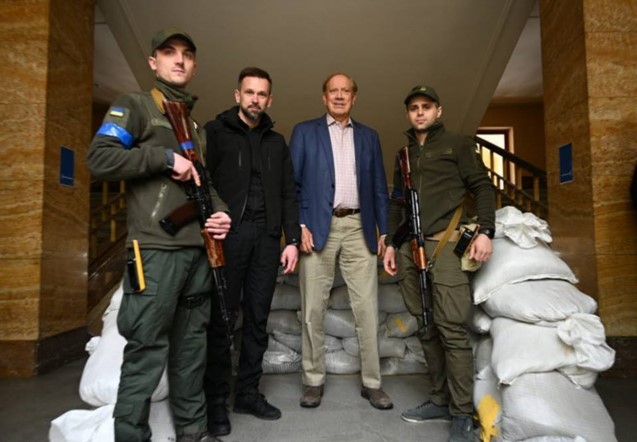 Governor Pataki with the Governor of Zakarpatia at the state capital in Uzhgorod, Ukraine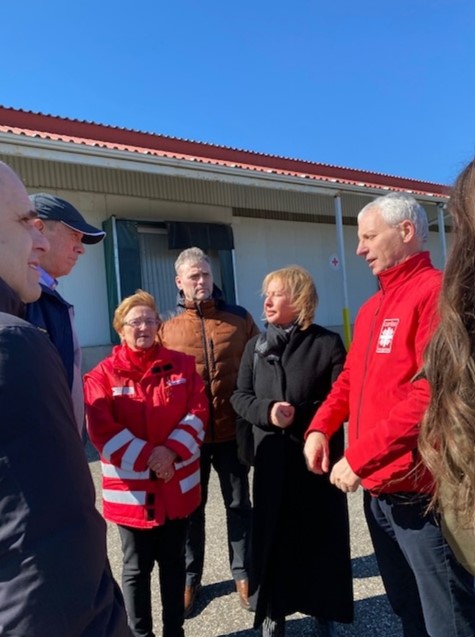 Governor Pataki near Ukrainian border meeting with Red Cross officials and government minister in front of warehouse with relief supplies for refugees
Contact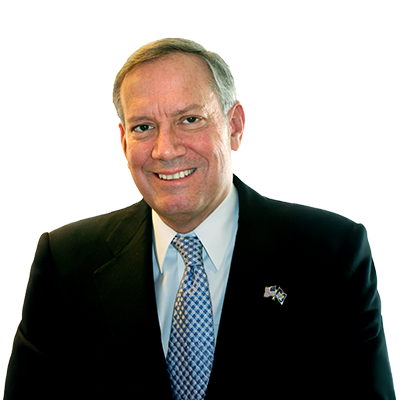 Senior Counsel
Email
george.pataki@nortonrosefulbright.com