---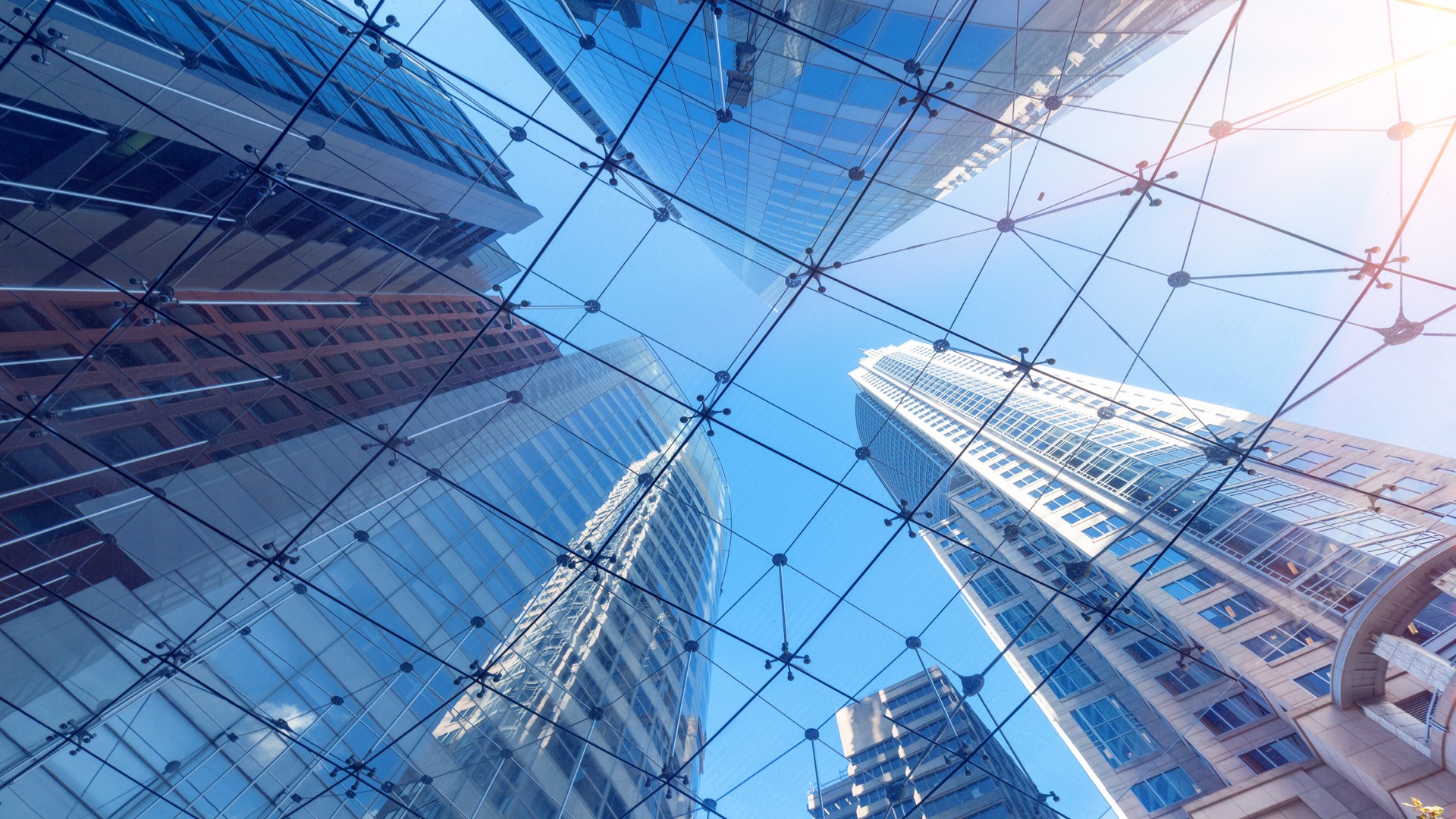 More aggressive antitrust enforcement?
Global | Publication | March 2023
Where the US leads, others tend to follow…
In the US, the Biden administration is synonymous with more aggressive enforcement in all areas of antitrust, emphasized by Lina Khan (FTC Chair) and Jonathan Kanter (DOJ Assistant Attorney General for the Antitrust Division). There is a new "Won't Back Down" approach towards litigation and historically high levels of investigative activity, with around 150 open criminal grand jury investigations and cases headed to trial at an all-time high.
As mentioned in our discussion of new areas of antitrust focus, bid rigging and other collusion affecting public procurements is a particular area of focus – in the sights of the DOJ's Procurement Collusion Strike Force, which has a "Detect and Deter" mission and is pursuing more than 60 criminal cases, developing more sophisticated detection tools, and adding new law enforcement partners. The initiative is also reaching out to other national competition enforcers to promote stronger enforcement around procurement procedures.
In 2022, the US resurrected its criminal enforcement against monopolization offenses, bringing its first criminal cases in nearly 50 years (previous policy limited criminal enforcement to cartel conduct). In United States v Zito, the DOJ had a near-perfect storm in its favor, securing a guilty plea for attempted monopolization aided by a whistleblower who recorded conversations with the defendant. The DOJ also brought conspiracy to monopolize charges against a dozen individuals for their role in using violence to maintain a monopoly for transport of goods to Central America. Will there be other cases to follow these two seeming outliers? For more on this development, see our briefing here.
European Commission: Raiding homes
Many authorities paused dawn raid activity (unannounced inspections) during the COVID-19 pandemic, but have since recommenced inspections, often working through a backlog of cases. The European Commission is an example of an authority that paused raids, but has since launched nine new cases with raids in 2021 and 2022, and already conducted raids in 2023. In 2022, the Commission also raided a home for the first time in years, with raids on domestic premises expected to become more common as WFH continues.
South Africa: Resurrecting raids
Another jurisdiction where dawn raid activity has recently picked up is South Africa. In late 2022, the South African Competition Commission conducted simultaneous dawn raids for the first time in more than four years – raiding eight insurance companies across the country regarding accusations of price fixing.
If there's a will, find a way…
In an environment where authorities are generally considering whether they have the right tools at their disposal (including in respect of Big Tech), this may lead to further new tools being introduced. Germany, for example, has been considering reforms to tackle perceived consumer injustices even if a clear-cut antitrust infringement cannot be found – possibly akin to UK market investigation powers.
CMA: A "big beast" enforcer?
The UK's CMA has a reputation as an increasingly aggressive global authority – upping the dial on antitrust as well as merger control enforcement. This includes setting much higher fines for antitrust infringements (as per its new penalties guidance – see further below), and seeking director disqualifications wherever possible (28 individuals disqualified since November 2016, and several more disqualifications in the pipeline).
The CMA has aggressively pursued non-UK entities for evidence, but a recent judgment found it lacks extraterritorial powers to do so (CMA is appealing). Going forward, proposed UK reforms envisage stronger information-gathering powers and penalties for hindering cases, plus greater cooperation with foreign authorities. The CMA is also expected to gain stronger powers to enforce consumer law, as well as new powers to enforce the UK's new digital regulatory regime. See our discussion about enforcement against Big Tech.
Also higher fines in Australia, Canada and China
Australia and China considerably increased maximum penalties for antitrust infringements in 2022. Australia also imposed its highest sentence for cartel conduct against an individual so far (three years in jail), with up to 10 years imprisonment possible. Australia now has a maximum fine per contravention of the greater of A$50 million or 30 per cent of Australian turnover for the period of the contravention, and penalties may be aggregated for multiple contraventions, allowing courts to impose fines significantly greater than this. Several fines have exceeded A$100 million. See our briefing here to learn more about the Australian reforms.
Changes to Canada's competition laws have significantly increased maximum penalties under the abuse of dominance provisions to up to 3 per cent of annual worldwide gross revenues. Starting June 2023, the C$25 million cap on fines under several of the criminal provisions will be eliminated, with fines to be left to the discretion of the court. In addition (as mentioned in our discussion of merger control trends), a wide-ranging consultation is under way regarding the future of Canadian competition law policy and enforcement that is anticipated to result in potentially significant changes to Canada's competition law framework.
Global antitrust fines in 2022
We set out below fines imposed for antitrust infringements in 2022 by authorities in some of the key jurisdictions in the world, i.e. fines for infringing rules that prohibit cartels and other anti-competitive agreements or the abuse of a dominant position or monopolization.1
Fines in some jurisdictions in 2022 were unusually low despite the more aggressive enforcement climate, including the US, Canada and Germany, but are expected to return to higher levels. Germany, for example, imposed total fines of €105 million in 2021 and €358 million in 2020, so €24 million in 2022 is low by comparison. However, there were 12 dawn raids in Germany in 2022, so fines are expected to pick-up in the years to come as/when these cases progress. Meanwhile, in the US, a fine imposed in January 2023 already nearly equals the total for all of 2022, while the DOJ Antitrust Division's leadership have signalled a focus on greater investigative activity (which they also suggest is more important than levels of fines).
As mentioned above, fines are also expected to rise in countries such as China, Canada and Australia, where maximum penalties for antitrust infringements were considerably increased in 2022, or expected to rise in 2023. The UK is another a jurisdiction to watch for higher fines going forwards, the CMA having revised its policy on setting fines and made known it believes higher fines are appropriate for deterrence due to its greater role investigating larger companies post-Brexit.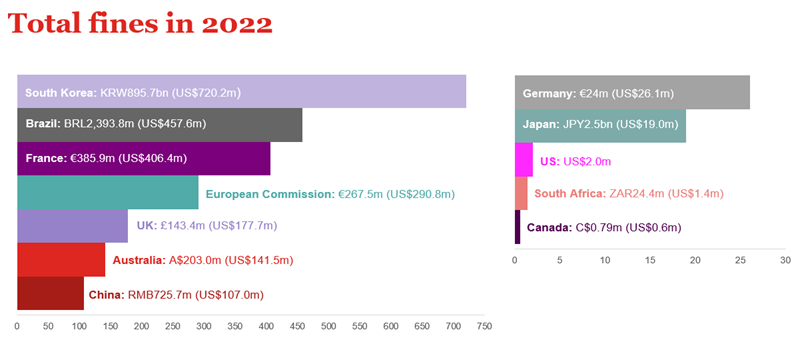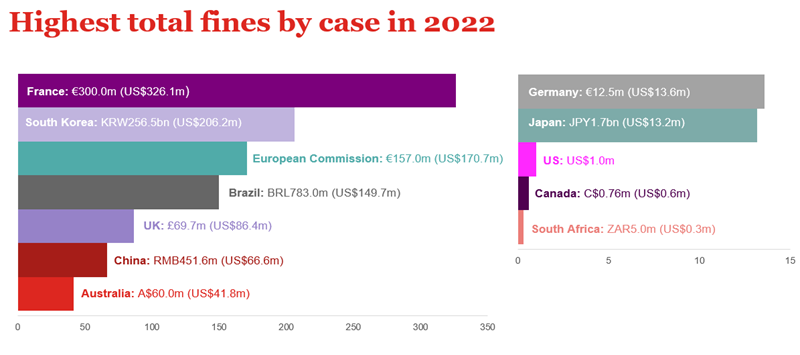 ---
Footnotes
1
Fines sourced from relevant authority/court websites or based on our own analysis.

Latest antitrust and competition trends