Legal technology consulting
Technology is changing how legal teams work, and how they serve the wider business. We help in-house legal teams and businesses select, deploy, and use legal and contracts technology, for maximum impact.

Navigating the ecosystem
Selecting and making best use of technology, is a major challenge.
There are now thousands of technologies focused on the work of a legal department. There are also more generalist tools – such as contract lifecycle management – which are important for the legal department, but used across a wide range of other teams too. Finally, there are generalist tools not designed for legal specifically, but flexible and powerful enough to make a major impact.
To make this manageable, we group technologies by what they do: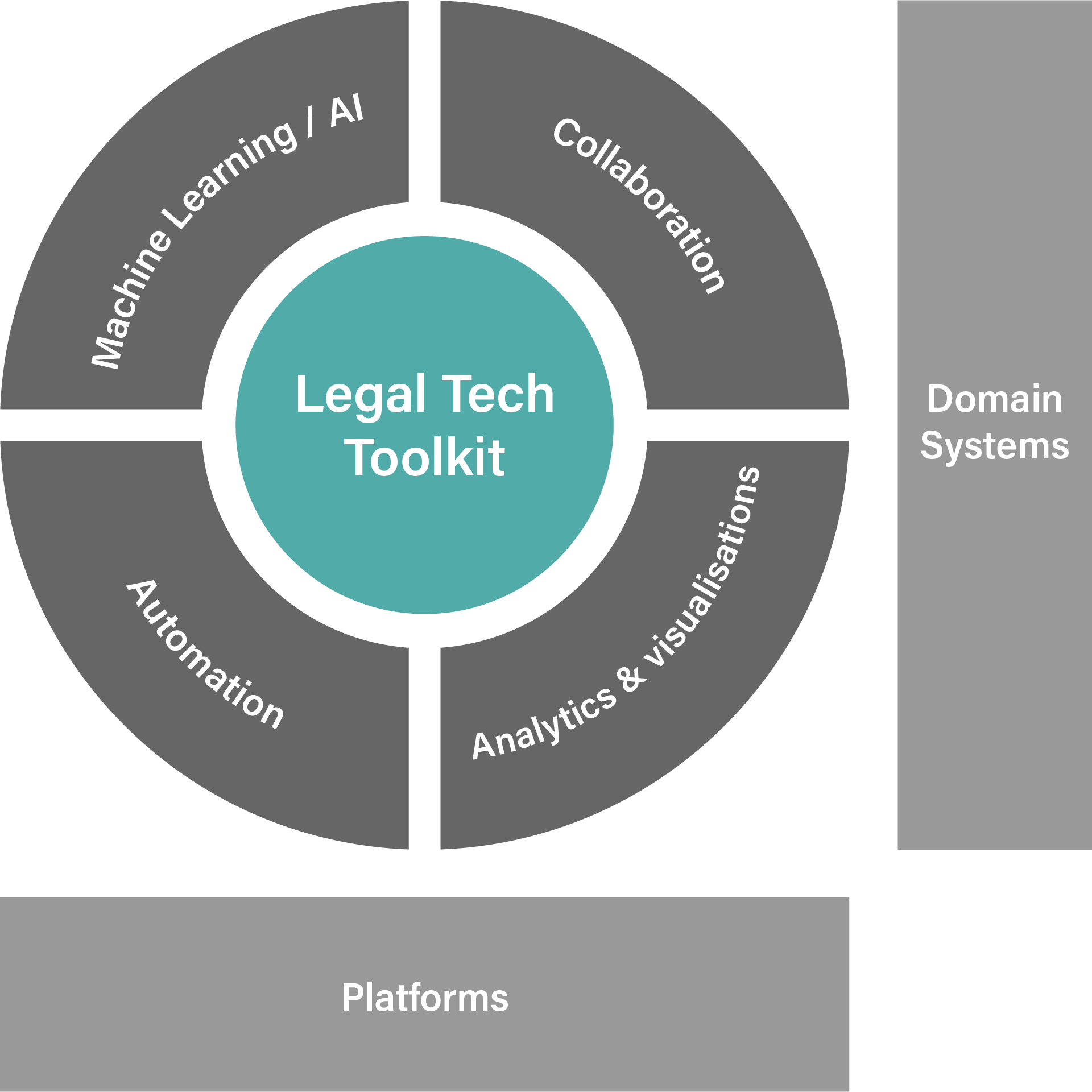 Automation | Automating repeatable tasks, like contract generation, workflow, and basic analysis
Machine learning / AI | Using machine learning to sort information or find document provisions
Collaboration | Enabling teams to work together and share information more effectively
Analytics and visualisations | Presenting & analysing information
Platforms | Systems that enable building a variety of applications
Domain systems | Systems designed for specific challenges, like Contract Lifecycle Management
We help clients work from the problem they are trying to solve, back through the functional and integration requirements, to access the technologies which will work for them.
How we work

Tech Agnostic Market Coverage
We have systematically reviewed hundreds of solutions across thousands of use cases - we know what solutions work, and in what circumstances. We have close relationships with a number of leading technology providers, but we never take commission, and will always recommend the right tool, for the right job.
We have often been involved in some of the most advanced and testing deployment of key tools in the market. We will always be upfront and transparent about what a technology can do, and what it can't.

Leading Lawyers, with Leading Technologists
A good technology solution for legal or contracts requires two things: a deep understanding of the legal, market and other practises around managing the relevant activity; and well deployed technology to give effect to this understanding.
Our advisors on legal practice and organisational dynamics aren't "just" lawyers or people who once worked in legal. They are practising lawyers, and market experts in their specific area.

Holistic View of Legal Operations
Technology alone is unlikely to achieve transformation: it only reaches its full potential when effectively embedded within a wider process, effectively resourced and interacting across the business, supported by effective strategies around data use and other legal technology.
Working with our market leading Legal Operations Consulting team, we take a holistic view, to ensure contract process automation fits with and enables a business's wider operations strategy.

How we are helping our clients
Subscribe and stay up to date with the latest insights