---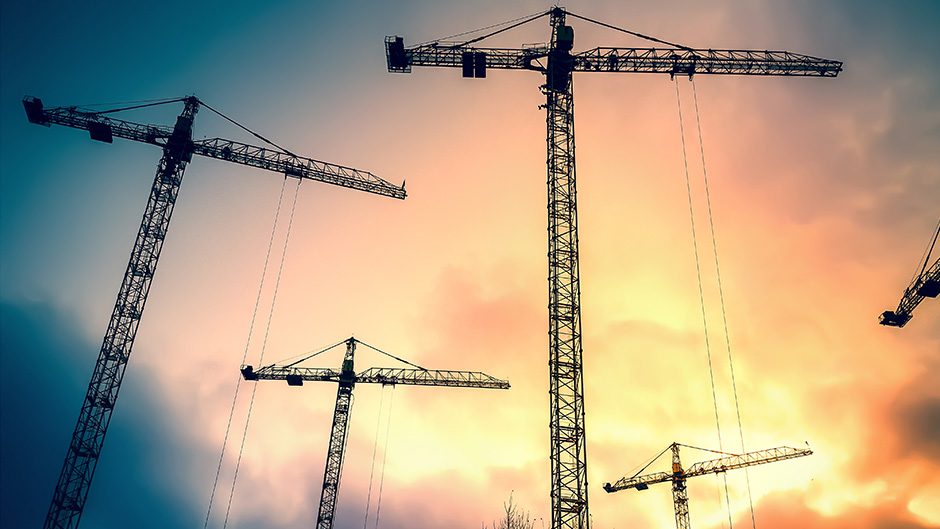 Of cracks, cranks and cranes
Publication | April 21, 2016
---
Introduction
Cranes have come to epitomise modern industrialisation and urbanisation in construction, mining, engineering, manufacturing, production and infrastructural development. These mega-structures tower above us, tall and high up into the urban skyline. They are the mechanical behemoths which, all too familiar in our environment, play a central role in the construction of our new age metropolitan concrete jungles. As a health and safety lawyer I have learnt a lot about the risks they pose.
There are three common types of cranes: tower, crawler and hydraulic mobile cranes. The most well-known, tower cranes, are distinguishable by their vertical masts and horizontal jibs and counter-jibs. In operation the jibs rotate cyclically. Attached to the jibs are a trolley and block hook which runs back and forth. Crawler cranes are tracked mobile cranes distinguishable by their lattice booms. At the end of the booms are wire ropes suspended with implements such as grapples, clamshells, crane hooks, or electric magnets used to lift and move loads around. Hydraulic cranes are smaller mobile cranes which travel on either tyres or treads. They use hydraulic power and have telescoping arms which extend upward to lift loads1. Much like humans, cranes are comprised of complex constituent components, with their own specifications and features. They are commissioned, have a lifespan, work shifts, age, physically weaken, and when the inevitable end of life comes they are finally decommissioned from their heights down to the ground.
Cranes are the largest pieces of equipment on construction sites, and inherently the most dangerous. They cause catastrophic accidents resulting in injuries, death and destruction of structures which causes substantial financial losses. Recent accidents that shocked South Africans and the rest of the world include the collapse of a crane during the pre-soccer World Cup construction of the Sao Paulo Stadium, Brazil, killing 2 construction workers on 27 November 2013. On 11 September 2015, a crawler crane toppled onto the Grand Mosque, the Masjid-al-Haram, in Mecca, Saudi Arabia, killing 111 people and resulting in 394 injured. On 14 September 2015, one employee died and two others were injured at the ESKOM Kusile Power Station, Mpumalanga, when a mobile crane tipped over. The statistics of crane accidents between 2000 and 2010 paint a grim picture for health and safety.
Crane accident statistics
Between 2000 and 2010, approximately 1125 reported crane accidents occurred resulting in over 780 fatalities and numerous injuries worldwide. In 2015, the number of reported fatalities worldwide rose to over 10002. These figures are only based on reported accidents, there are many unreported accidents. But what are crane accidents usually attributed to?
Causes of crane accidents
The following are the primary causes of crane accidents: operator error, lack of adequate health and safety training, falling or dropped materials, improper assembly, operating in hazardous weather conditions, exceeding the manufacturer's loading specifications or operating outside of the crane's intended usage. The 2010 statistics on the causes of crane accidents reported worldwide recorded that 38% of accidents occurred during the operation of cranes, 31% during climbing, assembly and dissembling, 23% due to weather conditions, and 8% as a result of unknown causes. What can this unknown 8% of causes be attributed to and how can it be addressed?
While most of these known causes can be prevented through the implementation of proper health and safety procedures and adequate training and supervision of crane assemblers and operators, a further underlying cause of crane accidents requires further consideration. This is the mechanical failure of structures, particularly jibs and counter-jibs of tower cranes, which weaken due to crack formation over time.
Contributing factors to the structural failure of tower crane jibs
The lifting and conveyance of heavy duty and high-capacity loads, sometimes beyond the manufacturer's specifications, over time contributes to crack formation. Additionally, the heavy usage of tower cranes in harsh working conditions is another cause, while extreme environmental conditions are also a contributing factor even when the cranes are out of operation and the components are in storage. Brittle-fracture occurrence on vital parts is also possible in the assembly stage of cranes. The structural modification of cranes, mostly due to welding work on the components is another cause. All these factors confirm that failure is possible at any stage of the life cycle of a crane3. However, crack formation is not always identified because, too often, the inspection of crane components is restricted to initial assembly, and no surveillance or subsequent service is undertaken even though cranes may continue in usage for months or years after the initial inspection. This situation is made worse where cranes have over the years changed ownership, or where inadequate, or no records of structural modification or maintenance have been kept.
Enhanced standards of maintenance and examination of cranes are institutional imperatives to health and safety. There are two primary equipment maintenance management techniques that are employed: breakdown maintenance, where maintenance is only carried out after faults or failure have been identified; and planned preventative maintenance which involves routine inspection and replacing parts or making adjustments at present intervals, so that risks do not occur as a result of the deterioration or failure. The breakdown maintenance approach is inappropriate because any failure presents an immediate risk.
The best way for construction, engineering and mining companies to mitigate the risks to health and safety associated with these types of crane accidents is through the implementation of crane management plans.
Crane management plans
Crane maintenance should be managed as a key priority because it bears financial and legal implications for companies. An effective management structure is therefore required to ensure that the company is holistically aware, involved, properly briefed on its duties and that systems are in place to enable effective monitoring of maintenance data, feedback and implementation of health and safety systems. Clear lines of responsibility for maintenance operations should be established from management level downwards in the corporate chain, ensuring that those appointed and responsible have sufficient knowledge and experience to carry out their duties in a way which will ensure that risks are properly controlled.
The benefits of a regular management review of crane maintenance are: confidence that the health and safety systems in place are functioning correctly; identification of extraordinary events and failures of the system; and ensuring that there is proof of adequate maintenance to the satisfaction of the regulatory authorities in the unfortunate event of an accident, establishing breakdown trends over time which will inform the review of maintenance frequency; identification of component failure and breakdown trends for feedback to the manufacturer to inform future designs of crane components; and monitoring the performance of individual cranes over time to inform future purchases.
Maintenance as a core element
Crane maintenance activities should be carried out, as a minimum, at the intervals specified in the crane manufacturer's maintenance manual, if provided. Information supplied by the manufacturer will be the main source of instructions, model specifications and technical information when carrying out maintenance. It is imperative to ensure that the information is up to date for this purpose. Varying circumstances at sites may however require a modification or deviation of the maintenance processes. This should be included within the maintenance procedures. Further, as manufacturers' manuals are not always complete and in the case where a particular task is not covered, the manufacturer must be contacted before the task is undertaken.
Intervals of maintenance
Maintenance of a crane should not occur only when the crane has been dismantled after use or being inspected prior to erection on a project. Once the crane has been erected on site, the user of the crane has the duty to ensure that even during its lifting operations the crane is adequately maintained. Each crane should have a documented preventative maintenance schedule which is targeted at the parts where failure or deterioration could lead to health and safety risks; specifies the frequency of inspection and test of relevant parts; takes account of the manufacturer's instructions; the age of the crane; and its in-use history.
For a preventative maintenance system to be fully effective it is essential that the following be kept in the machine history file: comprehensive records of daily checks; pre-delivery inspections; erection, alteration and dismantle records; intermediate inspections; breakdown reports; maintenance work sheets (including details of parts replacement); test reports; records of modifications and upgrades; records of defect rectification and component replacement; service reports; and reports of thorough examinations. This information should be filed in an individual machine history file which should be kept for the life of a crane.
An important aspect of a planned preventative maintenance system is the continuous and systematic review of all maintenance records, inspection reports and reports of examinations to ensure that the maintenance is effective, defects are found and worn components are replaced well in advance of any possible failure. Should this review indicate that maintenance is not fully effective, the manufacturer must be consulted? This is especially where the crane has been in use for 14 years or more. It is the manufacturer, after all, who best to advise on whether the crane can continue in use or be decommissioned.
---
Footnotes
1
Dolmain Law Firm "Wrongful Death: What are the Causes of Crane Accidents?"  (2015) https://newportricheyinjury.wordpress.com/2015/12/23/what-are-the-causes-of-crane-accidents/ (accessed on 29 January 2016)"Crawler Cranes" http://www.isri.org/docs/default-source/safety/crawler-cranes.pdf?sfvrsn=4 (accessed on 29 January 2016), RitchieWiki "Crawler Crane" http://www.ritchiewiki.com/wiki/index.php/Crawler_Crane (accessed on 29 January 2016).
Dolmain Law Firm "Wrongful Death."
ND Zrnic, SM Bosnjak, VM Gasic, MA Arsic and ZD Petkovic "Failure Analysis of the Tower Crane Counterjib" Elsevier Ltd (2011) 2238 at 2238.

---