---
Top tips for building resilience
Resilience isn't a personality trait – it's a skill that can be learnt and developed. Here are some top tips to get you started.
---
Taking steps to look after your wellbeing can help you deal with pressure, and reduce the impact that stress has on your life.
Resilience is not just your ability to bounce back when things don't go as planned. It is also your capacity to adapt in the face of challenging circumstances, whilst maintaining a stable mental wellbeing. Resilient people acknowledge the situation, learn from their mistakes, and then move forward.
Make some lifestyle changes
Find balance in your life. You may find that one part of your life is taking up almost all of your time and energy. Try making a decision to focus some of your energy on other parts of your life, like family, friends or hobbies. It's not easy, but this can help spread the weight of pressures in your life, and make everything feel lighter.
Make time for your friends. When you've got a lot on this might seem hard, but it can help you feel more positive and less isolated. Chatting to friends about the things you find difficult can help you keep things in perspective – and you can do the same for them. Laughing and smiling with them will also produce hormones that help you to relax.
Develop your interests and hobbies. Finding an activity that's completely different from the things causing you stress is a great way to get away from everyday pressures. If stress is making you feel lonely or isolated, shared hobbies can also be a good way to meet new people.
Build your support network
Make connections. Good relationships with close family members, friends or others are important. Accepting help and support from those who care about you and will listen to you strengthens resilience.
Friends and family. Sometimes just telling the people close to you how you're feeling can make a big difference – and they might be able to help you out in other ways too. While simply talking about a situation with a friend or loved one won't make your troubles go away, it allows you to share your feelings, get support, receive positive feedback, and come up with possible solutions to your problems.
Support at university such as your tutors, student union or student services.
Peer support. Sometimes sharing your experiences with people who've been through something similar can help you feel less alone.
Your GP. If you feel like you need some professional support, you can speak to your doctor. They can check your overall health, and help you access support and treatments. They could also recommend that you take some time off work or university and sign a medical note for you.
Look after your physical health
Be active. Being physically active is important for both our physical and mental health. Even making small changes such as going for a regular walk outside may help you to feel less stressed.
Eat healthily. When you're stressed, it can be tempting to skip meals or eat too much of the wrong kinds of food. But what you eat, and when you eat, can make a big difference to how well you feel.
Avoid negative outlets. It may be tempting to mask your pain with alcohol, drugs or other substances, but that's like putting a bandage on a deep wound. Focus instead on giving your body resources to manage stress, rather than seeking to eliminate the feeling of stress altogether.
Get enough sleep. Stress can often make it difficult to sleep, and can cause problems. Getting enough sleep can help you feel more able to deal with difficult situations.
Use relaxation techniques. You may already know what helps you relax, like having a bath, listening to music or taking your dog for a walk. If you know that a certain activity helps you feel more relaxed, make sure you set aside time to do it.
Embrace healthy thoughts
Listen for negative comments in your head. When you hear them, practice immediately replacing them with positive ones, such as, "I can do this," "I'm a great friend" or "I'm good at my job."
Keep things in perspective. How you think can play a significant part in how you feel — and how resilient you are when faced with obstacles. If you feel overwhelmed by a challenge, remind yourself that what happened to you isn't an indicator of how your future will go, and that you're not helpless. You may not be able to change a highly stressful event, but you can change how you interpret and respond to it.
Accept change. Accept that change is a part of life. Certain goals or ideals may no longer be attainable as a result of adverse situations in your life. Accepting circumstances that cannot be changed can help you focus on circumstances that you can alter.
Maintain a hopeful outlook. It's hard to be positive when life isn't going your way. Positive thinking does not mean ignoring the problem in order to focus on positive outcomes. It means understanding that setbacks are temporary and that you have the skills and abilities to combat the challenges you face.
Learn from your past. By looking back at who or what was helpful in previous times of distress, you may discover how you can respond effectively to new difficult situations. Remind yourself of where you've been able to find strength and ask yourself what you've learned from those experiences.
Develop problem solving skills, take action and move towards your goals
Develop Problem-Solving Skills. Research suggests that people who are able to come up with solutions to a problem are better able to cope with problems than those who cannot. Whenever you encounter a new challenge, make a quick list of some of the potential ways you could solve the problem.
Take action. Simply waiting for a problem to go away on its own only prolongs the crisis. Instead, start working on resolving the issue immediately. While there may not be any fast or simple solution, you can take steps toward making your situation better and less stressful. Focus on the progress that you have made thus far and planning your next steps, rather than becoming discouraged by the amount of work that still needs to be accomplished. Actively working on solutions will also help you feel more in control. Rather than just waiting for things to happen, being proactive allows you to help make your goals a reality.
Move toward your goals. Develop some realistic goals and do something regularly — even if it seems like a small accomplishment — that enables you to move toward the things you want to accomplish. Instead of focusing on tasks that seem unachievable, ask yourself, "What's one thing I know I can accomplish today that helps me move in the direction I want to go?"
Contact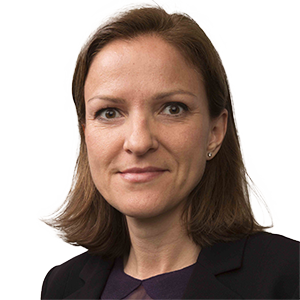 Head of Talent & Diversity, Europe, Middle East and Asia