---
COP27 decisions will help determine prospects for biodiversity talks
Global | Publication | novembre 2022
Negotiators are being urged to explicitly recognise the importance of nature-based climate solutions in their final COP27 decisions, while former UNFCCC Executive Secretary Christiana Figueres and others have called for a Paris Agreement for nature.
Speaking at a COP27 climate and nature panel session, the Director-General of the International Union for the Conservation of Nature, Bruno Oberle, said negotiators should include a clear statement in their final decisions, recognising the important role of nature-based solutions in the fight against climate change.
Clear backing for nature-based solutions would help to ensure a good outcome at a COVID-delayed meeting of signatories to the Convention on Biological Diversity, which will take place in Montreal early next month, he added.
Figueres urges nature equivalent of Paris Agreement
Meanwhile, Christiana Figueres and COP21 President Laurent Fabius are among the signatories to a new statement that urges negotiators at the forthcoming COP 15 Biodiversity Summit in Montreal to commit to a strong parallel agreement to the Paris Agreement.
Other signatories include Manuel Pulgar-Vidal, President of COP20, and Laurence Tubiana, CEO of the European Climate Foundation and France's Climate Change Ambassador and Special Representative for COP21.
"Climate change is fast becoming a primary driver of biodiversity loss, while our accelerating destruction of nature is undermining its abilities to provide crucial services, including climate change mitigation and adaptation," the statement reads.
Figueres and her former colleagues timed the release of their statement with COP27's biodiversity-themed day.
India and Australia to guide finance discussions
COP President Sameh Shoukry has appointed India's Minister of Environment, Forest and Climate Change, Shri Bhupender Yadav, and Australia's Climate Change Minister Chris Bowen to jointly progress discussions on finance.
However, their remit doesn't include the contentious issue of loss and damage.
Minister Bowen had earlier told the COP that Australia – which is bidding to host COP31 – is determined to "hold the world as close as possible to 1.5 degrees of warming".
Bowen also urged multilateral development banks to play their part in the fight against climate change.
"Our international financial architecture is built for a different time and for different challenges," he said.
"Some of our financial institutions are stepping up to this task," he said. "But others are not."
Multilateral development banks must be "wholeheartedly committed" to playing their part, he said.
Just transition
Meanwhile, Norton Rose Fulbright's South African team spoke at a COP27 panel session on the road to a just transition.
Matt Ash, Norton Rose Fulbright's head of energy in South Africa, noted that South Africa's recently released Just Energy Transition Investment Plan aims to speed the country's energy transition, which is estimated to require a US$99 billion investment over the next five years alone.
New transmission infrastructure accounts for a very large portion of the required investment, as the existing grid is heavily focused on connecting coal-fired generators in the north of the country, while the best renewable generation resources lie elsewhere, Mr Ash said.
Mr Ash also indicated that a significant amount of battery capacity would be required to complement and firm up the renewable energy generation capacity that is coming online.
He added that South African coal exports to Europe had increased significantly since the Russian invasion of Ukraine, with demand from China and India also expected to grow.
Tina Costas, Norton Rose Fulbright's head of environment in South Africa, told the panel session that it was important for project developers to "follow the rules" when seeking approval for new projects, noting that this hadn't always been the case.
Ms Costas also stressed the importance of using environmental specialists with expert and local knowledge to avoid problems that can derail or delay a project.
Developers also need to engage meaningfully with stakeholders when seeking approval, she said.
James Ross, Senior Associate at Norton Rose Fulbright, said South Africa's Renewable Independent Power Producer Program (REIPPP) has so far involved seven bidding rounds since its launch in 2011. A total of 112 projects have been successful in the bidding rounds, with a total capacity of 6422MW.
The REIPPP scheme has grown significantly, with the capacity procured in the last two rounds equal to that procured in the first four, Mr Ross said.
However he noted there have been some challenges. For example, 25 preferred bidders emerged from bidding round five, which took place last year, but only three have so far reached financial close and signed power purchase agreements.
Norton Rose Fulbright is represented at COP27 by Anne Lapierre and Elisa de Wit, along with Johannesburg-based head of the Norton Rose Fulbright Africa team, Gregory Nott, and Cape Town-based senior associate James Ross. Norton Rose Fulbright is providing regular client updates from the talks.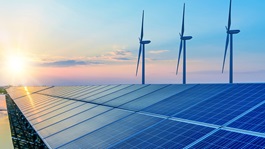 Publication
Project Bonds and Energy Transition: A proven financing solution
The stricter monitoring/disclosure and liquidity requirements faced by banks in the wake of the global financial crisis mean that projects can often no longer be funded by traditional bank debt alone. The debt capital markets have stepped up to the challenge and project bonds are on the rise, particularly amidst the green finance boom.