---
Competition law developments in East Asia - January 2016
Global | Publication | January 2016
Introduction
This month's editors: Maxime Vanhollebeke, Shan Hu, Pearl Yeung, Serena Gingell, Michael Kim, Sophie Chen, Yui Ota, Lydia Fung and Arthur So.
Below is an excerpt from our monthly Competition Report. More detailed commentary on these issues and other recent competition law developments in the Asian region is to be found in this month's edition of our report available on a free subscription basis (see further below).
Authorities revise their guidance on IP rights
Competition authorities in the region have long applied a high degree of scrutiny over M&A transactions and licensing practices in the technology and life sciences sectors. Intellectual property rights often play a significant role in the competitive process in these sectors.
In the last year, competition authorities closely reviewed licensing practices in several major merger transactions, including NXP's acquisition of Freescale, Nokia's acquisition of Alcatel-Lucent, the acquisition of Dupont's chloroprene rubber business by Denka and Mitsui, and Zimmer's takeover of Biomet. In some of these transactions authorities required the divestment of assets including intellectual property as a condition of their clearance. In other cases competition authorities required commitments from the parties that they license their patents to third parties on fair, reasonable and non-discriminatory terms. Korea's Fair Trade Commission required a similar commitment from Microsoft to close its year-long investigation of the acquisition of Nokia's devices and services businesses.
Several authorities have also investigated the licensing practices of holders of patents that are essential to a technological standard. One of the most acute questions in this respect is whether such a patent holder has market power, and if so, whether it is an abuse of market power to seek injunctions against parties that are alleged to have breached patent rights. In the last months, authorities in China, Japan and Korea have refined their guidance in this respect. All consider that the seeking of injunctive relief can be a form of abuse of market power where the right relates to a standard-essential patent and where the defendant is willing to negotiate licensing terms. While guidelines and implementing rules reflecting this approach have yet to be finalised, these tend to follow the approach adopted by the European Court of Justice in its Huawei/ZTE judgment of July 2015.
MOFCOM reviews unprecedented number of simple cases in fourth quarter
On 11 January, MOFCOM's Antimonopoly Bureau released its quarterly statistics which identified 80 unconditional merger clearances for the last quarter of 2015.  This brings the total number of unconditionally approved transactions to 1,273 cases since the Antimonopoly Law took effect in August 2008.
Although this methodology has no scientific pretence, a review of the names of the participating entities in each case shows that transactions involving foreign firms continue to account for the majority of notified transactions.  By comparison, to a peak of almost 40 per cent during the last quarter, purely domestic mergers fell to 27 per cent for this quarter.  These levels remain much higher than in previous years.  In 2015, purely domestic transactions accounted for one in four merger procedures, compared to an average of around 15 per cent since 2008.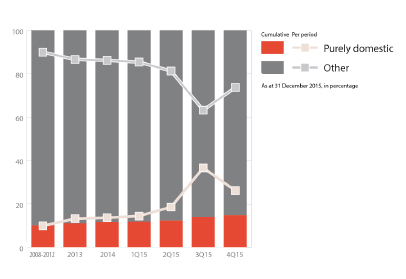 During the quarter, Europe, Japan and US-headquartered businesses continued to make up the majority of foreign companies involved in MOFCOM merger procedures.  The same trend could be observed during the full year, as shown below.  Compared to prior years, the proportion of transactions involving Japanese firms is decreasing slightly.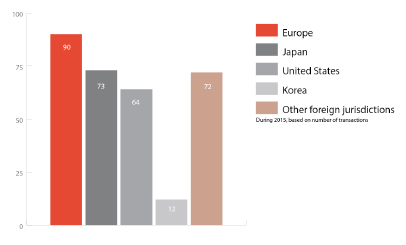 Transactions approved under the simple cases procedure reached the highest ever proportion of MOFCOM unconditional clearances for the quarter, since the procedure was introduced in 2014:  more than 80 per cent of all unconditional clearances were made under the procedure.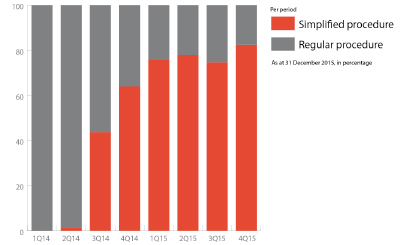 With the knowledge of when public notices are published for each simple case as well as the date of approval available through MOFCOM's unconditional clearances list, it is possible to establish the duration of the review procedure for these cases.  As with the third quarter of 2015, MOFCOM took an average of 27 days to conclude its review of simple cases (against an average of 30-day duration since the introduction of the procedure in 2014).
Table of contents of our January 2016 report (Issue 84)
China NDRC and SAIC consult on separate draft antitrust rules concerning IP rights
China MOFCOM reports on its 2015 activities
China MOFCOM reviews unprecedented number of simple cases in fourth quarter
China NDRC levies fines on five pharmaceutical companies involved in allopurinol tablet cartel
Hong Kong High Court rules in favour of TVB in exclusionary conduct case
Hong Kong Competition Commission consults on liner shipping association's block exemption application
Indonesia Construction companies again sanctioned for bid-rigging
Indonesia KPPU continues to sanction construction companies for bid-rigging
Japan JFTC unconditionally clears the acquisition of Tokyo Kohtetsu by Osaka Steel
Japan JFTC begins phase-two review of Idemitsu Kosan's proposed acquisition of Showa Shell
Japan JFTC amends intellectual property guidelines
Korea Cement manufacturers sanctioned for price fixing and interfering with investigations
Korea Construction companies sanctioned for bid-rigging
Korea Snacks manufacturers sanctioned for bid-rigging
Malaysia MyCC releases 2014 Annual Report
Singapore CCS approves acquisition of SanDisk by Western Digital
Singapore CCS consults on commitments offered by supplier of lift spare parts
Taiwan Sanctions made against cable TV operators for failing to notify a joint operation for merger approval
English translation of the Antimonopoly Commission of the State Council's draft Antimonopoly Guidelines in Relation to the Abuse of Intellectual Property Rights
Read the full report - Please register if you are interested in subscribing to our monthly East Asia competition reports (free subscription).

Contacts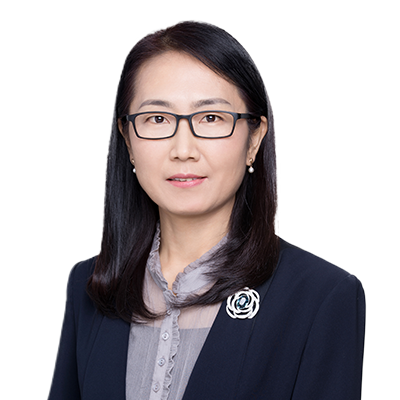 Registered Foreign Lawyer
Publication
EU Green Deal aviation proposals and UK Decarbonising Transport Plan
As the global aviation industry looks towards post-pandemic recovery and less turbulent skies, it is the topic of decarbonisation that is increasingly top of everyone's agenda. There have been a number of eye-catching announcements around the world in recent weeks, from United Airlines announcing its intention to purchase 100 electric aircraft, an increased focus on the use of sustainable aviation fuel (SAF) from several airlines, and Korean Air utilising the green bond markets.