---
Smart contracts are receiving significant attention from businesses across a broad range of industry sectors, and for good reasons. Smart contracts, when used in conjunction with distributed ledgers and blockchains, have the potential to:
Deliver costs savings by streamlining back office processes
Verify identity and certify transactions
Provide an indelible record of transacting history
Enable strangers to trade directly with each other without the need for a trusted third party intermediary
Automate buy, sell and supply transactions on a B2B and B2C basis, including in combination with the internet of things
Our global technology team have created a guide entitled Smart Contracts: coding the fine print to address some of the legal, regulatory and commercial issues relating to smart contracts. The guide also considers the potential impact of smart contracts on various industry sectors, outlines the nature of smart contracts and examines potential obstacles to their uptake.
To discuss any of the issues or request a copy of the guide, please get in touch with us.
Preview
Please download an excerpt from our global Smart Contracts guide.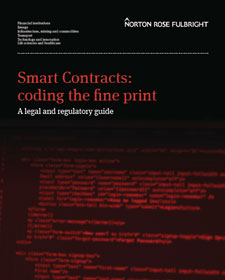 Publication
EU Green Deal aviation proposals and UK Decarbonising Transport Plan
As the global aviation industry looks towards post-pandemic recovery and less turbulent skies, it is the topic of decarbonisation that is increasingly top of everyone's agenda. There have been a number of eye-catching announcements around the world in recent weeks, from United Airlines announcing its intention to purchase 100 electric aircraft, an increased focus on the use of sustainable aviation fuel (SAF) from several airlines, and Korean Air utilising the green bond markets.