---
Competition law developments in East Asia - December 2016
Global | Publication | December 2016
Introduction
This month's editors: Maxime Vanhollebeke, Pearl Yeung, Michael Kim, Sophie Chen and Lydia Fung.
Below is an excerpt from our monthly Competition Report. More detailed commentary on these issues and other recent competition law developments in the Asian region is to be found in this month's edition of our report available on a free subscription basis (see further below).
Antitrust fines at a record high in 2016
Close to $2 billion in antitrust fines were imposed in the region in 2016. As was the case last year, the highest fine was imposed in an abuse of market power case involving Qualcomm. That fine alone accounts for almost half of the amount of fines imposed in the region during the year. While last year the company faced sanctions in China, this year its market practices attracted a very substantial fine – the largest ever – in Korea. With this decision, Korea tops the list of the highest fines. Korean competition authorities were also the most aggressive during the year based on the number of cases in which sanctions were imposed.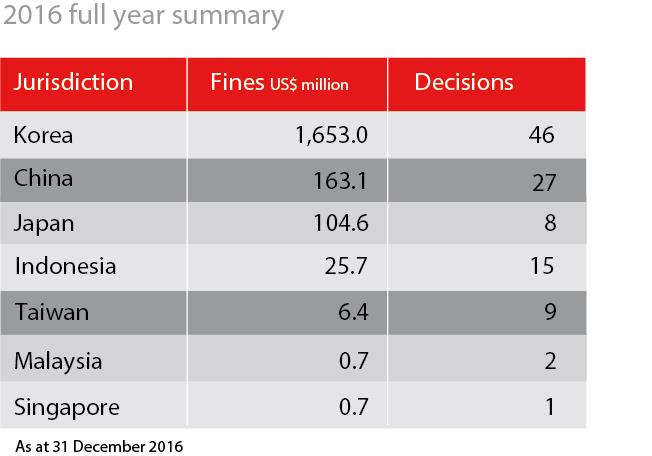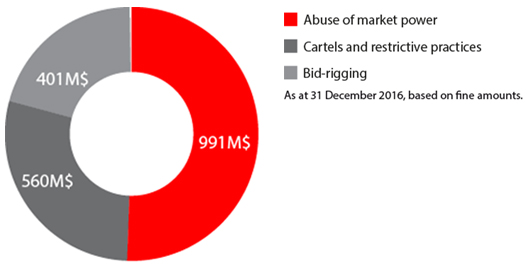 In China too, the highest fine imposed during the year related to a practice involving an abuse of market power (by Tetra Pak). Decisions sanctioning practices under the abuse of market power regime are few, but they account for around half of all fines imposed during the year.
Other practices that were frequently sanctioned by competition authorities in the region were bid-rigging, cartels, and vertical price restrictions. Bid-rigging in particular is the most often sanctioned practice in Indonesia, Japan and Korea. As in previous years, Chinese authorities adopted many decisions sanctioning cartels, but have yet to deal with a bid-rigging case under the Antimonopoly Law. Another continuing trend is the imposition of sanctions on parties to merger transactions that fail to seek clearance. Companies were sanctioned in China, Indonesia and Taiwan for failure to notify their mergers.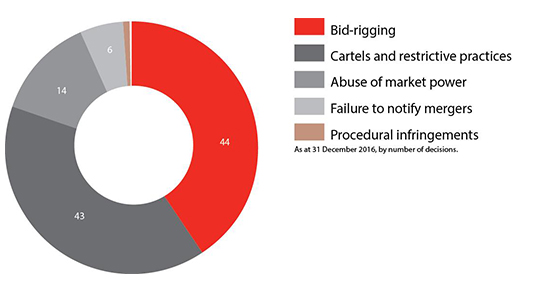 Consistent with previous years, the most aggressive competition law enforcers when measured by the amount of fines are all located in North Asia. In South East Asia, authorities would impose lower fine amounts or would bring anticompetitive to an end without imposing fines. This year, authorities in Indonesia, Malaysia and Singapore imposed fines for anticompetitive conduct.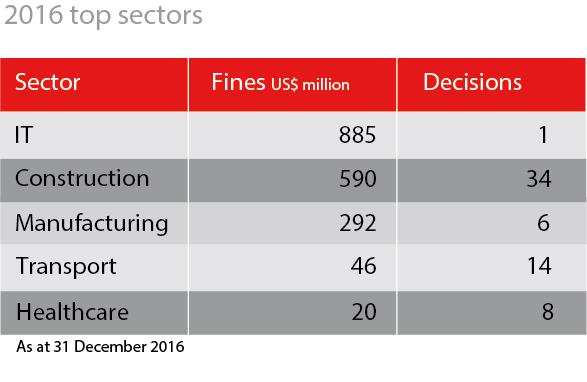 When considering the sectors of industry that were the most exposed to sanctions during the year, the information technology sector comes on top because of the Qualcomm case in Korea. Risks are more evenly spread in other sectors, particularly construction and transport, where many companies were sanctioned, mainly for bid-rigging and cartel-like practices in Indonesia, Japan and Korea.
Competition Commission of Singapore clears joint venture between Singapore Airlines and Lufthansa in view of the parties' commitments
The Competition Commission of Singapore (CCS) announced on 12 December that it had cleared a proposed joint venture between Singapore Airlines and Lufthansa concerning the parties' air passenger services between selected destinations in Asia-Pacific and Europe. The decision was made in view of the parties' voluntary commitments regarding their activities on the relevant markets. While the full text of the CCS's decision has yet to be published, a copy of the commitments has already been released.
Under the Singapore Competition Act, unincorporated airline joint ventures are assessed as cooperation agreements. Where the joint venture involves actual or potential competitors, the arrangement can potentially restrict competition in breach of the prohibition on restrictive agreements under Section 34 of the Act. As their proposed joint venture entails a significant degree of cooperation on competitive parameters, including pricing, inventory management, sales and marketing, schedules, and capacity, the parties sought a decision from the CCS on its compatibility with Section 34. The brief announcement published by the CCS suggests that the authority found that the joint venture would infringe the Section 34 prohibition, but that it generates sufficient benefits allowing the parties to avail themselves of the net economic benefit exclusion under the Act. The parties' voluntary commitments appear to have been a key consideration for the CCS in reaching this conclusion.
The CCS identified competition concerns in relation to two passenger routes, i.e. Singapore–Frankfurt and Singapore–Zurich. On these routes, the parties are the only two airlines operating direct flights, and their combined market share exceeds 80 per cent (when considering both direct and indirect flights). The absence of effective competition constraints could lead to possible reductions in capacity and an increase in fares on these routes. In view of these possible restrictive effects, the parties committed to increase capacity and to carry a minimum number of passengers on the two routes. The CCS considers that these commitments would lead to increased passenger numbers and tourists to Singapore, and accordingly benefit Singapore's economy, thereby fulfilling the conditions of the net economic benefit exclusion under the Act. The announcement also refers to an increase in flight frequencies as a benefit, although this is not reflected in the terms of the commitments. The parties undertook to appoint an independent auditor to monitor compliance with their commitments and report to the CCS on an annual basis. The commitments will remain in effect for the duration of the joint venture, unless otherwise agreed by the CCS.
Table of contents of our December 2016 report (Issue 95)
China Medtronic sanctioned for resale price maintenance
China Resale price maintenance in auto sector sanctioned in Shanghai
China Pasteurised milk operator fined for resale price maintenance
China OTC drugs distributor fined for resale price maintenance
China SAIC sanctions abuses of dominance
China Medical devices merger conditionally cleared
Hong Kong Competition Commission signs MOU with Canada Competition Bureau
Hong Kong Competition Commission reports on first year of enforcement

Japan Criminal fines imposed in East Japan Expressway bid-rigging case
Japan JFTC allows two parallel transactions in the oil refining sector
Korea LPG suppliers sanctioned for price fixing and market sharing
Korea More non-destructive testing service providers sanctioned for rigging bids
Korea Abbott's acquisition of St. Jude cleared subject to divestiture remedy
Korea Qualcomm sanctioned heavily for abusive licensing practices
Malaysia MyCC 2015 Annual Report released
Singapore CCS clears joint venture between Singapore Airlines and Lufthansa in view of the parties' commitments
Taiwan Amendments made to merger control regime

Read the full report - Please register if you are interested in subscribing to our monthly East Asia competition reports (free subscription).

Publication
EU Green Deal aviation proposals and UK Decarbonising Transport Plan
As the global aviation industry looks towards post-pandemic recovery and less turbulent skies, it is the topic of decarbonisation that is increasingly top of everyone's agenda. There have been a number of eye-catching announcements around the world in recent weeks, from United Airlines announcing its intention to purchase 100 electric aircraft, an increased focus on the use of sustainable aviation fuel (SAF) from several airlines, and Korean Air utilising the green bond markets.