---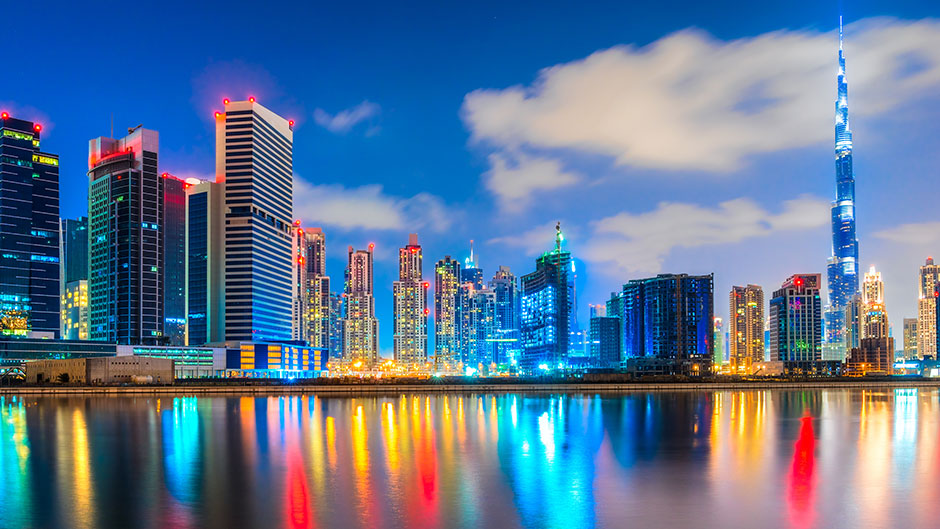 Dubai's Al Maktoum International Airport en route to becoming the world's largest
Global | Publication | July 2017
Introduction
For a number of years, the location of Dubai has been viewed as an efficient air link between North America and Asia. As air travel has continued to increase globally, Dubai has experienced a disproportionate growth in airlines and passengers flying into and out of the Emirate. A consequence has been the emergence of a significant aviation industry.
Airports Council International (ACI) figures show that passengers arriving at Dubai's main airport, Dubai International Airport (DXB), were close to doubling between 2008 and 2014 – 37.4 million in 2008 rising to 68.9 million for the 12 months to September 2014. In 2016, DXB was ranked the third-busiest airport in the world, handling approximately 78 million passengers. ACI figures show passenger growth will continue with 98.2 million international airline passengers forecast to fly into DXB by 2020.
By 2020 the aviation sector is projected to account for 37.5% of Dubai's GDP, worth US$53.1 billion. This is expected to rise further to US$88.1 billion in 2030 representing 44.7% of GDP.
Meeting projected air traffic growth
To meet projected air traffic growth Dubai Airports has commenced a project to develop an existing second, smaller airport in Dubai. This will increase airline and passenger capacity and improve facilities.
The aim of the AED120 billion (US$32.6 billion) expansion project (the Project) is to turn the smaller Al Maktoum International Airport located in Dubai World Central (DWC) into the world's largest airport by size and passenger capacity by 2050.
Dubai Airports owns and manages the operation and development of both DXB and DWC.
Current position: DXB and DWC
Currently Dubai's main airport, DXB, comprises three terminals, serves 90 airlines flying to over 240 destinations and has the capacity to handle 2.5 million tonnes of cargo per year.
In 2013, DWC launched with Wizz Air, followed by Jazeera Airways, Gulf Air and, one year later, Qatar Airways. It is currently served by 27 passenger carriers operating an average of 108 flights weekly to 44 destinations. The airport also serves 36 freight operators and ACI has ranked it 19th for international freight traffic.
The existing facilities at DWC include a single A380 compatible runway, a passenger terminal with capacity for up to 7 million passengers per annum, a cargo terminal building with a capacity of 1 million tonnes per annum and a 92-metre air traffic control tower.
Future of DWC
DWC's capacity will be expanded to handle approximately 25 million passengers by 2018 when approximately 80% of the low-cost carrier flydubai's operations are scheduled to move from DXB. Emirates will follow suit. Tim Clark, the President of Emirates stated that the airline can double in size once it makes the move to DWC by 2025.
On completion of the Project, it is expected that DWC will be capable of handling in excess of 220 million passengers and approximately 16 million tonnes of cargo per year.
DWC expansion in brief
The expansion is set to take place in two phases over the next six to eight years.
The first phase includes two satellite buildings with capacity for 120 million passengers annually and capacity for up to 100 A380 aircraft at any one time. The development will cover an area of 56 square kilometers.
The second phase is focused on design and build to address medium to long term capacity requirements.
On completion, DWC will consist of:

two terminal facilities on either side of the airport site;
four concourses, each with 100 wide body aircraft contact stands;
five parallel runways which will allow for 4 simultaneous aircraft approaches; and
advanced Automated Global Logistics System including Biometrics & Smart Passenger Tracking to facilitate the flow of passengers and minimise paper processing.
DXB improvements
Dubai's main airport will also undergo improvements to meet forecast passenger growth. This will include approximately 350 projects directed at creating more capacity within the existing airport infrastructure. Projects will cover check in, immigration and security processes, air traffic management systems and ground traffic management.
Financing
The UAE Government has selected HSBC to arrange the funding of US$3 billion towards the Project. A combination of Dubai state entities including the Department of Finance, state-owned fund Investment Corporation of Dubai, and the Dubai Aviation City Corporation will raise the financing. Funds are expected to come from a variety of sources including conventional and Islamic sources.
In addition, UK Export Finance (UKEF), the UK's export credit agency, issued export guarantees to the value of US$2 billion for the expansion in late 2014.
Location
DWC is accessible by Dubai's three major roads: Sheikh Zayed Road, Sheikh Mohammad bin Zayed Road and Emirates Road, connecting it to Dubai and to the other 6 Emirates which comprise the UAE. The full network of Dubai's metro lines will be extended to reach the new airport site.
DWC's location near Jebel Ali Port and in Dubai South provides access to air, sea, and land transport links. They are due to receive a major upgrade in support of the development of UAE's section of a pan-GCC rail link which, once complete, will see trains running from Oman to Kuwait.

Publication
EU Green Deal aviation proposals and UK Decarbonising Transport Plan
As the global aviation industry looks towards post-pandemic recovery and less turbulent skies, it is the topic of decarbonisation that is increasingly top of everyone's agenda. There have been a number of eye-catching announcements around the world in recent weeks, from United Airlines announcing its intention to purchase 100 electric aircraft, an increased focus on the use of sustainable aviation fuel (SAF) from several airlines, and Korean Air utilising the green bond markets.