---
UK mortgage portfolio due diligence
Publication | November 2016
We set out below an overview of the potential issues that a legal due diligence review of a legacy UK mortgage loan portfolio may identify. The legal due diligence review comprises a two separate components.
Regulatory review
A review of standard form documentation to confirm compliance with applicable consumer credit, and general consumer law and regulation to identify possible exposure to enforceability and compensation risks. The regulatory review may identify the following issues
Significant risk of unenforceability of certain loans due to non-compliance with the applicable consumer credit legislation
Exposure to risks associated with other products sold to borrower alongside the relevant mortgage loan, for example payment protection insurance (PPI)
Risks of remediation associated with unfair relationships arising in the context of PPI sales
Failure by the seller to provide compliant post-contractual documentation to borrowers might result in (i) the need for correcting statements to be re-issued to borrowers and (ii) borrowers not being liable to pay interest
Miscalculation of payments due under the mortgage loans
Concerns that advising and selling standards did not comply with the relevant legislation and regulation/guidance in place at the relevant time
Concerns that remediation exercises may not have been properly implemented, which could require further remediation and additional compensation payments to borrowers
Failure to disclose correspondence or documentation between the lenders/seller and the FCA/Financial Ombudsman Service that may be indicative of potential exposure of the portfolio to further claims
Supervisory and enforcement action having been taken by the relevant regulator against the firm.
Mortgage loan due diligence review
A review of sample review of standard form documentation and live file documents may identify the following issues
Provisions in the standard form loan conditions that restrict the commercial viability of disposing of the relevant mortgage loans to a third party or purchaser (for example, arrangements which restrict the ability of a purchaser to vary the interest rate of the relevant mortgage loan)
Operational and administrative difficulties in separating the ownership and/or servicing arrangements of certain sub-portfolios of loans from the larger portfolio
Identification of high risk loans, for example: self-certified loans; high LTVs and endowment mortgage loans that may be subject to claims for mis-selling
It may not be possible to

Verify whether the applicable origination procedure was actually followed in practice
Establish the version of the standard mortgage conditions used
Establish if the available loan documentation covered the whole of the period the loan where there has been, for example, product switches
Locate a copy of the original offer letter signed by the borrower
For older mortgage loans, locate a complete set of terms and conditions for the relevant mortgage loan.

Contacts
Chair, Europe, Middle East and Asia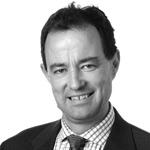 ---