---
Doing business anywhere in the Asia Pacific region is extraordinary. At times the challenges can be immense, but so too the rewards.
There is nothing that can compare with the excitement of concluding a successful transaction, establishing a new business, or developing a new project in any one of the jurisdictions here. One deal leads to another, relationships accumulate, and layer upon layer of knowledge and trust are developed over time.
Norton Rose Fulbright has been active across the Asia Pacific region for several decades now. This is the eleventh edition of Doing Business in Asia Pacific we have produced at the behest of our clients, who have been very clear that this comprehensive guide to doing business in the region is something they value. This latest edition, edited by Partner Michael Joyce, covers the following jurisdictions:
Australia

China

Hong Kong

India

Indonesia

Japan

Malaysia

Myanmar

New Zealand

Philippines

Singapore

South Korea

Taiwan

Thailand

Vietnam
All of the facts are here in our publication. We cover visas and work permits, types of business entities, business environment and regulation, policy on foreign investment, government initiatives, government incentives, taxation, workplace relations and the means to forestall or resolve disputes.
We wish you great success in all your business dealings in Asia Pacific, and would be pleased to provide additional information and advice about any of the issues discussed in this guide.
Acknowledgments
We wish to thank the following for their contributions to this guide:
Alliance International Law Offices, Taiwan

Anderson Mori & Tomotsune, Japan

Barun Law, South Korea

Cyril Amarchand Mangaldas, India

DFDL, Myanmar

Parry Field Lawyers, New Zealand

Skrine, Malaysia

SyCip Salazar Hernandez & Gatmaitan, Philippines

Vision & Associates, Vietnam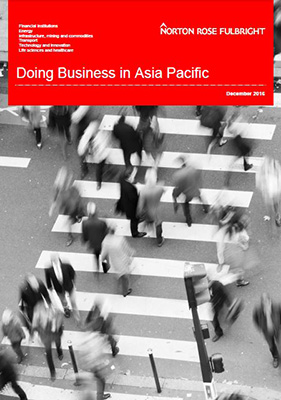 Publication
The time for electricity storage in Greece has arrived
Increasingly, Greece's transition to a low carbon economy and towards a new energy model is assuming a higher priority; the country's ambitious climate action and energy plans include reducing greenhouse gas (GHG) emissions, increasing the renewable energy share (of the nation's gross total energy consumption) and improving energy efficiency generally. Electricity storage plays an important role in the transition to a low carbon economy and drives energy efficiency while at the same time allowing the integration of more renewable energy sources into the electricity system.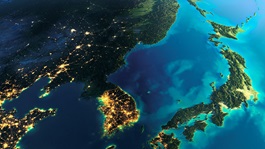 Publication
The changing global framework for trade: impact on global supply chains
Supply chains operate in an environment shaped by trade issues (such as sanctions, export controls, and tariffs), where national security is an increasingly important consideration. International sanctions regimes are complex and often respond to volatile political landscapes. Businesses will need to navigate the often complex issues involved against a background of changing governmental trade and industrial policy.