---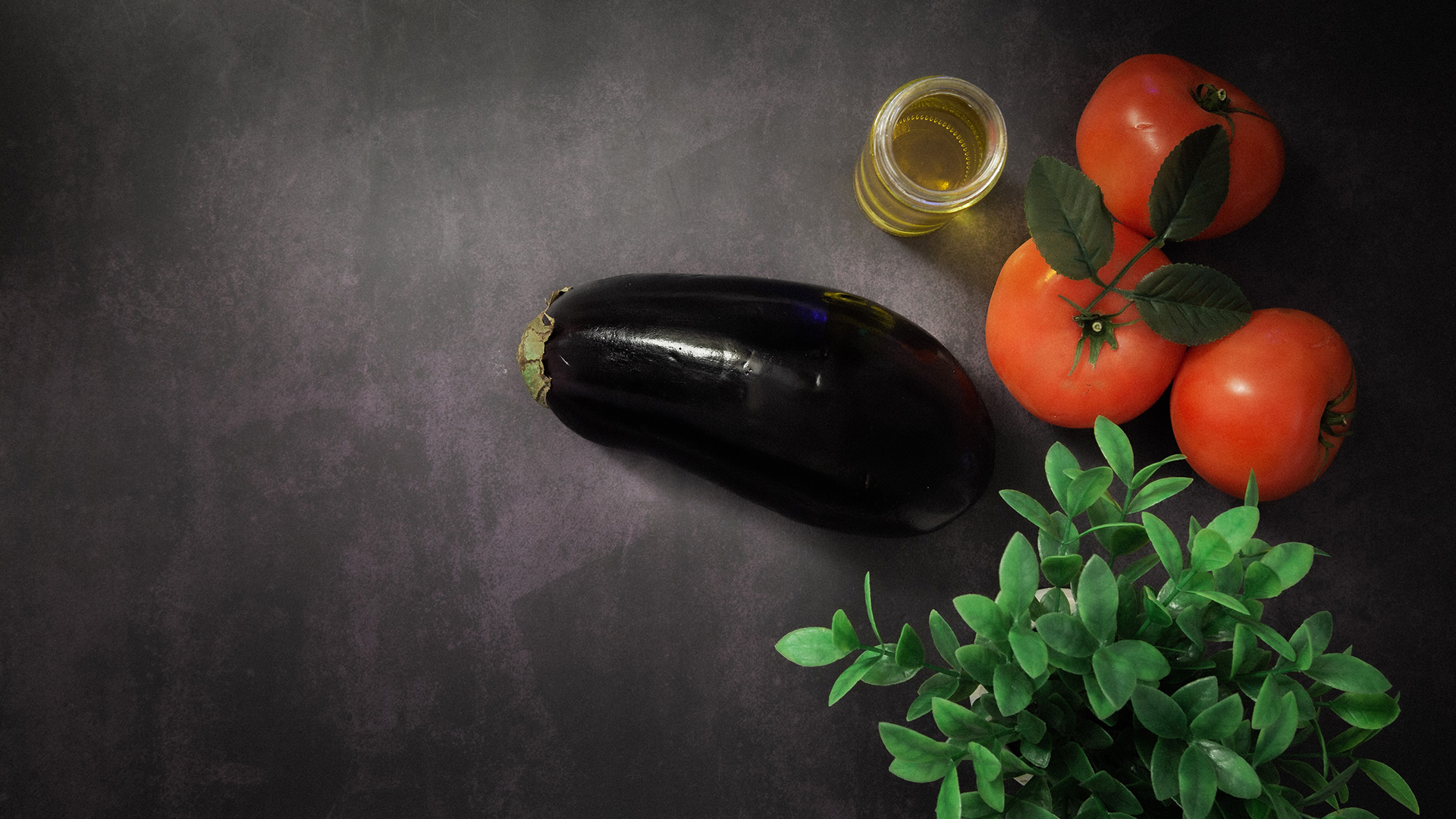 Oh, aubergine
RE | Issue 20 | 2022
Ramya Djealatchoumy is a food writer in Paris specializing in the cuisine of South India. We invited her to cook a dish for RE using the humble eggplant, or aubergine, or brinjal. Here, for your pleasure, is brinjal curry and idli with dosa.
BRINJAL CURRY
This supper dish of brinjal curry is made with sesame seeds and peanuts and a side dish that goes well with a plate of hot biryani (veg / non-veg) or simply with steamed rice and papadam/appalam (the crisp lentil bakes). I'll take you through it step by step.
1
Sesame-and-peanut powder
Ingredients 2 tbsp sesame seeds, 2 tbsp peanuts
Roast the sesame seeds and peanuts over a very low heat until you obtain a nice aroma.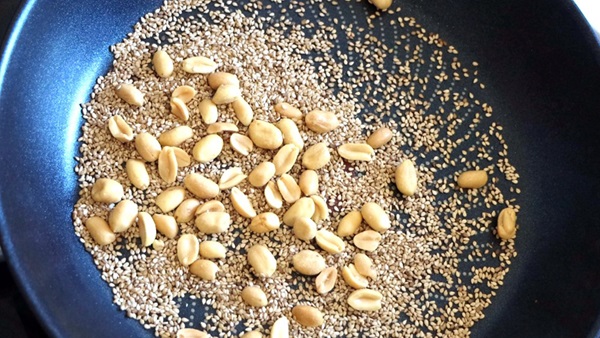 Cool and then grind into a fine powder.
2
Fried aubergine
Ingredients 4-5 small aubergines cut into wedges, 3-4 tbsp sesame oil
Fry the eggplants in sesame oil until the water oozes out (this takes seven or eight minutes over a medium flame).
Save the pan with the residue of oil.
3
Onion-and-tomato paste
Ingredients 1 small onion finely chopped, 1 small tomato finely chopped
Use the same pan you used to fry the eggplants (with the rest of the oil) to sauté the onions and tomatoes for three or four minutes.
Let it cool.
Add 2 tbsp of water and grind to a fine paste.
4
Tamarind juice
Soak the tamarind (1/4 size of a lime) in lukewarm water ( 4 tbsp) for ten minutes and extract the juice.
5
Brinjal curry (main dish)
Ingredients
2 tbsp sesame oil
1 tsp mustard seeds
1/4 tsp fenugreek seeds
2 strings of curry leaves
1/4 tsp hing/asafoetida
1 tsp red chilli powder
1/2 tsp turmeric powder
1/2 tsp coriander powder
Ground sesame-and-peanut powder
Ground onion-and tomato-paste
Tamarind juice
1/2 tsp brown sugar or jaggery powder
Water as required
Salt to taste
In a big pan, heat the oil.
Add the mustard seeds, fenugreek seeds, curry leaves and little hing. Mix well.
Add the onion-and-tomato paste and saute for three to four minutes.
Add the red chilli powder, turmeric powder, coriander powder and salt, and saute for one minute.
Add the sesame-and-peanut powder and 4 tbsp of tamarind juice. Adjust the consistency by adding water (not too watery).
Add 1/2 tsp of sugar or jaggery powder and mix well.
When it bubbles, add the fried aubergines and add water to adjust the consistency (semi-thick consistency)
Cover the pan and simmer for five minutes.
Ready to serve!
IDLI AND DOSA
The most popular breakfast in South Indian cuisine is made from rice and lentils.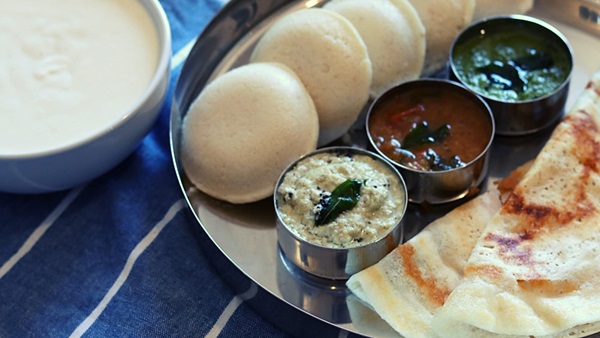 Idli is a puffed rice-and-lentil steamed bun. It contains no fat, saturated fat or cholesterol.
Dosa is a rice-and-lentil pancake. There are many varieties of dosa: masala dosa, rava dosa, onion dosa, egg dosa, and the list goes on.
Both are served with sambar (a lentil or lentil-vegetable soup) and (or) chutneys (made from channa dal and coconut) or, if you want to keep it simple, podi (a mixed lentil powder that is a little spicy).
When you get to the idli, be prepared for an overnight soak! Also, you might wish to consider investing in an idli-maker.
1
Preparing the batter for both idli and dosa
Ingredients
4 cups of idli rice or parboiled rice or normal rice
1 tsp fenugreek seeds
1 cup of urad dal
½ cup Aval or Poha (flattened rice)
Salt
Water
Notes
While grinding, please make sure not to use too much water. If the batter is too liquid, it will not result in fluffy idlies.
Fenugreek seeds help the fermentation process. They make the dosas crispy and give the dosa a beautiful golden color.
The fermentation of idli dough is carried out by lactic bacteria and not by yeast. Some people use yeast for the fermentation process. Honestly speaking, I haven't done that.
While grinding the urad dal, you can use ice water to prevent the blender from heating up, as this may not give a fluffy batter.
Method
Rinse the rice and fenugreek seeds thoroughly with water and soak overnight or for at least five or six hours.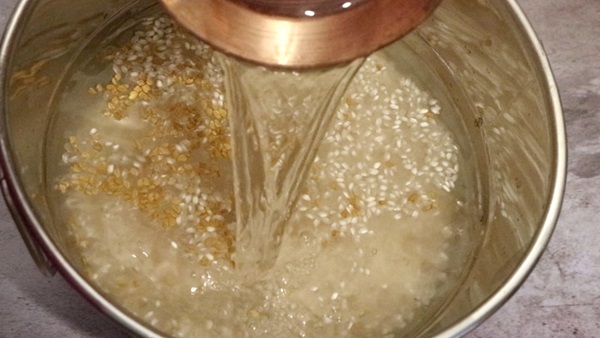 Rinse the urad dal and poha and leave to soak overnight or for at least five or six hours.
Drain the water and, using a blender or a mixer, grind the urad dal and poha until they are well ground and the batter looks fluffy.
Transfer the batter to a large bowl.
Drain the water from the rice and grind it into a smooth paste.
Transfer this ground rice batter into the same bowl and mix the the rice batter and urad dal batter together.
Add salt and mix by hand—this facilitates fermentation.
Set aside in a warm place for about twelve hours (depending on the season and the climate).
The fermented dough will have doubled in volume.
Mix well and keep for up to five days in the refrigerator.
2
Cooking the idli
You will need an idli maker to prepare the idlies.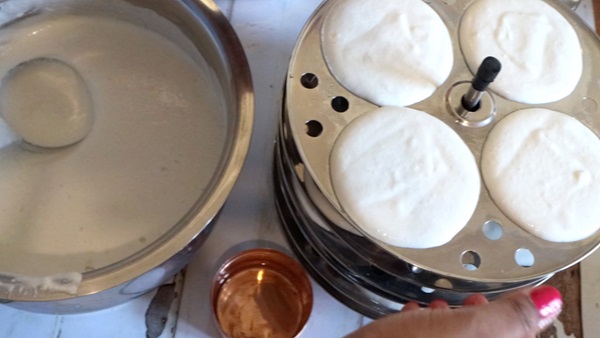 Put a little water inside the empty container to steam it.
Oil the idli plate and pour the batter into the circles.
Place the idli plates in the idli container.
Close and cook for about 12 minutes.
Let stand for 4 minutes before opening the idli maker.
Using a spoon, take out the cooked idlies and serve with hot sambar or an accompaniment of your choice.
3
Cooking the dosa
Heat a cast iron pan (medium flame).
Pour in the batter and gently roll it out starting from the center and going outwards in a circle shape.
Add 1 tbsp of oil or Ghee (clarified butter) around the dosa.
Flip the dosa. Once cooked, it looks crispy.
Enjoy the crispy dosa with the sauce of your choice.
---
You can find Ramya at the Franco Tamil Kitchen on YouTube. The photograph of the aubergine is by Moontashir Rahman in Toronto.