---
Norton Rose Fulbright's Farmida Bi listed in Financial News Most Influential Women in European Finance 2019
Global | Press release - Recognition | October 2019
Norton Rose Fulbright's Chair of Europe, Middle East and Asia, Farmida Bi, has been listed as one of Financial News 100 Most Influential Women in European Finance 2019. The list features female executives driving change across Europe's financial services industry. Farmida was recognised for promoting diversity and changing culture in her role as EMEA Chair as well as her work across the Islamic finance sector.
As Chair, Farmida is an ambassador for the firm, hosting internal events and participating in external meetings. She also takes an active role in promoting inclusion for women, organising events for the firm as well as clients.
Farmida is passionate about improving inclusion at Norton Rose Fulbright. She is a partner sponsor and steering group member for the firm's Women in Norton Rose Fulbright network (WiN), a Pride Ally for the firm's Pride network and a steering group member of Compass, a faith network supporting and educating Muslims and non-Muslims.
Farmida is also the firm's European Head of Islamic Finance. She has more than 20 years of experience in capital markets and Islamic finance transactions, advising on English and New York law. Farmida acts for arrangers, dealers, issuers and trustees on a wide range of debt instruments, including project bonds, debt programmes, high-yield bonds, private placements and Islamic bond issuances. Last year, she advised International Committee of the Red Cross (ICRC) on a pro bono basis, in relation to its innovative funding mechanism to encourage social investment from the private sector. The impact bond, which is the world's first humanitarian impact bond and has a unique structure, took two years to develop.
A leading individual for Islamic finance and for debt capital markets in Legal 500 UK 2019, Farmida commented:
"It is a real honour to be included in this list, alongside a range of prestigious women across the European finance sector. In my role as Chair, I am committed to driving cultural change in business and at Norton Rose Fulbright, where we are dedicated to fostering a diverse and inclusive workplace."
Earlier this year, Farmida was listed in The HERoes Top 100 Role Model Executives and in the annual Women to Watch supplement compiled by Cranfield University and was recognised as an "Outstanding Practitioner" at the International Financial Law Review Women in Business Law Awards. She was also listed in The Lawyer's Hot 100 2019.
For further information please contact:
Contact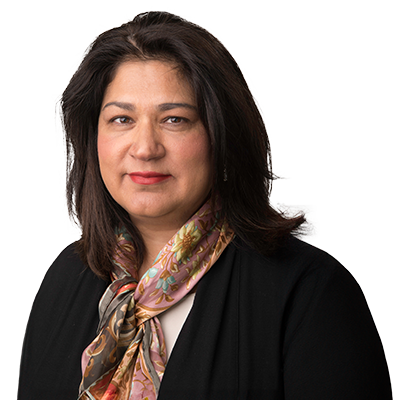 Chair, Europe, Middle East and Asia
Email
farmida.bi@nortonrosefulbright.com