---
Competition law developments in East Asia - December 2015
Global | Publication | December 2015
Introduction
This month's editors: Maxime Vanhollebeke, Emir Pohan, Shan Hu, Pearl Yeung, Serena Gingell, Michael Kim, Sophie Chen, Yui Ota, Lydia Fung and Arthur So.
Below is an excerpt from our monthly Competition Report. More detailed commentary on these issues and other recent competition law developments in the Asian region is to be found in this month's edition of our report available on a free subscription basis (see further below).
China imposed the most antitrust fines in 2015
For the first time since the Antimonopoly Law came into effect in 2008, China is the country that imposed the highest amount of fines in East Asia in any given year. The $951 million fine imposed on Qualcomm for abusive licensing practices alone accounts for more than half of the amount of fines imposed in the region during the year. Chinese authorities also imposed heavy fines on cartel practices in the shipping industry, and continued their enforcement against vertical price restrictions in the car industry.
2015 full year summary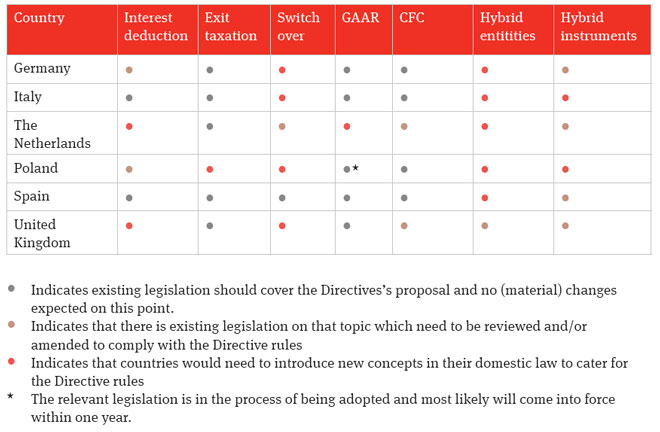 Meanwhile, Taiwan imposed significant fines on suppliers in the electronics industry in connection with an international cartel case which it investigated jointly with other Asian authorities. Fines imposed in Korea, Indonesia and Malaysia were of roughly the same level as in previous years. Only Japan saw a marked decrease in total fines compared to previous years. Total antitrust fines imposed during the year amounted to $1.7billion, on par with the amount imposed in 2014.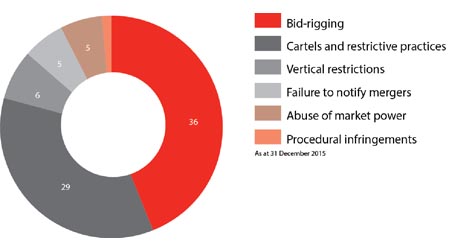 While abuse of market power cases accounted for the majority of fines in monetary terms, 2015 confirmed well-established trends, with bid-rigging and cartel practices accounting for the vast majority of decisions. Aggressive enforcement activity against the rigging of public tenders continued unabated in Indonesia and Korea, as well as – to a lesser extent – in Japan. As in previous years, no bid-rigging cases were reported in China.
2015 top sectors
Most cartels and bid-rigging cases were reported in the construction and transport sectors, as in previous years.  Other affected sectors included IT and electronics, where significant fines were imposed in a small number of cases.
ASEAN Member States update competition objectives in 2025 AEC Blueprint
On the eve of the coming into effect of the ASEAN Economic Community (AEC) on 31 December, the ASEAN Member States adopted a blueprint setting out new objectives for the Economic Community.  The 2015 blueprint, adopted in 2007, provided that a regional guideline on competition policy should be adopted by 2010 and that competition policy should be introduced in all ASEAN Member States by 2015.  All Member States except Cambodia have now adopted competition legislation, and Cambodia is expected to follow suit shortly.
As with its predecessor, the new blueprint contains a chapter on competition policy.  The Member States agreed to adopt the following strategic measures by 2025:
establish effective competition regimes by putting in place competition laws for all remaining ASEAN Member States that do not have them, and effectively implement national competition laws in all Member States based on international best practices and agreed-upon ASEAN guidelines;
strengthen capacities of competition agencies in all Member States;
establish platforms for regular exchange and engagement among competition authorities;
establish Regional Cooperation Arrangements on competition policy and law by establishing competition enforcement cooperation agreements to effectively deal with cross-border commercial transactions;
achieve greater harmonisation of competition policy and law in ASEAN by developing a regional strategy on convergence;  and
ensure alignment of competition policy chapters that are negotiated by ASEAN under the various free trade agreements.
Table of contents of our December 2015 report (Issue 83)
China Guangdong AIC fines association for organising boycott
China Refusal to supply sanctioned in pharmaceuticals sector
China Shipping companies sanctioned for price-fixing and bid-rigging practices
China Insurers sanctioned for market-sharing practices
China Concrete producers in Hunan fined for organising market-sharing cartel
Hong Kong Competition Commission signs MOU with Communications Authority
Hong Kong Competition Commission issues practical guidance in respect of privileged information
Hong Kong Competition Commission publishes 2014-2015 Annual Report
Indonesia More construction companies sanctioned for bid-rigging
Indonesia Construction companies again sanctioned for bid-rigging
Japan JFTC releases updated Guidelines on investigations
Korea Architect associations sanctioned for price-fixing and unfair trade practices
Korea KFTC announces proposed amendments to IP guidelines
Korea Concrete pile manufacturers receive corrective orders and fines from KFTC
Myanmar Competition law to take effect in 2017
Singapore Commitments for airfield lighting merger subject to public consultation
Singapore CCS publishes 2014-2015 Annual Report
Taiwan TFTC sanctions ten capacitor manufacturers for cartel practices
Taiwan TFTC conditionally extends approval of credit card joint venture
Taiwan TFTC conditionally approves proposed merger in TV sector
Read the full report - Please register if you are interested in subscribing to our monthly East Asia competition reports (free subscription).

Contacts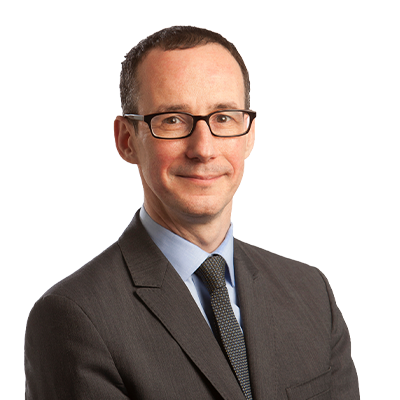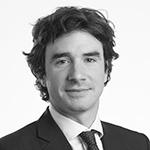 Registered Foreign Lawyer
Publication
The time for electricity storage in Greece has arrived
Increasingly, Greece's transition to a low carbon economy and towards a new energy model is assuming a higher priority; the country's ambitious climate action and energy plans include reducing greenhouse gas (GHG) emissions, increasing the renewable energy share (of the nation's gross total energy consumption) and improving energy efficiency generally. Electricity storage plays an important role in the transition to a low carbon economy and drives energy efficiency while at the same time allowing the integration of more renewable energy sources into the electricity system.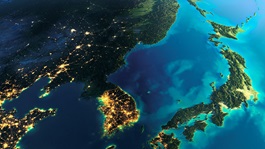 Publication
The changing global framework for trade: impact on global supply chains
Supply chains operate in an environment shaped by trade issues (such as sanctions, export controls, and tariffs), where national security is an increasingly important consideration. International sanctions regimes are complex and often respond to volatile political landscapes. Businesses will need to navigate the often complex issues involved against a background of changing governmental trade and industrial policy.