---
Organisational Culture Reimagined
Transforming Workplace - #6
Global | Publication | January 2022
In this series of articles, we have explored some significant changes to the external and internal environments in which your organisation operates, including:
How the pandemic has influenced employees to rethink their relationship with work;
The real risk that your employees will look for work that better matches their new expectations; and
The need to ask your employees what they want and need, and to modernise your Employee Value Proposition (EVP) accordingly.
In response to these significant changes, the EVP modernisation process outlined in our previous paper will deliver significant benefits to your organisation (particularly if you incorporate Gartner's 'Human Deal' foundations1). However, the modernised EVP will inevitably present some challenges for your organisation's:
Culture, and
Leadership capability and style.
This paper will discuss the first of these challenges: organisational culture.
A successful organisational culture "needs to be strong enough to:
Attract and retain top talent,
Drive performance, and
Meet business objectives."2
The culture that existed in your organisation pre-pandemic is unlikely to position your organisation for future success, as "the shift in how we work, where we work, and what attributes are important – has undergone a sea-change post pandemic."3
In response to this 'sea-change', has your organisation updated "a clear culture, vision and purpose" and have "your employees bought into this?"4
Your modernised organisational culture must take account of the 'pandemic epiphany'; the need for "employees to find meaning and purpose in their work." Employees are now asking themselves5:
Why would they want to work for you?
What purpose does your organisation serve?
Why can't I choose how and when I work?
Why can't work fit in with my life rather than the other way around?
What does success even look like for me now?
These questions from your current and future employees need to be answered in a positive and inclusive manner by the foundations of your organisational culture.
We understand that organisational culture has many components, including your EVP, however improvements in the following two key areas will greatly enhance your culture: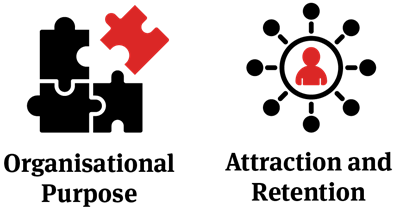 Exploring organisational purpose first, "two-thirds of non-executive employees" in a recent survey "said that their sense of purpose is largely defined by work."6
McKinsey recommends that organisations should establish "a corporate purpose that considers the company's role and contribution to society" and provides "employees with meaningful ways to reflect on the company's efforts and their impact."7
Three steps to improve organisational purpose are:8
Define the organisation's purpose and measure adherence to it;
Allow employees to reflect on their own sense of purpose and how it connects to the company's purpose; and
Help people live their purpose at work.
Four attraction and retention strategies are proposed by Workhuman to "attract and retain the top talent" needed "to thrive"9:
Create and nourish a culture of recognition;
Make diversity, equity and inclusion your organisational DNA;
Make continuous feedback a cornerstone of your culture; and
Elevate a culture of celebration.
Finally, Gartner suggests10 two key attributes of a successful organisational culture:
Make "employees feel connected to" the organisation's culture, irrespective of their work location, and
"Get to the 'how' of translating culture into what people do every day."
Modernising your EVP and your organisational culture will bring great benefits to your organisation. However, these changes will test the capability and style of your leadership team, and this topic will be examined in our next paper.
Norton Rose Fulbright assists organisations to efficiently and effectively address the legal aspects of the update and modernisation of their EVP and organisational culture to "attract and retain the top talent" needed for the organisation "to thrive". Please reach out if we can assist your organisation in this respect.
---
Footnotes
1
Gartner, CHRO Guide: 'Reinvent your EVP for a Postpandemic Workforce – Actions to Humanize Your Employee Value Proposition.' available at www.gartner.com.
2
A Pinchin, Director KPMG UK, 'Having a Clear EVP: What's the Deal?', 26 November 2021.
3
M Chopra, "Guide to Building a Great Employee Value Proposition (EVP)', LinkedIn Pulse, 10 February 2021.
4
E Joyce, VP Gartner, 'How to Create Culture in the World of Hybrid Work', 10 November 2021.
5
K Ferguson, Australian Financial Review, 'Beware, Workers are About to Pivot with Their Feet', 19 October 2021.
6
McKinsey, 'Help Your Employees Find Purpose – or Watch Them Leave', 5 April 2021.
9
Workhuman, '4 Ways to Attract and Retain Great Employees'.
10
op. cit. E Joyce, VP Gartner, 'How to Create Culture in the World of Hybrid Work', 10 November 2021.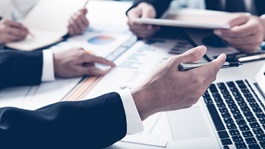 Publication
NRF Tax Update on Two-Pillar Solution by the OECD Inclusive Framework on BEPS/G20
The corporate taxation of cross-border groups is at the brink of significant change. In 2021, after years of discussions, the members of the OECD/G20 Inclusive Framework (IF) on Base Erosion and Profit Shifting agreed a blueprint to impose new taxing rights in respect of low-taxed income of large multi-national enterprises (MNEs).