---
Jeewon Kim Serrato
Head of Data Protection, Privacy and Cybersecurity, United States
Norton Rose Fulbright US LLP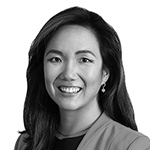 Jeewon Kim Serrato
vCard
---
Related services and key industries
Related services
Key industry sectors
---
Biography
Jeewon Kim Serrato is Norton Rose Fulbright's US Head of Data Protection, Privacy and Cybersecurity. She advises global companies, financial services institutions and public entities on cutting edge issues at the intersection of technology and law. Globally recognized for her unique background having served in both government and business positions, Jeewon is regularly called upon by her clients to assist in the design and execution of complex global compliance programs, negotiation of cross-border M&A deals, and advice in high-stakes investigation and dispute matters. Jeewon helps companies create enterprise-wide privacy programs from the ground up, assists in testing critical vulnerabilities and performs risk assessments. Having handled and managed hundreds of data breach incidents and internal investigations, she also works with companies to prepare crisis management policies and data breach response plans.
Before joining the private sector, Jeewon served as Chief Privacy Officer of Fannie Mae and head privacy executive for RELX Group (formerly Reed Elsevier), where she led, implemented and tested the organizations' privacy program and data protection strategies. She currently serves on the US Department of Homeland Security Data Privacy and Integrity Advisory Committee and on the California Lawyers Association's Antitrust, UCL & Privacy Section Executive Committee. Jeewon is a Certified Information Privacy Professional and holds a US Secret Clearance. Jeewon was named a 2017 Cybersecurity Trailblazer by the National Law Journal and recognized in Cybersecurity Docket's "Incident Response 30", a list of the 30 best and brightest data breach response lawyers. She is an active member of the International Association of Privacy Professionals (IAPP) and is a co-author of the IAPP publication, Data Processing Agreements: Coordination, Drafting and Negotiation (2019) and an editor for the IAPP California Consumer Privacy Act training.
Jeewon began her career working on issues relating to counterterrorism, the use of data by law enforcement and intelligence agencies and the balance between privacy and security. Upon graduation from law school, she served for two years as legislative counsel to members of the U.S. House of Representatives, during which she managed a portfolio including the reauthorization of the PATRIOT Act, the use of the National Security Letters and wireless surveillance, Secure America and Orderly Immigration Act and other homeland security-related bills, and crisis management issues including pandemic flu preparedness. She continued to provide advice relating to homeland security and public safety issues at a Washington, D.C. law firm, where she served as lead counsel to a major telecom carrier in over 90 mediations with public safety agencies nationwide to improve wire and radio interoperability for first responders, which was a post 9/11 top priority of the Federal Communications Commission's Public Safety and Homeland Security Bureau.
Jeewon continued to work on technology projects that have an impact on data and consumer privacy by next serving as the top-level executive in charge of privacy at RELX Group (formerly Reed Elsevier) where she oversaw product design and data use policies for over 500 e-commerce and mobile products globally. Her practice focuses on helping companies navigate complex regulatory frameworks, spanning from US consumer protection laws to the European Union General Data Protection Regulation, as well as data ownership and onward transfer of data issues. Jeewon has experience designing enterprise-wide policies and programs in 60 countries and is a thought leader and frequent speaker at industry conferences, including IAPP, RSA and ACC.
In addition to her product, regulatory compliance and transactional experience, Jeewon has handled over 600 data security incidents over the course of her career and has experience designing and implementing consumer disputes processes for companies globally. She has extensive experience helping her clients with proactive cyber risk management, drafting crisis management plans, and testing incident response protocols.
Knowledge
Publication | May 22, 2018
Webinar | March 19, 2020
Publication | February 27, 2020
Publication | December 10, 2019