---
Disability and mental health
We work on a continual basis towards becoming more disability confident. We are committed to removing assumptions, barriers and challenges faced by people affected by disability.
In 2016, we launched a microsite aimed at breaking down communication barriers, challenging assumptions and becoming more confident about disability so that we can all get the best from each other. We want to put an end to feeling awkward about interacting with people for fear of doing the wrong thing.
#disabilityconfident
Get the best advice on how to interact with people who have sight, hearing, mobility or dyslexia disabilities.
Supporting our people
Employee resource group: Shine
Shine is our first disability employee network, which was launched in London in September 2016. Shine provides employees with and without disabilities and/or long-term health conditions, as well as carers, with an open forum to share and discuss their experience with disability. As well as providing support, advice and raising awareness of disability and health-related topics, Shine's goal is to enable the firm to create a level playing field for all to succeed and shine, irrespective of any disability or long-term health condition.
Perspectives: Planning a holiday with a disabled child
Robin Williams, costs lawyer, London
Employee resource group: Breathe
Breathe is our first employee network to focus on mental health wellbeing, which was launched in London in May 2018. Breathe aims to enhance Norton Rose Fulbright's existing health and wellbeing strategy by increasing mental health awareness through accessible information, tools and support to reduce the stigma of mental health in the workplace. Breathe will support and assist in the delivery of the firm's 'Time to Change' Pledge, signed in December 2016.
Mental health
We strive to cultivate a workplace where mental health problems are understood without stigma, where employee well-being is paramount and where both the firm and its people respond appropriately and effectively to mental health problems and challenges.
Our guiding principles
To support individuals in times of need and to educate them, leaders and team members to be self-aware and resilient with good mental health practices
To examine and review our work environment and process to ensure we identify and address risks of psychological injury
Focus our initiatives and services on early intervention through: education, self-awareness, understanding and connection to professional support
Raise our capability in supporting and managing mental health issues in the workplace
Raise awareness of access to appropriate professional support
Eliminate the stigma of mental illness through education and understanding.
Our approach to mental health
Establish and communicate our commitment to the mental health and well-being of our people through a mental health and well-being policy.
Provide support and information to suit the unique needs of all our people with:
mental health first aid officers
employee Assistance Program
'wellness' checks.
Create awareness and understanding of common mental health problems and the importance of good mental health practices through:
resilience and mental health resilience masterclasses for partners and employees
lunch and learn information sessions
look Deeper's 'R U OK?' campaign.
Build and encourage resilience with an Adaptive Mindset for Resilience program.
Mental health first aid – a global initiative
Mental Health First Aid (MHFA) is an award-winning training program which teaches participants how to support someone suffering with a mental health crisis or who may be developing a mental illness. The program can assist through early intervention and it forms the foundation of our global approach to resilience and mental health.
Norton Rose Fulbright Australia is proud to hold the Mental Health First Aid Australia Workplace award as the first organization to roll out this training and appoint MHFA officers in 2013. Since then, we have trained more than 150 officers/responders worldwide.
In EMEA, we launched an internal Mental Health First Aid program on World Mental Health Day, which began on October 10, 2016. Following on from this, we have trained 23 officers in London, along with a further 10 volunteers. In Asia, 25 officers have been trained, with additional people trained in Paris, Amsterdam and Brussels in January 2017.
We are planning further training in our Canadian offices, as well as in the US. We have trained six officers in South Africa, and in Australia, where the program was created, more than 70 staff are trained to offer support.'
Case study – Australia
Find out what our Australian offices are doing to promote resilience and mental health.
FY 15/16 achievements
Over 70 mental health first aid officers in Australia
Piloted staff masterclass 'Understanding the importance of mental health'
Signatory to the Tristan Jepson Memorial Foundation (TJMF) Psychological Wellbeing: Best Practice Guidelines for the Legal Profession
Implemented 'wellness' checks for staff
Established Norton Rose Fulbright 'Resilience, mental health and well-being' global working group
Launched Australian resilience, mental health and well-being intranet site
Member of the Resilience@Law working group
Implemented partner training 'Resilience, mental health and well-being: the role of a partner'
Implemented Adaptive Mindset for Resiliency program
Supported R U OK Day and partnered with R U OK Foundation to participate in the Australian legal industry's 'Look Deeper' campaign.
FY 16/17 priorities
Continue to grow and develop our mental health first aid officer team
Implement the staff masterclass Understanding the importance of mental health'
Complete an organizational review into risks to psychological injury across our business
Provide national 'lunch and learn' sessions on mental health and well-being hot topics
Continue to implement Adaptive Mindset for Resiliency
Continue to build connectivity with other regions via the 'Resilience, mental health and well-being' global working group
Complete feasibility assessment for national suicide prevention awareness training
Complete a feasibility assessment into mindfulness training
Continue to work with the Australian legal industry in tackling and addressing the prevalence and stigma of mental health issues.
Perspectives: The mental health stigma
Manuela Sforza, diversity and inclusion advisor' London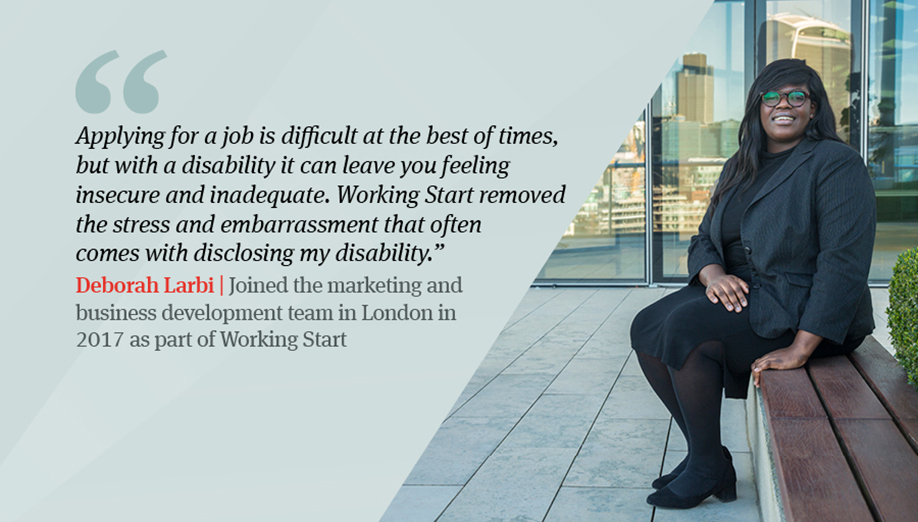 Find out more about Working Start, a global initiative to provide paid employment opportunities to people with disabilities.