---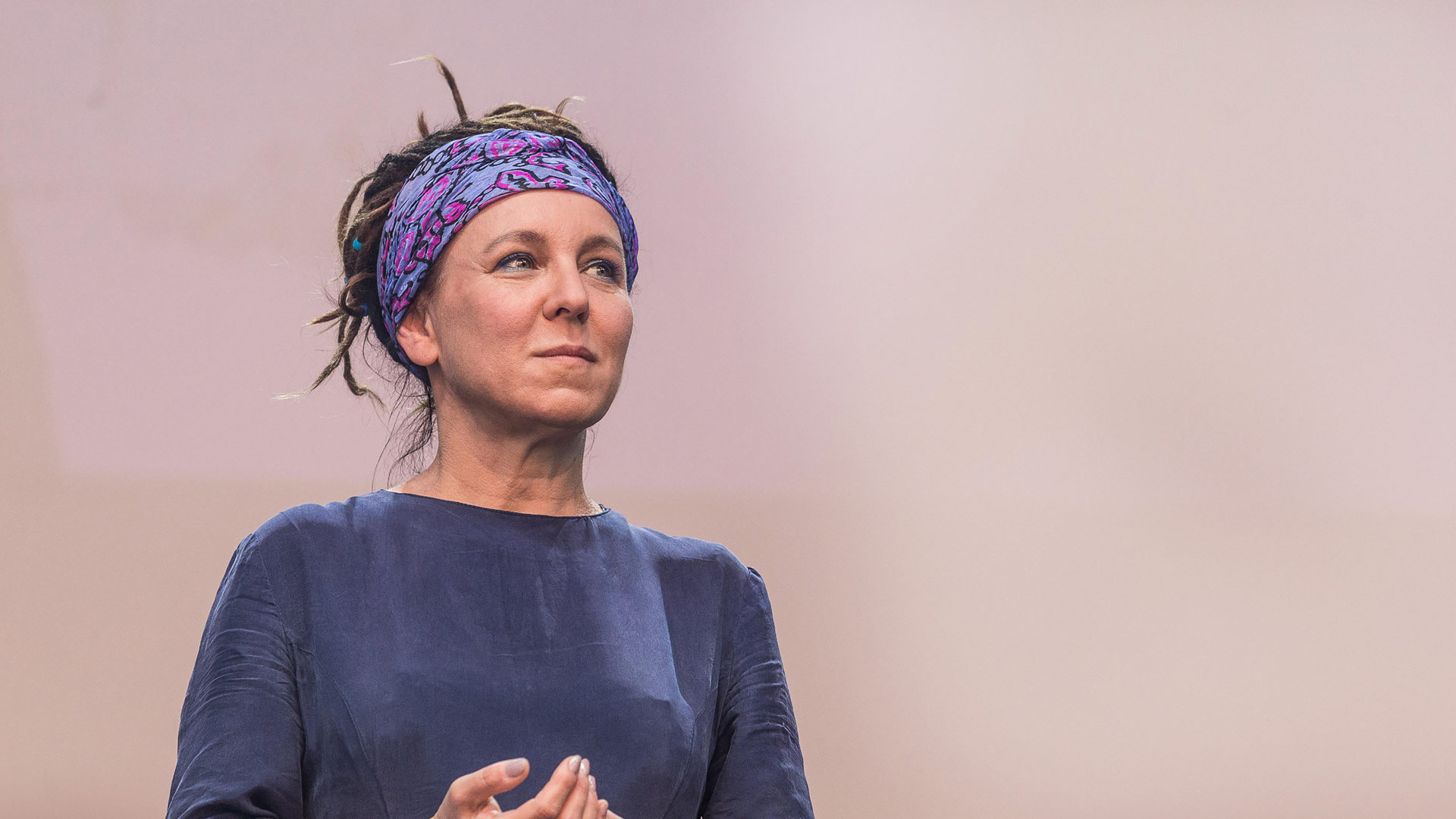 Izabela Duda
on Olga Tokarczuk

RE | Issue 16 | 2019
When the Polish writer Olga Tokarczuk won the Man Booker International Prize in 2018 I was pleased, and not at all surprised, that she was receiving more international recognition. When she was later awarded the Nobel Prize for Literature I was overjoyed, for her books have had a special place on my bookshelf for over twenty years.

Tokarczuk published her debut novel Podróż ludzi księgi ('The Journey of the People of the Book', not yet available in English translation) in 1993. I first read it not long after publication. I devoured it in one evening and was amazed by it. Set in the seventeenth century, it describes a journey from Paris to the Pyrenees undertaken by four unconventional and ostensibly ill-matched people: they are in search of a book in which God explains the meaning of everything. It seemed utterly strange and exotic. On the surface, it was an exciting adventure in which you really cared about the protagonists, but it was also a metaphysical journey, a fairy tale with audaciously big ideas. It did not matter that at times (rarely) I found the prose unpolished and incoherent, the metaphors a little heavy-handed and the sudden switches in tense disruptive to the narrative pace. I had to read more.

In contrast to the first novel, the setting of Primeval and Other Times is a tiny fictitious village somewhere in Poland. The minutiae of the lives of several generations of its inhabitants are depicted against a backdrop of major historical events of the twentieth century. Reality is interwoven with magical and religious elements in a poignant exploration of the passing of time. I admire how skilfully Tokarczuk manages to tell whole life stories within a short paragraph, and does so with great sensitivity and compassion. Some of those stories and some of the images she conjures up are almost unbearably moving, yet never mawkish. For me this is one of her most affecting novels.

These two books contain many of the motifs and qualities I find most enjoyable in Tokarczuk's writing; and also those I find most exasperating. Oddly enough, they are sometimes one and the same. For instance, I am interested in the recurrent notion that everything in the universe is interconnected but weary of the related preoccupation with astrology. I may be struck by an elegant and outwardly profound statement and be disappointed when it does not stand up to scrutiny. I approach the philosophical musings sceptically; sometimes they seem insightful, sometimes pretentious. They could be simply impenetrable to me, of course. In general, there is a certain dichotomy between my emotional and intellectual response to Tokarczuk's works, which is not to say that I am not a great admirer of hers.

I admire her creative imagination. Whether she sends her characters on grand journeys or places them in more intimate settings, and whatever century she chooses, the stories are always compelling. They are also universal, regardless of any historical or geopolitical complications, because they focus on individual human experiences. She is equally good at writing about ordinary people and at introducing the reader to obscure, sometimes half-mythical, figures from the past. The mixture of myth, mystery, magic and reality is very appealing. The range of themes and ideas is immense with the complexities of the human condition at the centre. I think some of the stylistic choices do not work but, when they do, the prose has clarity and panache at the same time and the images are powerful and evocative. She still has the ability to surprise, for example with unexpected laugh-out-loud moments in an otherwise dark Drive Your Plow Over the Bones of the Dead. She is not attached to one literary form. Her 'constellation novels' (as she herself calls them) are collections of seemingly disparate stories, essays and notes that require from the reader more effort than a traditional narrative and make the reading experience even more gratifying.

Essentially, not only does Tokarczuk have one of the most distinctive voices in contemporary Polish fiction, she also has something important to say.


---
First published in RE: issue 16 (2019). Izabela Duda is a translator in the Warsaw office of Norton Rose Fulbright