---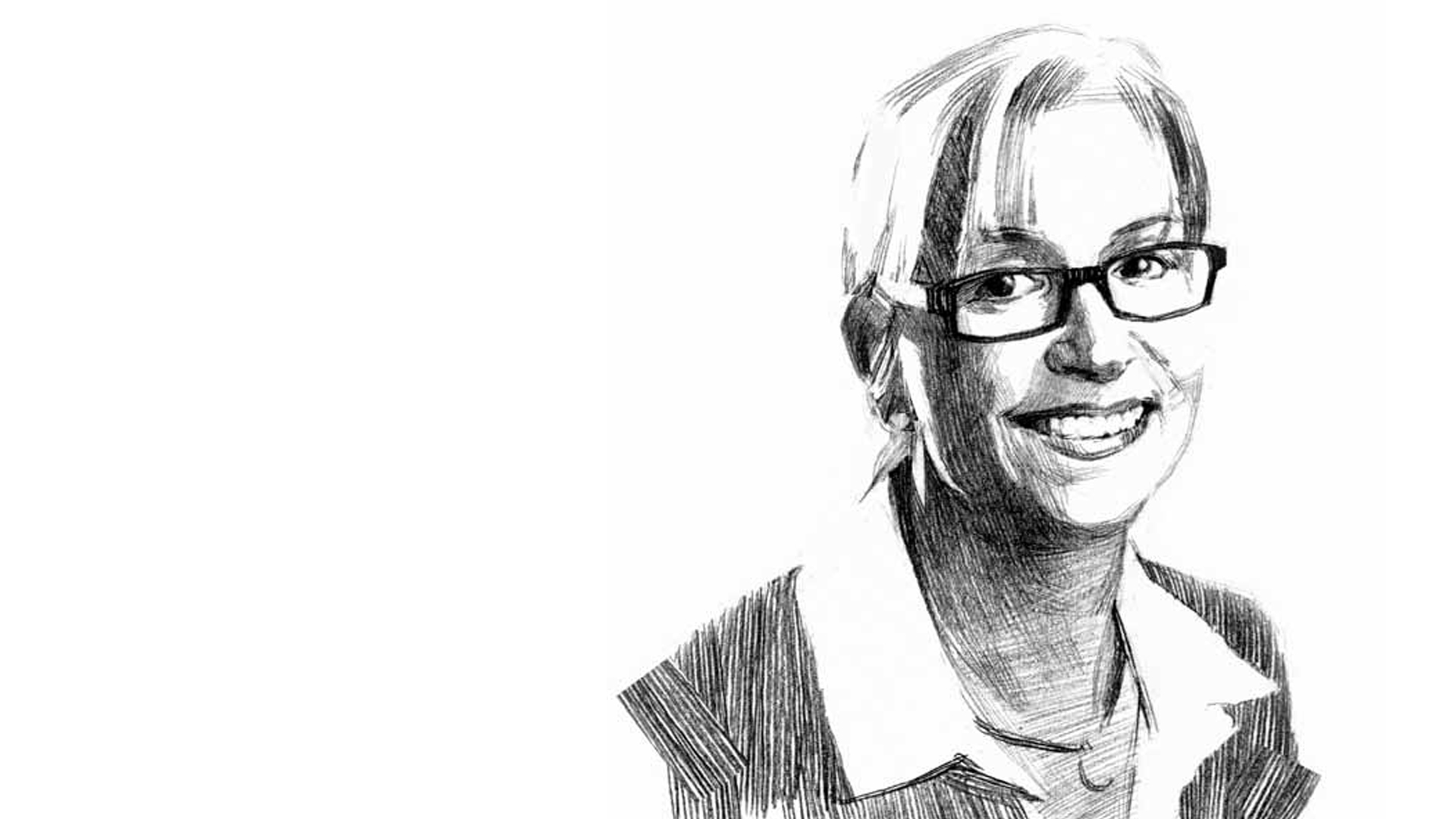 Sally Macindoe, Melbourne
RE | Issue 1 | 2011
Sally Macindoe in conversation with Ingeborg Alexander in 2011
I'm an incredibly privileged and lucky person.
My parents instilled in me a strong sense of empathy. Some call it my 'chronic lame duck syndrome'. It's just part of me and who I am. If I see somebody standing in a crowd with no mates, I'll go and talk to them.
I'm a glass half-full person. I really feel blessed that I have that approach to life, because it helps you to seize opportunities. I'm a pretty happy person.
We were given a good education, but I know the sacrifices Mum and Dad made to ensure that happened with four kids. It certainly taught me to value the simple and small things. I think I learnt from a young age to smell the roses.
I was a real tomboy. I adored my brothers to the point that I dressed myself in boys' clothes and wasn't remotely interested in skirts and dolls.
I was a bit of a dag at school, and I found myself as an adolescent doing well academically but struggling a bit socially. I remember opening up to my mother one night and her saying how she'd spent a year in Switzerland in the 1950s and how it completely changed her view of the world. Soon after, I made sure I took up the chance to go to Japan for a year. I was fifteen.
I lived at the foot of the Hokuriku mountains on the west coast of Japan in a seaside town that was possibly one of the most beautiful places one could find. But very traditional. No one really spoke English. It was a tough year. But I loved it. I love the country and I love the people and I just can't believe the horror of what we've seen this year.
I lived with five host families. I still maintain contact with all of those families. They were the most incredibly gentle, patient and caring people.
I learnt how to zone out, to give yourself a mental rest, and that's been an incredible skill that I've used all my life; it's part of how I manage stress.
I still love getting the opportunity to speak in Japanese.
What my mother had predicted about getting into perspective what really matters and how big and diverse the world is, was exactly what I learnt over there. It engendered great self-confidence and resilience in me.
To be honest, I didn't really enjoy studying law at university. But I loved studying urban geography; and Japanese. I did double majors in the things that really interested me, and did law on the side.
I decided to do my articles just because I like to finish things that I start. I don't think I ever expected to love practising law. When I started articles I could not get over how much I loved it. I just loved it.
I fell in love with a rock guitarist at university. I have fond memories of sitting on the balcony of a shared house in Richmond with my university notes and a highlight pen while there were ten people inside, jamming with their guitars and their microphones and all the rest of it. How I got through my degree and my early years at university I do not know; but I wouldn't change any of it for the world.
I'm still friends with him. I'm not somebody that has negative relationships. Life's too short.
Everything happens in life for a reason and everything develops you further.
I didn't expect my marriage to fail. I'd never known anybody in my family come from a split marriage.
There were a lot of tough things going on at the time. His mother suffered from very early onset Alzheimer's and that was just a horrifying six or seven years. We both had full-on jobs and suddenly had our first child. I was so looking forward to starting a family that I'd spent my whole year worrying about giving birth and spent no time whatsoever thinking about what I was going to do after. Actually, I had a difficult first baby to look after. He had all sorts of intolerances and colic and difficulty sleeping, and I really found it stressful. My husband was a workaholic and not around much. When you've been somebody that's always set out to achieve and get things done, to suddenly find yourself struggling just to get out of your nightclothes is the most challenging thing. There was a bit of resentment building up in me: I was trying to cope with all of this; Tim's mother was very sick, and she had a maternity-wear shop that we were trying to run to keep an income to pay for her care; we were both partners in law firms; and I had a young baby. With some encouragement, I returned to work when Hunter was six months old.
I loved coming back to work. I found it unexpectedly liberating. Then I had my second child, and nothing had prepared me for the night my husband came home and said that he needed to talk to me; and in effect we separated. I hadn't seen that coming.
It was very difficult to have two babies in nappies and face a future completely different to the one I had planned. I came back to work very quickly after my second baby, Hugo, because I needed routine and structure.
I don't bother hashing over the why and all those things. Now, with my kids as teenagers, we're actually a pretty close modern family. You can waste an awful lot of your life trying to work out why things happen and who to blame. That's just not what I am.
I saw a psychologist when this first happened because I knew that first and foremost I needed to keep myself in the right head space.
We never wanted to have formal custody arrangements. We just sort of solved everything and moved on.
Christmas Day is not spent with lunch at Mum's and dinner at Dad's; we all have it together.
My family knows about my work; my work knows about my family. This is life. And whilst I sometimes suffer from a bit of fatigue and I sometimes suffer from stress and I sometimes career through a day and think, this is ridiculous, I shouldn't be eating my first morsel at four in the afternoon, I can't really imagine life differently.
I can switch off. Part of successfully being a mother is not getting home and going straight back on the computer and working until two o'clock in the morning.
If you ask me, what are the things I enjoy most, I love to sit and stare at a fire.
I love travel. When I took my long service leave, I went to India for the first time, and I can't wait to go back. I loved it.
I could hold a staff Christmas party with the number of people that I have to help me. Anything that can be delegated, or that others can do to make life easier, is. I have an odd jobs man. Then there's my family treasure and after-school carer, Esther, who is there when the boys get home from school and does dinner and has them all ready, so that when I get back in the door everyone's done their homework— I just couldn't live without her. I have a cleaning lady who still won't let us pay her any more than we've been paying her for the last twenty years. I have a guy that comes and helps with the garden. I have somebody that comes and fixes things. I get lots of help. And you have to do that if you're trying to juggle all the things, because otherwise you would just never go to bed.
Both my parents are still alive and they're both wonderful. They're still out there, helping the community.
My father's of Scottish descent. I'm the only child that hasn't managed to do the pilgrimage to Scotland.
We were the family that stayed in the cousins' ski lodge in summertime; we couldn't afford to go skiing in wintertime, but the lodge was there empty in summer, so dad would have us all up there in the high plains, hiking over the mountains. It was absolutely beautiful, the smell, the fresh water flowing beside the tracks, the wildflowers; that is still part of my make-up.
I adore music.
I'll go to the Melbourne Recital Centre and watch classical music one week and go into a heavy metal concert at a pub the following night.
I loved playing in an orchestra. I can still be spotted sitting watching the Melbourne Symphony on a Saturday afternoon with tears running down my face just because there's something in the music that makes me emotional. It's beautiful.
Right now my weekends are consumed by AFL football. Hunter plays Saturday mornings and he and Hugo both play Sundays. Lucky I love watching football.
I have fifteen varieties of fresh herbs growing outside my kitchen. I'm proud of my herbs and my three citrus trees: I have kumquats, lemons and limes.
Food and wine is definitely my passion outside of family and work. My whole life revolves around it. For me the ideal weekend is being able to get five hours to go to the market, come home and make something and share a meal; I love it.
---
Sally Macindoe: urban geography, Japanese and law BA LLB, Monash University 1989; articles 1990; partner 1999; head of environment and planning, Norton Rose Australia 2001; Board member, Norton Rose Australia 2005; Chair, Norton Rose Australia 2010.