---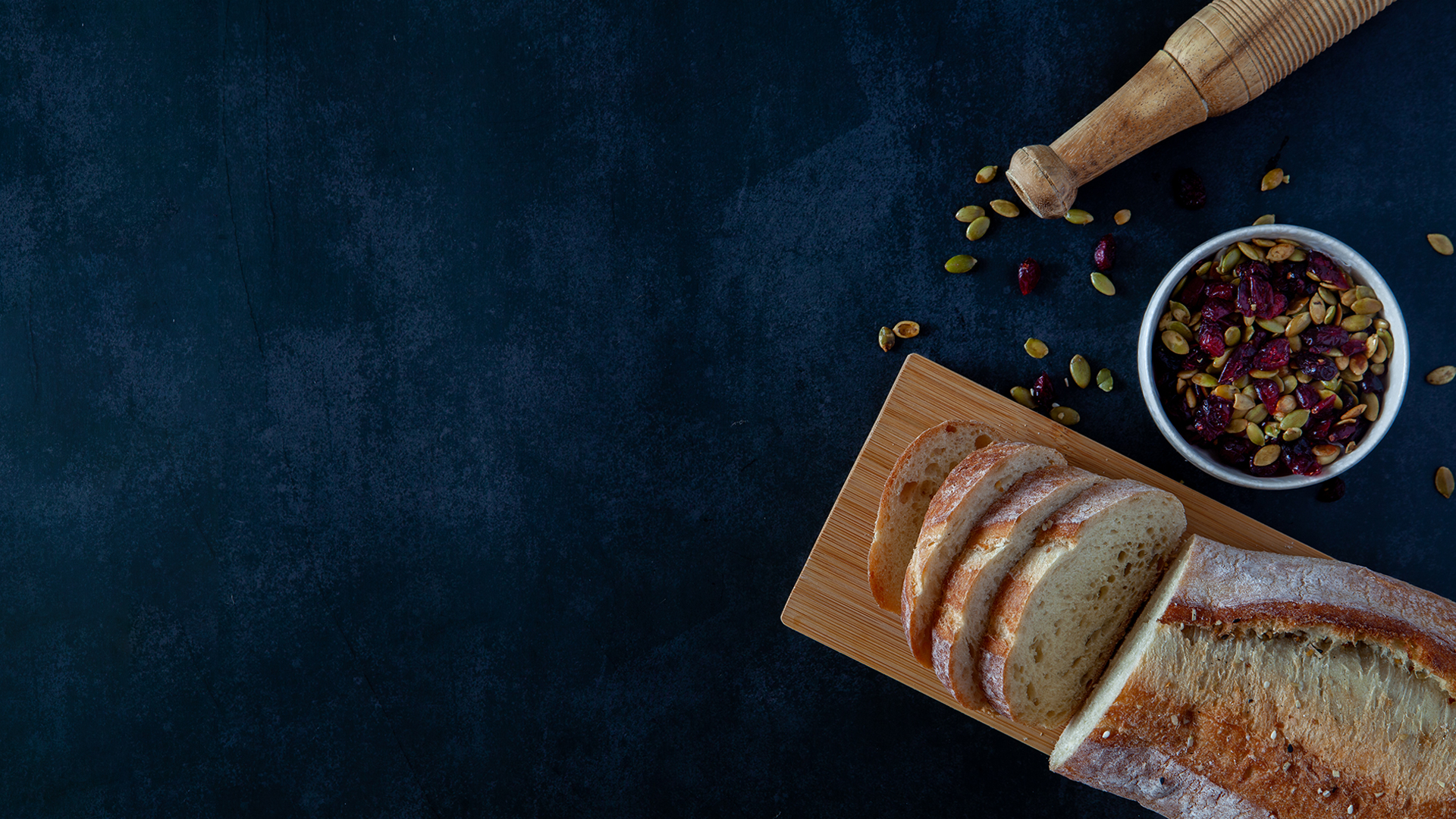 Elisabeth Trotter bakes bread
RE | Issue 19 | 2021
—Baking is just chemistry you can eat. I recommend making French toast with the failures—
I was pretty lucky to grow up with amateur bread-makers—my dad would make the dough for Saturday night pizza each week, and my mom would make bread for toast or sandwiches. My mother is very health conscious, and her bread was always made of whole wheat flour, millet, or oat flour, with seeds or nuts mixed in. Though she would admit that many of her experiments turned out too dense and dry, she did have some winners, one of which is below.
Some advice before you start
Baking bread is a skill that can be learned by reading, but because so much of it is about the texture and technique, I think it is easier to learn by doing, so take a course, offer to help a friend and watch lots of YouTube videos (particularly important for learning how to braid challah).
Baking is just chemistry you can eat. It takes experimentation—you will mess it up. I recommend making French toast with the failures: all bread tastes good when fried in egg batter and drenched in butter and maple syrup.
What I enjoy most about making bread—sourdough in particular—is that it needs to be babied to get it right; you must pay attention to all the conditions. I went to law school in Kingston, Ontario, which is cold and icy, and with the central heat the air is very dry inside. I would bake to avoid readings (referred to as procrasti-baking), and to make my dough happy I set up little water baths in a warm oven. In Calgary, I have been known to put a toque on my sourdough starter while it rests in a bowl of warm water—a tea cozy would probably also work.
I used to make all my dough by hand, but my best friend gave me a stand mixer a couple years ago and it is a game-changer. Kneading is fun, but getting eight cups of flour to mix evenly is enough to make me cry. I often let the mixer do the hard work at the beginning, and then knead by hand at the end to get the consistency I want with the last bit of flour.
HONEY SEED BREAD
1 ¼ cups of warm water
2 TBSP honey (any kind, whatever you have)
½ TBSP dry active yeast
1 Mix together to dissolve the honey and the yeast - let it sit so it sort of foams up a bit
1 tsp salt
2 TBSP safflower oil
2 cups whole wheat flour
1 ½ cups white flour
2 TBSP pumpkin seeds
2 TBSP sunflower seeds
2 TBSP hemp seeds
+ milk and poppy seeds for the top
2 Mix the salt and oil into the water mixture that should still be warm, then mix in the flours and seeds until incorporated.
3 Then either knead dough on a well-floured surface for 8-10 minutes, or use the dough hook on your stand mixer for 5 minutes-ish. Dough should not be sticky to the touch.
4 Let rest covered in a lightly greased bowl for about an hour until doubled.
5 When doubled, cut the dough in two, and punch down so the air comes out. Grease two bread pans and watch Kathleen to learn how to form:
How to Shape Bread Dough for a Bread Pan (a Pan Loaf). - YouTube
6 Cover the loaves with a towel and allow to rise again for another hour, or until the loaves have risen to the brim of the pan.
7 Brush the top with a bit of milk, sprinkle with poppy seeds and bake at 400F for about 30 minutes until the loaves are golden brown on top and sounds hollow when tapped on the bottom of the pan. Cool in the pan for 10 minutes, then remove bread and finish cooling before cutting.
---
Elisabeth Trotter's kitchen table is in Calgary. Photographs by Moontashir Rahman in Toronto.