---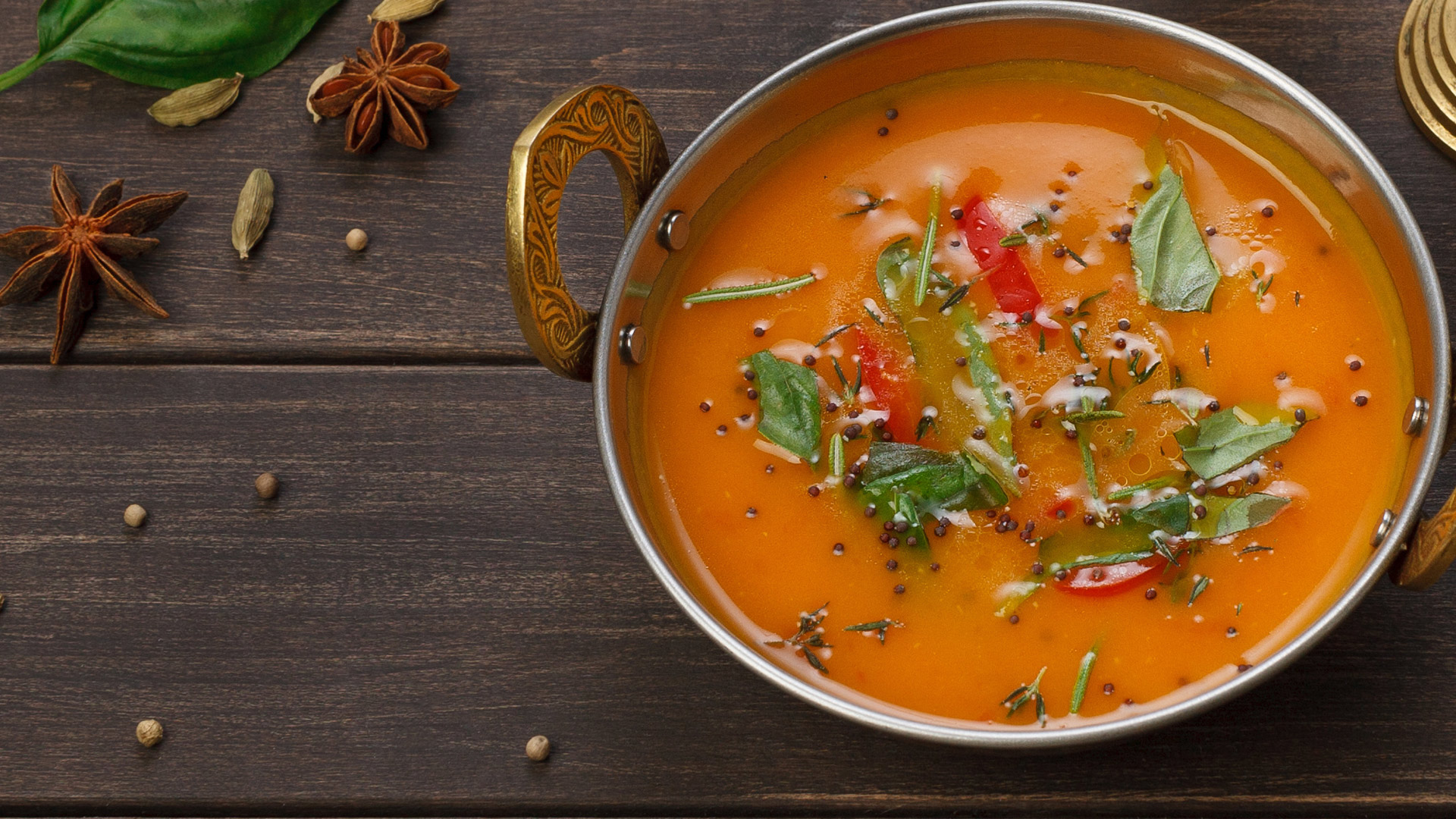 The food of south India
RE | Issue 15 | 2019
Ramya Djealatchoumy is a food writer in Paris
Foodies who take pleasure in spices, rice, curry leaves, masalas, coconuts and sea foods which exude mouth-watering flavours and scents will love the cuisine of south India.
Each region in south India has its own variations and culinary creations, and rice is the centrepiece of every meal served. In Puducherry (where I was born and brought up) and in Tamil Nadu, almost all the food preparations include rice, whether in the form of straightforward steamed rice or something a little more complicated. We also prepare idli, a Tamil term for steamed sponge-like cakes made out of a rice-and-lentil batter; and dosa, fried pancakes made from the same rice-and-lentil batter; and pongal, which is a rice dish with the consistency of porridge. We also serve vada, a side dish based on a mix of deep-fried lentils and spices; and sambar, our beloved south Indian stew, described in loving detail below.
Also on the table is coconut chutney—which tastes divine on everything apart from rice!
We always cook a dish of sambar when we prepare a banana leaf meal: this latter is a south Indian speciality and a longstanding tradition in this part of the world. All the dishes bar one are served on a banana leaf; this is your plate. The meal consists of steamed rice served with poriyal (all known varieties of steamed or stir-fried vegetables with the addition of onions and coconut powder) and kootu (a lentil dish made with coconut paste and coconut milk giving it the consistency of porridge). In addition, there is rasam, a 'pepper soup' that aids digestion and is so good for you that I am including it in my recipes here. On the side are the crisp lentil bakes—appalam—that my son likes to call 'Indian chips'; and pickles; and buttermilk; and—the only dish not served on the banana leaf—payasam, a sweet pudding made of vermicelli, sugar, cashew nuts and coconut milk.
For the non-vegetarians, we add fish dishes and lamb or chicken biryani, with hard-boiled eggs.
Cooking is my great passion and kitchen time is my favourite time. I love to try new recipes and to experiment and I encourage you to do the same! You might like to start with sambar or rasam or, if you want to keep things very simple, an omelette. But first, source your ingredients (and invest in a good chopping knife—if in doubt, chop).
---
SOUTH INDIAN RESTAURANTS
To inspire you to rush back to your kitchens
Puducherry, India
The Indian coffee house | The oldest restaurant in Puducherry, this place is not at all expensive. They are famous for their heavenly coffee and bonda sambar. If you visit Puducherry, don't leave without visiting this place. No website, but don't let that put you off.
Hotel Surguru | A vegetarian restaurant and our all-time favourite. I love their dosas, Poori masalas and the chilie parathas.
Dindigul thalappakatti | Famous for its biriyanis. They have branches all over the world.
Paris, France
Saravana Bhavan | A vegetarian restaurant famous for its sambar. Their mini idli with sambar and thali are our ever favorites. They have branches all over the world.
Namaste | A veg & non-veg restaurant. They serve tasty biriyanis and tikka masalas.
---
SAMBAR
High in fibre and good for the heart, this classic south Indian dish controls cholesterol and helps to prevent colon cancer. You can get hold of sambar powder in any Indian store; however, homemade is always better than shop-bought.
Sambar powder
Ingredients
100g dried chillies
100g coriander seeds
20g rice
20g toor dal
20 g channa dal
20g urad dal
10g fenugreek seeds
10g cumin seeds
4g hing/asafoetida
4g turmeric powder
Method
Put the hing and turmeric powder to one side.

Dry roast all the other ingredients (a few minutes), keeping the heat very low to prevent burning.

Cool the ingredients.

Half grind them in a blender or pestle and mortar.

Add the hing and turmeric powder to the mix and finish grinding into a very fine sambar powder.

Store the sambar powder in an airtight container. It will keep for six months (or longer if refrigerated).
Tamarind juice
Method
Soak a tamarind (the size of a lemon) in lukewarm water for 10 to 15 minutes

Extract the juice
Sambar main dish
Ingredients
130g / 1 cup toor dal
1 tsp chilli powder
2 tbsp sambar powder
500g fruit/vegetables (brinjal [aubergine], carrots, murungakkai drumsticks, mangoes, or just potatoes)
2 tomatoes
1 or 2 green chillies
½ tsp turmeric powder
¼ tsp hing/asafoetida
Tamarind juice
Salt to taste
Water as required
Chopped coriander leaves (for the garnish)
Ingredients for tempering
2 tbsp oil
¼ tsp mustard seeds
¼ tsp fenugreek seeds
3 to 4 strings curry leaves
¼ tsp hing/ asafoetida
8 to 10 shallots or onions
2 dried red chillies
Method
Use a pressure cooker or rice cooker to cook the toor dal with the green chillies, fenugreek seeds and turmeric (optional) for 4-5 whistles or until fully cooked and mushy. If you use a pan (not a cooker), boil some water first and allow 30 to 40 minutes cooking time.

In a big pan, heat the oil.

Add the mustard seeds, fenugreek seeds, dry chillies, curry leaves and a little hing. Mix well.

Add the shallots (these add taste but you can replace with onions).

To complete the tempering, add the chopped vegetables and tomatoes to this and mix well.

Add the cooked toor dal along with chilli and sambar power and some water.

Cover and cook until the vegetables are about 70 per cent cooked.

Add the tamarind extract and as much salt as you need.

Cook for 10 minutes on a medium heat.

Add the fresh chopped coriander leaves and mix in before turning the heat off.
Tips
Add a pinch of salt to the onions to make them caramelize faster.
If your sambar (or any sauce) is too salty, don't panic, just add chopped potatoes and stir in. After 15 minutes remove the potatoes (they will have absorbed the excess salt).
Serve our super delicious, healthy south Indian sambar with rice or dosa or idlies or pongal or vada.
---
RASAM
Rasam is a perfect remedy for flu or an upset stomach and tastes especially good in the winter or on a rainy day if you have a cold or a sore throat. The spices and herbs in a bowl of rasam aid digestion.
Ingredients
1 tamarind (the size of a lemon) (seedless)
½ cup lukewarm water (to soak the tamarind)
1 tomato (chopped)
2 tsp black pepper
1 tsp cumin seeds
4 or 5 garlic cloves
½ tsp turmeric powder
2 cups water
Chopped coriander leaves
A few curry leaves
Mustard seeds
1 dry red chilli
2 pinches hing/ asafoetida
Oil
Salt

Method
Soak the tamarind in lukewarm water for 10 to 15 minutes and extract juice.

Grind the cumin, pepper and garlic cloves until semi-ground.

Add the semi-ground mix and the water to the tamarind juice.

Add the tomato, turmeric powder and coriander leaves. Season with salt.

Set it to boil until frothy, then prepare to temper.

Heat the oil; add the mustard seeds; then the red chilly, curry leaves and hing; cook over a low flame for a few seconds.

Add the temper to the rasam.

Serve with steamed rice or on its own (to come first in the meal).
---
SPICY INDIAN EGG OMELETTE
A quick, easy, healthy meal.
Ingredients
3 eggs
1 finely chopped onion
1 finely chopped tomato
1 or 2 finely chopped green chillies
1 or 2 tbsp chopped coriander
½ tsp turmeric powder
Pepper or chilli powder as desired (optional)
Capsicum (optional)
Salt as required
1½ tbsp oil
Method
Finely chop the onions, tomatoes, chilies, capsicum (optional) and the coriander leaves and mix them with salt and turmeric.

Add the eggs and beat until frothy.

Add oil to a pan and heat on a medium flame.

Pour in the egg mixture; when the base firms, flip it and cook. Do not let the pan turn very hot; it will brown the omelette without cooking.

Sprinkle the crushed pepper or chilli powder if you like more heat in your omelette.

Serve stuffed in chapati (Indian bread) or any bread along with chilli sauce (or tomato ketchup).
---
First published in RE: issue 15 (2019)