---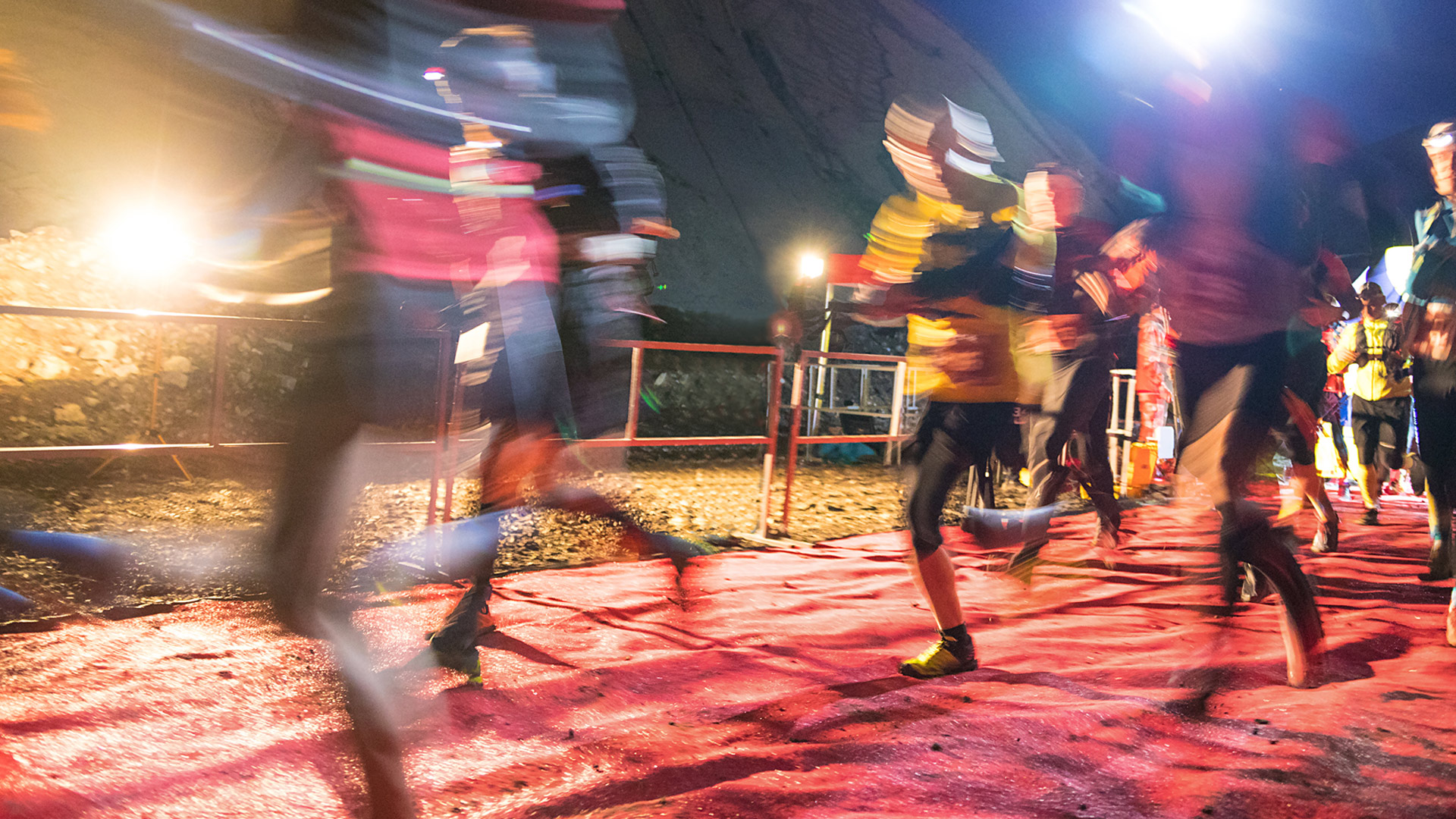 The runner, the cyclist, the swimmer
RE | Issue 15 | 2019
— I want to do some sky running —
THE RUNNER
Russ Trice, Los Angeles
Journey running, that's my thing: a kind of 'travelling with a purpose'.
I went across Ireland from the Beara peninsula to Dublin the year that Brexit was announced and the Euro Cup was on. I ran fifty or sixty km a day, stopping to talk to farmers and just chat. I love that about journey running. You see the landscape from ground level, meet the people, stay above an inn.
I was a runner in high school and started to do longer distances during the recession. In the last ten years it's been more ultra-running. Only a small group of people do it, so you know one another and it connects you. Sometimes my eldest daughter joins my training, going up and down the local mountains. She's old enough now to learn how to handle an ice axe and move carefully.
I carry everything I need: an emergency bivvy sac, food, a little first-aid, a hat, and a GPS Spot tracker, so if I get in a bad way—or I'm going too slow—I can signal my crew or my family.
In ultra-running, things that people often think are weird are normal. It's normal to run, be sick, eat and go again. It's normal to barely be able to walk, but still run. The older you get, the more you learn. I know how to take care of my feet; I know how to fuel myself correctly; I've run in heat close to 54⁰C; I've run in cold temperatures above the Arctic Circle; I'm okay at altitude. And if you do suffer, you've put yourself there, right? There's always something tougher. I've run the Marathon des Sables and that is one of the toughest events in the world. I think that's why they have the high finish rate. People prepare properly. It takes a good few years just to get in the race.
There's a saying, "90 per cent of ultra-running is mental—the other ten percent is all in your head". That mental aspect is extremely important. You can't train to run two hundred miles. It has to come from your head.
I always have projects and wishes going. Then, depending on what life brings, I make one happen and I'll wait for the other. I want to go to the King's Trail, the Kungsleden, in Sweden, with my sister; it involves a lot of water crossings, which we'll do by pack raft. I want to fly to Cape Town with some crew, cross over to Namibia and then run through the Fish River Canyon and up and over to the Skeleton Coast. At some point I want to do some sky running.
THE CYCLIST
Richard Lewis, Sydney
I have just spent forty hours on my bike, cycling 1,000 kilometres from Melbourne to Sydney and climbing 14,000 vertical metres through Australian ski-fields. I had a nasty accident last year (I was hit from behind by a car) and I have joints which have already endured more than forty years of exercise. But, you know, the great beauty of cycling is that, provided you stay upright, it is relatively kind on the body.
Cycling is addictive. It's tremendously sociable (there's a huge post-ride coffee culture), fantastic aerobic exercise and a great way to see the scenery. It gives me a chance to get out in the fresh air, push myself to my limits, compete and release plenty of endorphins.
Advances in technology have led to electronic gearing, disc brakes and bikes that weigh less than seven kilograms. Bikes are now highly tuned machines. Strava has also taken competition to new levels: it records a rider's time for each segment of a ride, so I can find out where I rank on any particular climb—which feeds my competitive streak perfectly.
I have cycled many well-known rides in Australia, climbed the Stelvio in Italy, taken part in the BP MS150 in Texas and raced in the World Cycling Championships in Perth. The toughest climb I have done—so far—is the Mortirola in the Italian Alps: over eleven kilometres at an average eleven per cent gradient. That one was mentally challenging.
My wife tells me that cycling has become an obsession with me—and that, after twenty-five years of marriage to a total sport fanatic, she is not in the least surprised.
In my youth I was a competitive tennis player. Even my choice of university was sport-driven—I decided on Sheffield so that I could continue to train with the Yorkshire tennis squad.
At twenty-seven, I had the chance of a two-year secondment to Sydney; I have lived in Sydney now more than thirty years—that's how good Australia's outdoor lifestyle is. I also played squash competitively, until I realised it was a young man's game in the heat. Then I took up triathlon, but my swimming was way off the pace of the locals, so I turned to middle-distance running before, at forty-five, taking up sprinting. A series of calf muscle tears brought that to a premature end, and that's when my obsession turned to cycling.
THE SWIMMER
Sabine Meinert, Munich
I started running; then I started swimming on the side and cycling on the side and some triathlons, and so it went. You build up the stamina: then you can transfer it. I also dive. I do yoga. When I was young I did gymnastics. I wouldn't exclude any sport. Apart from motor racing. And mountain climbing; I go mountain walking, never climbing.
Last year, I had a go at the German Classic: it is a marathon run, a long- distance swim (4 kilometres), cross-country skiing (150 kilometres), and a bike ride (300 kilometres). You have to do it all within twelve months.
When you are working really long hours you have no time for the gym or team sports. That's why I started running; and then swimming. At first, I was swimming just 1500 metres. After I decided to try the triathlons, I spent time with a trainer to get my freestyle technique up to speed. So I was in the pool two or three times a week.
Then I went to the lakes to try openwater swimming. That is scary. You don't see anything. You don't see the hand in front of your face. But from week to week it got better. I usually go to the mountains on holiday and now I always pack my wetsuit.
The mountain lakes are cold and I'm freezing: that's why the wetsuit. I don't wear it for my training swims. But in most long-distance swimming races you have to wear a wetsuit. In some events the wetsuit is forbidden, and I like that; it helps me improve my rating.
My longest time in the water was a 4.2-kilometre swim. That took me eighty minutes, and I was one of the slower swimmers. The fastest were getting out of the water after fifty minutes. The Olympic swimmers are really fast; they have perfect technique. I see them at the start and I see them at the finish; in between, I don't see them: when I am in the water they are already gone.
I love two lakes: Fuschl See, near Salzburg, where I did my first openwater swim; and Thumsee, a tiny mountain lake at Bad Reichenhall in Bavaria—the water there is so clear you can drink it, and the swimming is wonderful.
When you're swimming you only hear your own breathing, you don't hear anything else. I like this. It relaxes my mind.
---
First published in RE: issue 15 (2019)