---
Digital Disruption in Australia: A Guide for Entrepreneurs, Investors & Corporates
Publication | December 2016
We are pleased to make available the book Digital Disruption in Australia: A Guide for Entrepreneurs, Investors & Corporates by our partner and Asia-Pacific head of technology and innovation, Nick Abrahams.
The book analyses more than 550 corporate transactions across the technology, media and telco sectors to identify areas of true disruption in the Australian economy.
We hope you will use this book to inform yourself of the threats and opportunities that disruption will bring. If you would like more information, please contact Nick Abrahams.
Testimonial
"Nick Abrahams is a leading participant in Australia's technology sector as a lawyer, investor, businessman and commentator. He is uniquely placed to write this book, which offers a wealth of insight into how digital disruption is changing the Australian business landscape."
- The Hon Paul Fletcher MP, Minister for Urban Infrastructure & former Parliamentary Secretary to the Minister for Communications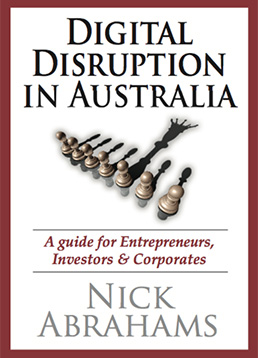 Indonesia relaxed rules on professions open for foreign workers
Decree No. 228 of 2019 (Decree 228/2019) came into effect on 27 August 2019, which simplifies and revokes previous decrees of the Ministry of Employment (MoE) to widen the type of job titles allowed for foreign professionals to work in Indonesia.
Indonesia's Investment Coordinating Board revises divestment requirements
The Indonesian Investment Coordinating Board (BKPM) enacted BKPM Regulation 5/2019 to amend last year's implementing regulation on guidelines and procedures for licensing and facilities under Indonesia's foreign direct investment (FDI). The new regulation particularly includes requirements on divestment obligations for foreign direct investment companies.