---
Melissa Hanna
Special Counsel
Norton Rose Fulbright Australia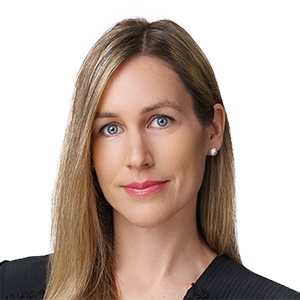 Melissa Hanna
vCard
---
Related services and key industries
---
Biography
Melissa Hanna is a senior disputes and pro bono lawyer based in Perth.
She has over 12 years' experience managing and advising in relation to complex commercial litigation and regulatory investigations for national and international clients across most sectors, with a specific focus on contractual, consumer law and regulatory disputes.
Melissa now practices in the firm's national pro bono group, where she has particular responsibility for implementing the recently refreshed pro bono strategy for the benefit of those with mental health issues and disability, to support First Nations organisations and communities, and in circumstances where strategic litigation can be employed to deliver positive social impact.
---
Admissions
High Court of Australia 2011
Supreme Court of Victoria 2012
Supreme Court of Western Australia 2010
Representative experience
Pro bono
Advising a First Nations individual in relation to allegations of misleading or deceptive conduct and the breach of directors' duties in the promotion of an entity as a First Nations entity.
Representing a vulnerable client who had entered into an unfavourable contract with a debt management company in a Supreme Court proceeding, and securing the removal of a caveat over the client's real property.
Advising a registered charity responsible for strategic litigation and law reform work in relation to costs recovery in the Supreme Court.
General commercial disputes
TEC Hedland Pty Ltd (TransAlta) v The Pilbara Infrastructure Pty Ltd (FMG) – represented TEC in a Supreme Court dispute about the commissioning of a gas fired power plant (settled less than 24 hours before a 6-week trial was to commence).
Citigroup Pty Ltd ats Y Zhao – assisted Citigroup in a Supreme Court dispute in relation to allegations of breach of the Australian Securities and Investments Commission Act 2001 (Cth).
Large, state-owned operator of a major power station – assisted the operator of a power station in responding to a critical incident that resulted in the destruction of a significant portion of its generating capacity.
Patersons Securities Limited ats P Johnstone and anor – assisted Patersons in a Federal Court dispute in relation to allegations of breach of contract, negligence and misleading or deceptive conduct (settled just prior to delivery of judgment).
Perth Airport Pty Ltd ats Ridgepoint Corporation Pty Ltd & Ors [2014] WASCA 235 – successfully defended an appeal in a dispute about the meaning of a settlement deed.
Perth Airport Pty Ltd ats BGC (Australia) Pty Ltd [2013] FCA 60 – successful outcome in a claim about competing real property interests in the context of Federal regulations for airports.
TCL Air Conditioner (Zhongshan) Co Ltd v Judges of the Federal Court [2013] HCA 5 – High Court challenge to the constitutional validity of the International Arbitration Act.
A confidential LCIA arbitration award published in favour of our client, a Chinese buyer of scrap steel (2012).
Australian Consumer Law prosecutions
ACCC ats Ali [2021] FCAFC 109
ACCC v Smart Corporation [2021] FCA 347
ACCC v Geowash [2019] FCA 72
ACCC v Domain Name Corp [2018] FCA 1269
ACCC v Aveling Homes Pty Ltd [2017] FCA 1470
ACCC v Snowdale Holdings Pty Ltd [2017] FCA 834
ACCC v DuluxGroup (Australia) Pty Ltd [2016] FCA 1286
ACCC v Snowdale Holdings Pty Ltd [2016] FCA 541
ACCC v CLA Trading Pty Ltd [2016] FCA 377
ACCC v RL Adams Pty Ltd [2015] FCA 1016
ACCC v Pirovic Enterprises Pty Ltd [2014] FCA 1028
Secondments
DVassist (2020)
Australian Competition and Consumer Commission (2017)
---
Insights
Publication | August 17, 2023
Publication | July 06, 2023