---
Nikos Anagnostopoulos-Gioussas
Senior Associate
Norton Rose Fulbright Greece***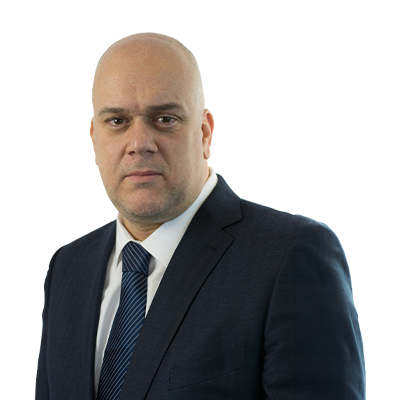 Nikos Anagnostopoulos-Gioussas
vCard
---
Related services and key industries
---
Biography
Nikos obtained his law degree at Athens University in 1997, his MSc in Business Studies from A.L.B.A. (Athens Laboratory of Business Administration) in 2001 and his LLM in Banking and Finance from the University of London (Queen Mary and Westfield College and London School of Economics and Political Science) in 2003.
Before joining us, Nikos worked in leading law firms in Athens and as head legal counsel of Greek listed multinational industrial groups.
He is advising on corporate, capital markets, financial services and banking issues, and his main areas of practice are corporate finance, private equity and acquisition finance, IPOs and equity offerings, M&As, corporate restructurings and real estate.
---
Admissions
Lawyer, qualified in Greece (Athens Bar)
Representative experience
Royal Bank of Canada in relation to passporting in Greece its Structured Securities Base Prospectus and related Supplements of its $40 billion Programme for the Issuance of Securities.
Crédit Agricole S.A. acting through its London Branch in relation to passporting in Greece its Base Prospectus and related Supplements of its €75 billion Medium Term Note Programme.
HR and the Hellenic Republic Asset Development Fund (HRADF) in relation to the exploitation through international tender process of a pipeline of selected real estate properties, the largest declared divestment programme in the world targeting Greece's return to global capital markets and being observed by the European Commission:

on the first project of this pipeline, namely the International Broadcasting Center (IBC) of ca. 152,000 m² operating currently as a shopping mall, the tender process of which concluded in the acquisition by Lamda Development Group (the real estate arm of Latsis Group) of the usufruct on the right of exclusive utilization, usage, management and exploitation of IBC for 90 years for the price of €81 million, which may be increased up to €113.4 million depending on the improvement of the macroeconomics conditions in Greece within the next 50 years.
in relation to the sale of a 4-storey building of 3,356 m² at Düsseldorf (Germany) and a 6-storey building of 1,600 m², operating as a hotel until 2007 and located in the historic centre of Rome (Italy).
in relation to the development and exploitation of the sports, recreation and leisure complex by the sea "Peace and Friendship Stadium" of 130,000 m² and the neighbouring Faliro mega yachts marina of 27,000 m².
in relation to the legal due diligence of more than 90 selected State properties, including shopping malls, seaside resorts, old State hotels (Xenia in Greek), ski centers and sports centers.

In the context of the second largest approved reorganisation plan in Greece (in terms of value, i.e. over €600 million) of the listed Greek property developer Babis Vovos S.A., advised Alpha Bank & Piraeus Bank, its two largest creditors, in connection with (a) the spin-off of Babis Vovos shopping malls' business in Votanikos, Athens (of 43,213 m² total surface and of €120 million value together with €96.2 million loan obligations) into its 100% subsidiary (SPV), and (b) the subsequent sale and transfer of the 100% of the SPV to these two creditors for a consideration of €23 million.
Listed Austrian multinational leading provider of polyolefins, base chemicals and fertilizers Boraelis AG in its eventually aborted bid for the potential acquisition of 100% of the Greek fertilisers company Sulphur Hellas S.A., which owns certain production and storage facilities in Greece, as well as the right to use certain neighbouring private port facilities constructed by the latter.
HSBC Bank plc, Royal Bank of Scotland, PayPal, Wells Fargo & Bank of Tokyo-Mitsubishi UFJ on the new capital controls regime applied in Greece since 28.07.2015 imposing certain restrictions on the capital movements and affecting all inbound and outbound funds transfers, as well as all banking and securities transactions in Greece.
PayPal on the Greek online gaming / gambling regime.
Pfizer on the Greek e-signature regime.
Non-EU citizens on the Greek regime of obtaining residence permit on the basis of acquisition of or leasing real estate property in Greece.
Norges Bank Investment Management on capital markets disclosure requirements in relation to its shareholding in a Greek listed bank.
NBG Securities on conflict of interest issues on its role as financial advisor to an M&A transaction and on providing a fairness opinion for the M&A transaction.
Rhône Capital L.L.C. in relation to the Greek competition aspects, including obtaining clearance by the Hellenic Competition Commission, of its approximately €120 million equity investment through a tender offer for the publicly traded shares of S&B Industrial Minerals S.A., in order to acquire together with the founding Kyriacopoulos family the company's joint control.
Emirates International Telecommunications LLC on capital markets compliance issues in relation to its indirect (through Forgendo Limited) shareholding in Forthnet S.A. listed in ATHEX.
OPAP, Greece's leading gaming company and one of the strongest listed gaming companies worldwide, regarding its entry and expansion in the regulated online gaming markets in Greece and internationally in a two stages' process, i.e. selecting first its preferred partner and establishing then a joint venture company with such partner.
Banca IMI on the Greek segregation regime for credit institutions.
An international credit institution with respect to enforcement issues in relation to a bond loan issued by a Greek football club.
Two banks defending a claim over €20 million that has been brought against them for alleged breach of representations under a Sale & Purchase Agreement, where the ICC proceedings were withdrawn following settlement discussions, which ultimately resulted in the parties reaching an agreed settlement at a much lower level than the claim.
The shareholders of N.G.P. Plastic S.A. in the €3 million joint equity investment in the latter by EFG Eurobank Ergasias S.A. and Argo Hellenic Investment Fund Ltd.
A Greek telecoms company, in its participation in the bidding process between July - September 2010 in the potential sale of 100% of the share capital of Wind Hellas Telecommunications SA (one of the largest telecommunications providers in Greece). The bid was aborted.
A major energy company (with world-wide operations) in its bid to acquire (indirectly) a 49% stake in EPA Attikis (the exclusive supplier and distributor of gas in the wider Attiki region); the bidder withdrew from the process.
Hideal Investments Sarl in connection with the sale of its Greek subsidiary Enexon Hellas to a Cypriot entity. Enexon Hellas develops a portfolio of 25 PV power projects totalling 90 MW in various parts of Greece.
The insurance, leasing, asset management and consumer finance subsidiaries of Crédit Agricole in relation to the acquisition of the 100% of Emporiki Life, Emporiki Insurance, Emporiki Leasing, Emporiki Asset Management M.F.M.C and Credicom with an overall transaction value of €123 million.
---