---
Shauaib Mirza
Counsel
Norton Rose Fulbright LLP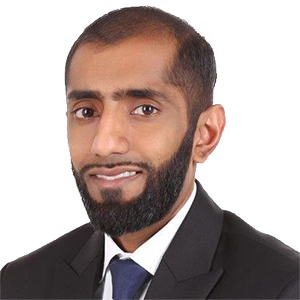 Shauaib Mirza
vCard
---
Biography
Shauaib is an Of Counsel in our Islamic finance practice for the Middle East and Africa, based in our Dubai office.
Shauaib has extensive experience of Islamic finance and regularly advises financial institutions, sovereigns and corporate clients on structuring and executing a broad range of Islamic financing transactions. These include corporate financing, project financing and Sukuk issuances.
He has worked on a number of innovative and award-winning Islamic financing matters, including DP World's Twentyfoot Equivalent Unit (TEU)-based Sukuk programme and Emirates' Export Credits Guarantee Department/UK Export Finance-backed Sukuk.
---
Admissions
Admitted as a solicitor England and Wales 2007
Representative experience
Banking
Advised Dubai Islamic Bank on a number of Shari'a compliant construction financings in the United Arab Emirates
Advised an international airline on a novel ATKM-based Shari'a compliant financing
Advised Abu Dhabi Islamic Bank on a co-financing made up of an Islamic bank tranche and an Islamic Sukuk tranche for a Dubai-based company
Advised a Qatari institution on a number of aircraft financings
Advised a Dubai-based company on an AED352.5m financing involving a conventional facility and Ijara term facility
Advised a listed home finance provider on its restructuring and issuance of a contingent convertible instrument
Advised Noor Islamic Bank PJSC on an innovative Shari'a compliant guarantee facility for a leading development company in Dubai
Advised Noor Islamic Bank PJSC on a US$150m secured Murabaha financing for a Dubai Airport Free Zone entity
Advised Abu Dhabi Islamic Bank, Commercial Bank International, First Gulf Bank and Sharjah Islamic Bank with an Ijara-based aircraft financing of a Boeing 777-300ER aircraft for Emirates
Advised the mandated lead arrangers on a US$1.5bn syndicated Murabaha facility for a Dubai company
Advised Standard Chartered Bank on a US$60m secured, credit card receivable backed Murabaha facility
Advised the mandated lead arrangers on the Islamic tranche of an AED2.5bn facility for an Abu Dhabi-based obligor
Advised SAMBA, SABB and BSF with bridge Murabaha facilities for two project companies
Sukuk
Advised the joint lead managers on the first sovereign green Sukuk issuance by the Republic of Indonesia
Advised DP World on its US$300m trust certificates issuance programme
Advised the arrangers on the establishment of APICORP's US$3bn wakala and Murabaha trust certificate issuance programme
Advised the arrangers and dealers on First Gulf Bank's US$3.5m trust certificates issuance programme
Advised the arrangers on IFC's standalone Sukuk issuance of US$100m floating rate, amortising trust certificates
Advised the joint lead managers on a US$1.5bn Sukuk issuance by the Government of Malaysia
Advised HSBC, JP Morgan, Citi and NBAD on an ECGD/UKEF-backed pre-funded Sukuk issuance by Emirates
Advised JP Morgan, NCB Capital Company and Standard Chartered Bank on the establishment of Saudi Telecom Company's SAR$5bn Sukuk programme
Advised HSBC, QInvest and Standard Chartered Bank with a US$1.24bn Ijara-based Sukuk issuance by the Republic of Turkey
Advised BNP Paribas, Barwa Bank, Al Hilal Bank, Emirates NBD and Nomura on a US$200m Tier II Sukuk issuance by Al Baraka Turk
Project finance
Advised the sponsors on the Islamic tranche of an 18-year financing of a US$2bn, 1,386 MW (gross) ultra-supercritical coal-fired independent power project (IPP) near the port of Safi, Morocco
Advised the Islamic financiers on the project financing of a US$5bn aluminium smelter plant, casthouse and related infrastructure to be developed by Ma'aden Aluminium Company
Advised the Islamic financiers on the project financing of a US$2.52bn aluminium rolling mill and related infrastructure to be developed by Ma'aden Rolling Company
Advised on the Ma'aden Phosphate project in Saudi Arabia
---