---
Client Update – business-to-business contract terms
Global | Publication | October 20, 2017
In the ACCC's first successful case under the new business-to-business unfair contract terms provisions, the Federal Court has declared (by consent) that eight terms of the standard form contracts of JJ Richards & Sons Pty Ltd (JJ Richards) for waste disposal are unfair, and therefore void, where the other party is a small business.
The unfair contract terms provisions1, which previously only applied to consumers, were extended in November 2016 to cover small businesses. In early 2017, the ACCC announced that ensuring small businesses received the protection of the unfair contract terms law would be a key enforcement and compliance priority for 2017. Since then, the ACCC has commenced proceedings against JJ Richards and one other company.
The terms the court declared to be unfair and void related to:
automatic renewal of the contract, often for a lengthy term, with a very small opt-out window;
unilateral price variation rights for JJ Richards;
eliminating liability of JJ Richards where its performance of its obligations is "prevented or hindered in any way";
JJ Richards' entitlement to charge for services where it attends the customer's premises but is not able to perform the service, unless notified in advance;
the grant to JJ Richards of exclusive entitlement to remove waste from the premises of the customer;
allowing JJ Richards to suspend services but to continue to charge the customer;
the creation of an unlimited indemnity in favour of JJ Richards; and
payments to be made prior to termination of the contract.
In declaring the terms to be unfair, Justice Moshinsky also declared that "the Impugned Terms tend to exacerbate each other, increasing the overall imbalance between the parties and the risk of detriment to JJR Customers."
The case of JJ Richards should act as a reminder for companies to review their business-to-business standard form contracts for compliance with the unfair contract terms provisions.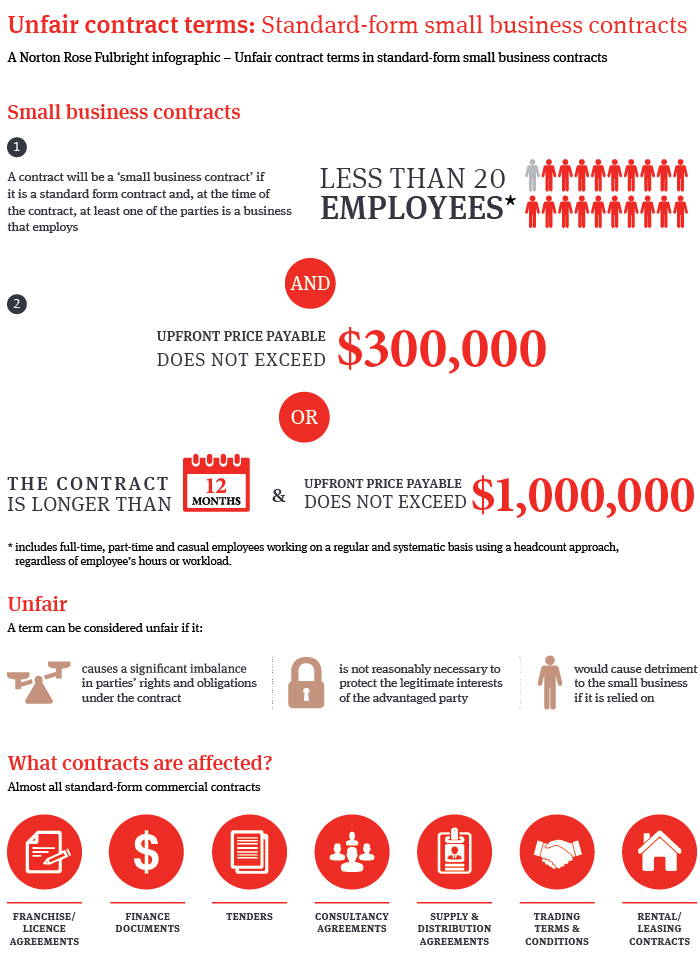 ---
Footnotes
1
Sections 23-28 of the Australian Consumer Law (Schedule 2 of the Competition and Consumer Act 2010 (Cth)).