---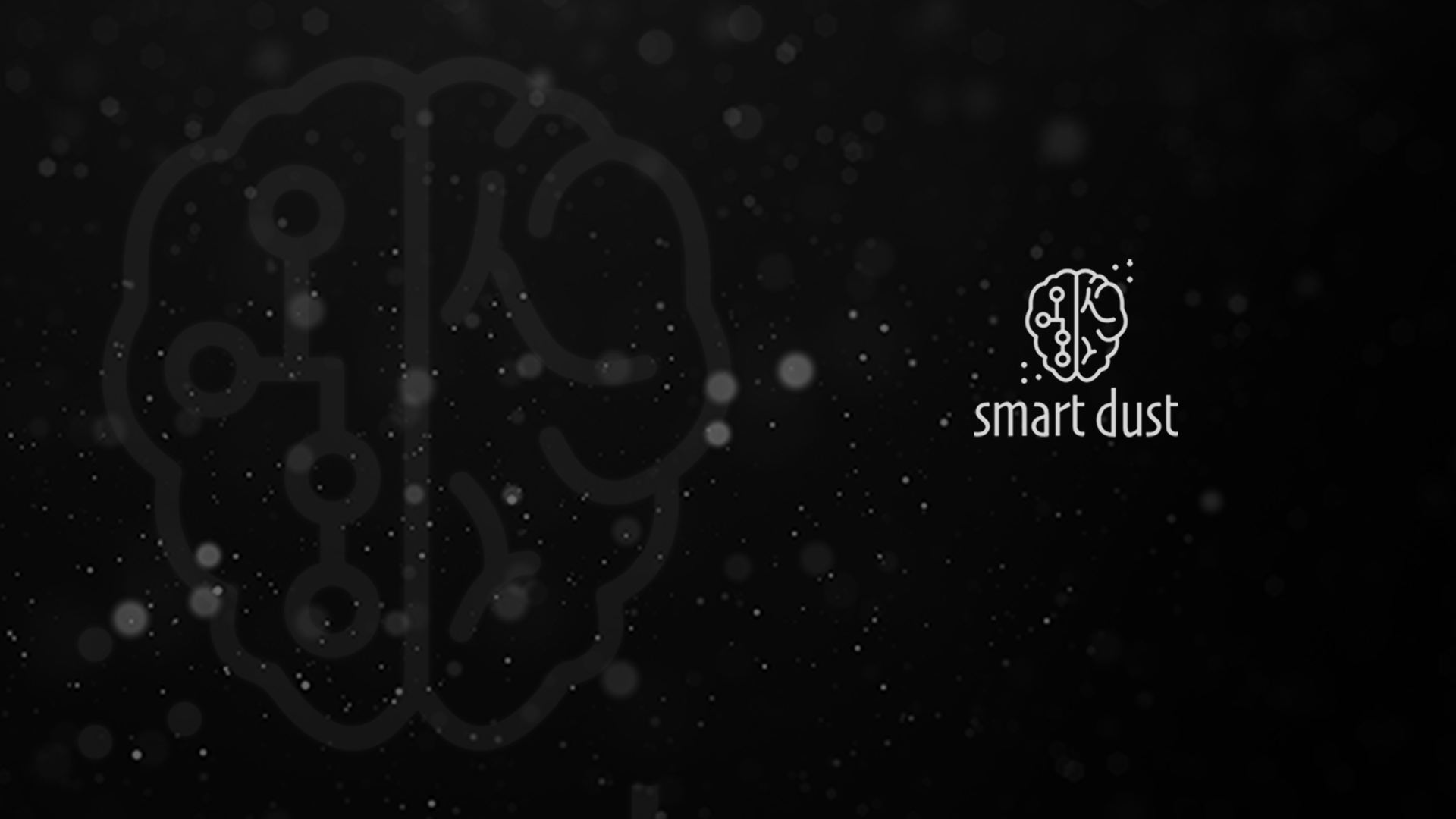 Catch up on what's trending in the world of technology, data and innovation
Want legal insight on what's trending in the world of technology, data and innovation? The Smart Dust podcast is for you.

Hosted by our Global Head of Technology and Innovation Nick Abrahams and Douglas Nicol, a partner at The Works, Smart Dust provides brain-expanding ideas and perspectives that can be applied to your daily and professional lives.
How to listen
You can find Smart Dust on Apple Podcasts, Google Podcasts, Spotify, and Stitcher.
Episode guide
Episode 39: Dr Kirstin Ferguson on leadership, gender equality and diversity in the COVID-19 era
Kirstin Ferguson knows a thing or two about career diversity. At just 17 she enrolled at the Australian Defence Force Academy, graduating as a Flying Officer and Dux of her class. In this latest Smart Dust episode, we chat with Kirstin on leadership, gender equality and diversity in the COVID-19 era.
Date published: Mar 24, 2021 | 34 min
Episode 38: Julie Inman Grant on e-Safety, online threats and legislative responses aimed at keeping us safe
With lives increasingly lived online, safety in the digital world has never been more important. That's why we sat down with Julie Inman Grant, Australia's eSafety Commissioner. Having worked across the not-for-profit, public and private sector – filling key roles at Microsoft, Twitter and Adobe – there's simply no better person to talk to about online safety in Australia today. In this episode, we discuss her career, online threats and the legislative responses aimed at keeping us safe.
Date published: Feb 15, 2021 | 38 min
Episode 37: Minister Fletcher - Minister for Communications, Cyber Safety and the Arts
In this episode Douglas and Nick are joined by the Minister for Communications, Cyber Safety and the Arts, Paul Fletcher. In a wide-ranging conversation, we discuss the impact of the ACCC's proposed code to require the tech giants to pay media companies for the content they use. Potentially a big global precedent and very much being watched by tech companies globally. In fact, Facebook says it may drop all local, national and international news from its Australian platforms if the code becomes law – which would have major implications for the way millions of Australians stay informed. We also cover the future of the NBN, 5G and cyber abuse.
Date published: Jan 21, 2021 | 27 min
Episode 36: Smart Dust Tech Trends: Predictions for 2021
2021 is shaping up to be an exciting and significant year for tech. In this episode, we talk six tech trends that could help shape and define the new year, including cyber warfare, synthetics, managing your personal carbon footprint, AI, smart glasses, and trading our bio data for travel.
Date published: Jan 1, 2021 | 43 min
Episode 35: David Thodey, Chair of CSIRO
What makes a successful disruptor? Is 5G really all it's cracked up to be? And what other upcoming technologies can we expect to challenge industry standards as we know them? Who would be better placed to tackle these questions than technologist David Thodey: as the Chair of the Commonwealth Science, Industry & Research Organisation (CSIRO), accounting revolutionary Xero, Aussie fintech powerhouse Tyro and a board member at Vodafone the correct answer is not many. That's why we sat down with David in this episode to give him a penny for his thoughts.
Date published: Nov 30, 2020 | 47 min
Episode 34: Victor Dominello, Minister for Customer Service
NSW's journey to be a digital powerhouse is underway and the man at the helm is Victor Dominello, Member for Ryde and Australia's very first Minister for Customer Service. His role in this new portfolio is to optimise the citizen experience through a range of digital initiatives, with quite a few already underway. In this episode, we talk about the Digital Drivers Licence, Digital Check In functions for COVID-19 contact tracing, cyber security infrastructure and more.
Date published: Oct 26, 2020 | 30 min
Episode 33: Nicole Sparshott on Business and Sustainability
What does a purpose-led global business look like? Nicole Sparshott knows; she's leading two of them through their biggest transformation yet. Acting CEO of Unilever ANZ and Global CEO of T2, Nicole is spearheading a sustainability revolution in Unilever – one of Australia's most iconic FMCG brands – and well on her way to making T2 certified sustainable by 2021. In this episode, we talk to Nicole about reconciling commerce with our carbon footprint, overcoming barriers to achieve sustainable outcomes and more.
Date published: Oct 14, 2020 | 32 min
Episode 33: Mark Tanner: Qwilr, Innovation and Effectiveness
Frustrated by PowerPoint and PDF, Mark and co-founder Dylan Baskin created Qwilr – a now global operation offering software for businesses to create elegant web-based forms, proposals and contracts with consistent design principles. Qwilr just raised $10.8 million in a Series A round led by Airtree Ventures and Skip Capital and have their sights set on further expansion in Europe and the US. We chat to Mark in this episode about how he took on the tech giants…and won.
Date published: Sep 25, 2020 | 24 min
Episode 32: Andy Tsao discussing the current global start up scene
In our latest episode, we chat with Andy Tsao, Managing Director or Silicon Valley Bank, about the current global start up scene, which countries are getting it right, the impact of Covid19 on IPO's, diversity in the start-up community and China's answer to NASDAQ.
Date published: Sep 13, 2020 | 31 min
Episode 31: Tech Trends - Neural Implants, managing your personal carbon footprint and the extraordinary IPO of Lemonade
In this latest Tech Trends Banter episode, the team discuss the technology leaders who are helping individual citizens deal with climate change, as well as an incredible IPO that's just happened that is disrupting the insurance sector.
Date published: Aug 06, 2020 | 27 min
Episode 30:Tim Reed on investment strategies and good leadership
In this episode we chat with the amazing Tim Reed , the President of the Business Council Of Australia. We discuss the investment decision-making process, terrain-based business strategy versus trajectory-based strategy and the challenges that Covid has presented the economy. We also explore with Tim the traits that he sees as critical to good leadership in 2020.
Date published: Jul 29, 2020 | 40 min
Episode 29: David Gonski on creative intelligence, education and his secret to giving good career advice
Douglas and Nick interview one of Australia's most respected business leaders, David Gonski. Gonski holds a number of impressive board titles, including Director of the Lowy Institute for International Policy, Chancellor of the University of New South Wales, President of the Art Gallery of NSW Trust and Chair of ANZ Bank, just to name a few.
Date published: Jul 06, 2020 | 25 min
Episode 28: COVID-19 impacts on tech, innovation and online services
We explore how COVID-19 has sparked diversification with global tech giants like Google, as they move into the healthcare space. We also discuss how software company Tableau has engineered a COVID-19 Data Hub for collating the latest in the virus outbreak and management. Douglas and Nick chat about the role of social platforms in tracking the spread of the coronavirus, before diving into the stats on streaming services in Australia and the implications for consumers in an increasingly saturated video on demand marketplace. We wrap up the episode with a crash test of the latest VOD platform to launch, Quibi, and how it is providing a personalised experience to content consumption, built purposefully for mobile.
Date published: Jun 22, 2020 | 26 min
Episode 27: Ashley Friedlein on digital transformation, entrepreneurship & unified communications
In this episode we chat to Ashley Friedlein, the Founder of Econsultancy, an international marketing consultancy agency. Nick questions Ashley on how COVID-19 has impacted his Marketing & Digital Trends 2020-2030 report, before exploring the role of digital platforms in shaping internal corporate communications.
Date published: Jun 11, 2020 | 45 min
Episode 26: Animal Logic's Zareh Nalbandian on animation and creativity
Animal Logic CEO Zareh Nalbandian co-founded the animation company in Crows Nest, Sydney in 1991. Their films include the Academy award-winning Happy Feet, The Lego Movie, and Peter Rabbit. In this episode, Zareh speaks to Douglas and Nick about how animation has developed over past 30 years, how the studio has grown and changed, and where he sees the future of creativity.
Date published: May 4, 2020 | 36 min
Episode 25:German Ramirez: Staying relevant in the age of blockchain
German Ramirez's job is to focus on the relevance of blockchain. Whether it's renewable energy companies, cryptocurrency or the property market, he's looking to how to harness his 20+ years in digital innovation to understand this will impact on industries across the world and how to market to them. In this episode, German, who is the CEO is Swiss-based blockchain marketing firm The Relevance House, takes Nick and Douglas through the industries that are ripe for disruption, how a decentralised ledger works, and what we can do to prepare for the future.
Date published: Apr 23, 2020 | 29 min
Episode 24: Amy Webb's 2020 tech trends
What are the forthcoming strategic technology trends that will shape and affect businesses, governments, education, and media this year, and for years to come? Each year quantitative futurist Amy Webb, CEO of the Future Today Institute releases a Tech Trends Report. In this episode, Douglas and Nick discuss the most interesting trends from the report and give their take on how it will be applied to society. They'll cover everything from the how your DNA could change the way we shop to a new version of the Turing Test.
And as a bonus, this episode also includes last year's Smart Dust interview with Amy Webb, recorded after the release of her 2019 Tech Trends report. It provides an interesting insight into how the world has changed since the last report.
Date published: Mar 17, 2020 | 67 min
Episode 23: Bem Le Hunte: how we can all utilise creative intelligence to solve problems
Novelist and UTS's Creative Intelligence and Innovation course director Bem Le Hunte joins The Works' Douglas Nicol and Norton Rose Fulbright's Nick Abrahams to discuss what the concept of creative intelligence actually means on a day-to-day basis.
Date published: Jan 11, 2020 | 29 min
Episode 22: Deep fakes, Instagram shopping and space tourism
Three trends which will help define 2020: Instagram shopping, deep fakes and space tourism. We discuss how these will shape the world around us in this year's first edition of Smart Dust.

Date published: Jan 3, 2020 | 27 min
Episode 21: Food tech trends, Fortnite and the Great Hack
With the human population projected to hit 10 billion by 2050, it's clear we'll have problems feeding everyone. So how can food tech help, and when even fast food restaurants are offering plant based alternatives, how is this shifting how we consume food? We also look at Fortnite - the gaming phenomenon that's also a smart marketing play, and discusses the implications of privacy and data collection by social media in light of The Great Hack.
Date published: Nov 21, 2019 | 32 min
Episode 20: Success and cryptocurrencies with Finder.com Co-founder, Fred Schebesta
Fred Schebesta is an iconic Australian entrepreneur, award-winning marketer, and media commentator. His company, Finder.com, is the world's foremost comparison website. On this episode, Fred reflects on his company's incredible but challenging path to success. He also delves into the world of cryptocurrencies and explains his latest business venture, HiveEx.

Date published: Oct 6, 2019 | 49 min
Episode 19: Paul X McCarthy on Australia's promising startup landscape and how technology has rewritten the laws of economics
On this episode, we talk to Paul X McCarthy, a technology consultant, speaker, author and more. We discuss one of Paul's greatest passions: the Australian startup sphere. He explains his particular interest in the next generation of computational linguistics, and the emergence of conversational artificial intelligence.
Date published: Sep 3, 2019 | 37 min
Episode 18:The Future of Tech Trends and AI with Amy Webb
Amy Webb, a quantitative futurist, author and professor at the Stern School of Business at New York University, explains the importance of strategic forecasting and provides insight into the 4 characteristics generally shared by tech trends.

Date published: Aug 20, 2019 | 41 min
Episode 17: The future of robots with Osaka University's Dr Hiroshi Ishiguro & Furhat Robotics' Chief Scientist Gabriel Skantze
We're talking to two robotics leaders from opposite ends of the globe, who are both pioneering the race to create 'human-like' robotics. First up is Dr. Hiroshi Ishiguro who has dedicated his life's work to create a robot that will be indistinguishable from that of a human and will eventually past the 'Turing Test'. We also unpack the future of sociable robotics with Gabriel Skantze who was the lead scientist and engineer on Furhat, the world's most 'sociable' robot, who communicates just like us humans by listening, speaking and sharing emotions.
Date published: Jul 22, 2019 | 38 min
Episode 16: AI Conversation Design with Wally Brill
Google's Wally Brill, a global expert in conversation design, joins the podcast. Australia per capita is one of the fastest growing smart speaker markets in the world and this means our relationship with computing is changing.

Date published: June 5, 2019 | 29 min
Episode 15: China's most influential Martech executive, Bessie Lee on the 'AI revolution in China', TikTok and data privacy
One of China's most influential executives, Bessie Lee, joins the podcast. Lee is Founder of Withinlink, a China-based startup incubator focused on MarTech. Lee was CEO of WPP China and at SXSW was one of the few speakers who got an 'encore' performance.
Date published: May 28, 2019 | 23 min
Episode 14: Microsoft's Mike Pell on smart information & data, plus blowing up the HCD status quo
This week we welcome Microsoft Garage's Envisoneer and Design Lead, Mike Pell. We discuss everything from ditching the over-complicated '36-step' human centred design process, forgoing the faceless word of 'user', to how information will evolve from dead pixels on a page to a new way to learn, be inspired and informed by data.
Date published: May 3, 2019 | 23 min
Episode 13: Neuroscientist Heather Berlin on Creative Flow, Brain Implants and Rappers
We're delving in the brain of Heather Berlin; cognitive neuroscientist, assistant clinical professor of psychiatry at Mount Sinai School of Medicine in New York. We explore the world of neuroscience, debunk the myths of the left brain/right brain theory, explore how we dream and learn the secret science behind the creative 'flow' and along the way, Heather also shares her neuroscience experiments conducted on her husband, rapper Baba Brinkman.
Date published: April 17, 2019 | 32 min
Episode 12: The state of self-driving cars with Alex Horwitz and Eddie Alterman from Autonomy
We talk about the technological advancement pinned to change the world – autonomous vehicles. With Director Alex Horwitz and Executive Producer Eddie Alterman from the first documentary on self-driving cars, Autonomy (produced by Malcolm Gladwell), we explore the big questions. From how humans relate to and react to advancements in technology, to the conundrum that comes with the name 'Autonomy'; is it us who are autonomous or the vehicle itself? We explore the full spectrum of questions this technology left us with.
Date published: March 29, 2019 | 23 min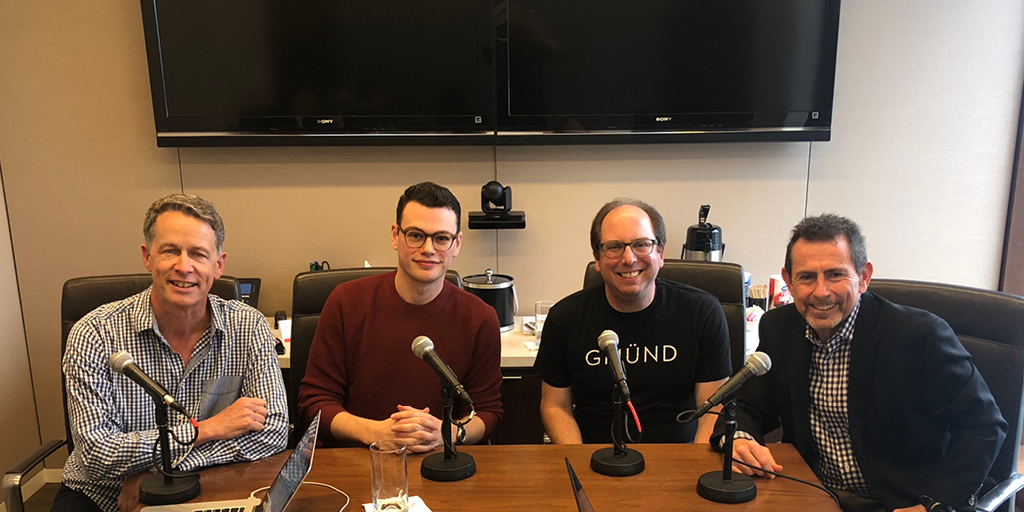 In the studio (L to R): Douglas Nicol, The Works; Alex Horwitz, 'Autonomy'; Eddie Alterman, 'Autonomy'; Nick Abrahams, Norton Rose Fulbright
Episode 11: SXSW Special: 10 days of ideas and 6 top tech trends
We're going live from Austin, Texas with a special South by South West feature! SXSW is a worldwide celebration of what happens when creative ideas and technology merge; and with 75,000 people in attendance and 5,000 speakers from just the interactive section alone, it's big. So, we've condensed 10-days of innovative ideas into 6 of the biggest trends. From the new buzzwords of Techlash and XR to creating empathy in a world of technology (we even talk to one of the most advanced robots in the world).
Date published: March 14, 2019 | 33 min
Episode 10: China: the social credit system, extraordinary start-ups and TikTok
When we talk about innovation we often immediately turn to the US and the UK – overlooking the second largest economy in the world. So, this week we discuss the hottest topics in China's technology industry - and as the world's leader in Artificial Intelligence, there is a lot happening.
Date published: March 13, 2019 | 30 min
Episode 9: Inside the world of CES
This month we go deep inside CES Las Vegas – the home of ground-breaking and often wacky innovations in the consumer electronics space. As emerging startups are unveiled, we discuss which may actually go the distance, and ponder a big question – will AR glasses really destroy the future of our beloved smartphones?
Date published: February 11, 2019 | 33 min
Episode 8: The future of transport, biohacking and start ups disrupting Australia
We're exploring the curious world of biohacking, from the 10,000 people in the world who currently have a chip implanted to the Lovetron 9000. We delve into the extraordinary start-ups currently disrupting Australia, everything from mattresses to a Conor McGregor endorsed teeth whitening kit. And finally, what does the future of transport look like? Is it going to look like The Jetsons more every day with Uber Elevate planning to launch in 2020, or is it all down to the humble bicycle?
Date published: December 21, 2018 | 31 min
Episode 7: The peak of content, 5G & Elon Musk
5G is set to take effect, doubling our download speed and saving our battery life. But what does this mean for automotive, healthcare and of course, the NBN? Have we reached peak content? And finally, what is happening with Elon Musk?
Date published: November 23, 2018 | 30 min
Episode 6: The magic of quantum computing
The race to be the leader in Quantum Computing is in full-force – something that has been described as the 'space race' of our time. This month on Smart Dust, we explore what is Quantum computing.
Date published: October 8, 2018 | 38 min
Episode 5: Facebook's share plunge, ransom hackers & the solar t-shirt
We question the future of social media as more than $119 billion is wiped off Facebook's market value in just one day, the deep dark web of 16-year-old ransom hackers, and three innovative projects that will create more inclusive cities.
Date published: August 14, 2018 | 24 min
Episode 4: The future of work
The technological revolution that is well underway. With 55% of jobs set to be disrupted in the next 20 years, is your job safe from the inevitable AI takeover?
Date published: July 16, 2018 | 23 min
Episode 3: eSports, synthetic voice & smart cities
Nick and Douglas talk eSports, the global gaming competition projected to be worth $3 billion, synthetic voice, and smart cities.
Date published: June 25, 2018 | 21 min
Episode 2: GDPR, traditional retailers, emotional AI & robot love
Episode two of the Smart Dust Podcast discusses the latest on the GDPR, traditional retailers, emotional AI and robot love and more.
Date published: May 18, 2018 | 32 min
Episode 1: Faceprints, autonomous vehicles, cryptocurrencies
In the first episode of the Smart Dust Podcast, Nick and Douglas discuss autonomous vehicles; how cryptocurrencies are changing business, and more.
Date published: April 16, 2018 | 24 min
---
About the hosts
Nick Abrahams is the Global Head of Technology & Innovation at Norton Rose Fulbright. Nick co-created the world's first AI-enabled privacy chatbot (built on IBM Watson) and co-founded Australia's leading online legal service, LawPath. He is on the board of ASX300 global software company, Integrated Research as well as being on the boards of the Garvan Foundation (leaders in genomic medicine), the Vodafone Foundation and the Institute for Economics & Peace. He wrote the Kindle Business #1 book Digital Disruption in Australia.

Douglas Nicol is a Partner at The Works, currently B&T CX and Brand and Agency of the Year and part of the RXP Services group – an 800-person strong Australian ASX listed digital transformation business. Douglas is a data geek and loves to combine data insights and ideas to solve client problems.

Contact
Global Head of Technology and Innovation; Partner