---
Indonesia and Australia finalise IA-CEPA (Indonesia Australia Comprehensive Economic Partnership Agreement)
Global | Publication | September 3, 2018
Introduction
Prime Minister Scott Morrison and new Trade Minister Simon Birmingham met with President Joko "Jokowi" Widodo at Bogor Palace in West Java, Indonesia on 31 August and signed two declarations on the Indonesia-Australia Comprehensive Economic Partnership Agreement (IA-CEPA) and the Comprehensive Strategic Partnership and the Comprehensive Strategic Partnership formally declaring that negotiations have concluded for IA-CEPA paving the way for greater economic cooperation between the two nations.
Indonesia is Australia's 13th largest trading partner with total two-way trade worth almost A$16.5 billion in 2017.1 IA-CEPA has been under negotiation since November 2010.2
IA-CEPA will open new markets and opportunities in multiple sectors including the Australian education sector – the opening of an Australian university campus in Jakarta is proposed – as well as businesses, primary producers, service providers and investors. IA-CEPA will give Australia preferential tariff treatment on sugar, and cattle and make Indonesian exports to Australia more competitive. In short, IA-CEPA will allow 99% of Australia's goods exports to enter Indonesia duty free or with significantly improved preferential arrangements by 2020 (compared with 85% under the ASEAN-Australia-New Zealand FTA (AANZFTA)). All Indonesia's goods exports will enter Australia duty free. (for more detail, see Department of Foreign Affairs and Trade IA-CEPA dedicated page).
In addition to IA-CEPA, the Comprehensive Strategic Partnership sets out five key principles that Australia and Indonesia will commit to so that they can ensure greater co-operation politically and economically. The full text of the Comprehensive Strategic Partnership can be found here.
Indonesia market snapshot
GDP: USD519 billion
GDP growth: 5.2%
Inflation: 3.1%
Exports to Australia (Jan – May 2018): USD 1.163,5 (million)
Imports from Australia (Jan – May 2018): USD 2.351,6 (million)
Bandan Pusat Statistik (Statistics Indonesia) trade data for Q1 & 2, 2018
IA-CEPA: the potential for Australian and Indonesian trade
IA-CEPA builds on the trade liberalisation commitments implemented through AANZFTA, under which Indonesia already extended some "WTO plus" trade concessions to Australia.
IA-CEPA however goes further than AANZFTA, with a focus on industries such as the digital economy and e-commerce, the green economy and skills/labour exchange. Instead of a traditional focus on tariff levels and schedules for reduction, the focus of IA-CEPA is on key areas of cooperation. One such example is red meat, where the countries have mutually beneficial opportunities – Australia wishes to increase its live exports to Indonesia, while Indonesia on the other hand is seeking support to boost its own local beef industry to manage issues in food security. Last year's negotiations resulted in agreement on Australia's elimination of its tariff on herbicides and pesticides in exchange for a reduced tariff on Australian sugar exports to Indonesia.
The Indonesian FMCG market is expected to benefit from Australia's cheaper sugar while Indonesian pesticides will be more competitive in the Australian market. IA-CEPA will further enhance a variety of existing business channels including:
Australian agricultural products (wheat, live animals, beef and lamb, dairy, citrus, vegetables and sugar) which are key exports to Indonesia. For instance, IA-CEPA will provide duty free (from 5% tariff) access for 575,000 live male cattle in year one with a 4% annual growth in volume reaching 700,000 by year 6. Australian cattle exports to Indonesia have been struggling of late due to an opening to Indian exporters of buffalo meat, and an Indonesian Government ruling last year that 20% of all live cattle imported were required to be breeder stock;
Australian steel, especially hot and cold rolled steel coil, with duty free access (from between 2.5% to 11.25%) for 250,000 tonnes in year one and 5% annual growth in volume thereafter. The Indonesian tariff on Australian copper cathodes has been completely eliminated;
Australian higher education. Australian institutions will gain access to the Indonesian market, specifically by freeing up Indonesia's university sector for Australian investors, allowing up to 67% foreign ownership. Foreign investors are currently barred from majority ownership in an Indonesian university. In return, Australia will eventually recognise Indonesian university qualifications. To put it into perspective, to date, education is Australia's key services export to Indonesia, valued at $802 million with more than 15,000 Indonesians currently studying in Australia;
Indonesian paper and palm oil – will benefit from removal of several trade barriers. Previously, Australia has imported most of its palm oil from Malaysia.
The key outcomes are set out on the DFAT website.
One industry most likely to benefit from IA-CEPA is the Australian financial services industry. As part of the IA-CEPA negotiations, the Australian Centre for Financial Studies (ACFS) and Indonesia's "OJK Institute" (an initiative of Otoritas Jasa Keuangan (the Indonesian Financial Services Authority)) are working on enhancing the capacity of OJK Institute staff in financial sector research and on developing a network of financial regulators, policymakers, researchers, and practitioners across Australia and Indonesia. This work is likely to see an increase in Australian financial services penetration into Indonesia, especially when you consider that Indonesia has a relatively low insurance market penetration rate, a large population and expanding consumer class.
In addition, Australian services and investment in Indonesia will benefit from the following:
Indonesian approval of Australian ownership of up to 67% in each case for:

the supply of technical and vocational training;
contract mining services and mine site preparation services;
large hospitals and, within large hospitals, up to 67% of pathology, paramedic and medical and dental specialist clinic services with no geographic limitations;
aged care facilities;
telecommunications;
architectural, urban planning and most engineering and surveying services;
construction related work;
wastewater management services; and
highways, bridges, tunnel concessions and parking services with 51% for operation of railways.Indonesian approval of Australian ownership of up to 67% in each case for:

Australian tourism services, including allowing 100% Australian ownership for 3, 4 and 5 star hotels and resorts, with no geographical limits. In addition to that, IA-CEPA provides for 67% Australian ownership of most other accommodation, restaurants, cafes and bars, as well as tour operator services and tourism consultancy services and Australian ownership of up to 51% in Indonesian marinas;
Removal of technical and regulatory barriers to trade between Australia and Indonesia to a greater extent in some sectors than has historically occurred in other FTAs with other countries;
Simplification and harmonisation of a range of rules and standards between Australia and Indonesia, including by implementing mutual recognition/harmonisation of qualifications subject to some conditions; and
Facilitation of the movement of skilled workers between Australia and Indonesia to meet market demand.
Figure 1 Scope of IA-CEPA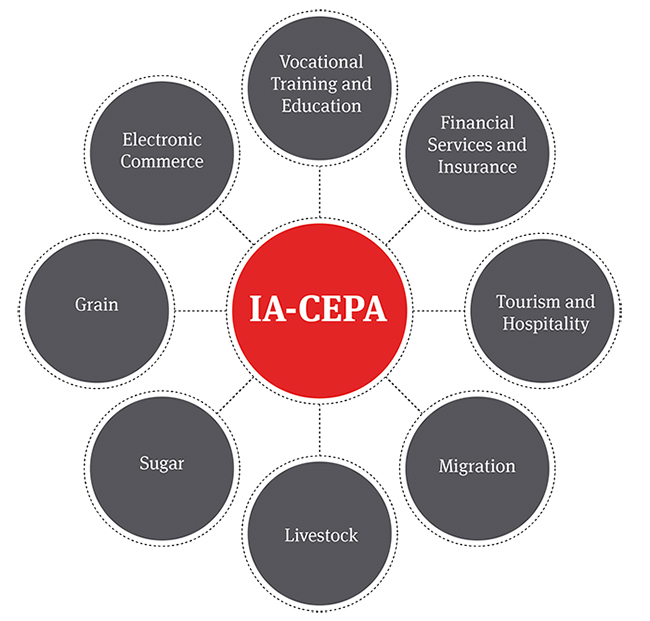 What happens next?
The next steps involve both parties' legal teams reviewing the agreement and finalising it with a view to translating the text into English and Bahasa Indonesia. Following translation, a formal signing ceremony will take place and the agreement will be made public.
Although IA-CEPA is not far away from being signed, the actual deal will not take effect until both Governments have completed their domestic processes and transposed the agreement into law. As part of this process, enabling domestic legislation will need to be enacted by the Australian Parliament, which will include an inquiry by the Parliamentary Joint Standing Committee on Treaties, as well as changes to various regulations. Similar steps would occur in Indonesia which may take up to a year to finalise.
Please contact Tasdikiah Siregar (Managing Partner), and Diane Jungmann (Senior Foreign Counsel) in Jakarta, Indonesia if you have any questions arising from this publication.
In Indonesia, TNB & Partners works in association with Norton Rose Fulbright Australia, which is strategically positioned in Jakarta, Indonesia's financial and commercial centre, and has developed strong corporate, commercial, and banking and finance practices.
We have experience in advising on free trade agreements and market access issues, which is especially relevant for business in Indonesia, with its fast-growing emerging economy, attracting a wide range of international investors.
Norton Rose Fulbright is a global law firm, with more than 50 offices across Europe, the USA, Canada, Latin America, Asia Pacific, the Middle East and Central Asia.
---
Footnotes
---
Footnotes
2
DFAT Australia and Ministry of Trade, Republic of Indonesia, 'Australia – Indonesia Free Trade Agreement: Joint Feasibility Study' (Report, DFAT, 2009).