---
Despite only marginal improvement, health and safety still ranks highly on DMR's 2017 priorities
Global | Publication | March 16, 2017
The Minister of Mineral Resources, Mosebenzi Zwane, in his opening address at the annual Investing in African Mining Indaba, on 6 February 2017, highlighted that "an area which continues to receive priority attention is that of health and safety." The Minister's address follows his release of the annual mining health and safety statistics for 2016. With a marginal decrease in mining-related fatalities from the previous year, 2016 has ranked as the year with the lowest number, having dropped from 77 fatalities in 2015 to 73 in 2016. This year's 5% improvement rate is lower compared to the 2014/2015 improvement rate of 8%.
Reduction of fatalities
Gold and platinum mines continued to contribute the most industry fatalities compared to other commodities. This is despite a continual drop in gold mine fatality numbers. Gold mines reported 30 fatalities in 2016 compared to a total 33 fatalities in 2015, an improvement of 9%. Platinum mines reported 27 fatalities in 2016 versus a total of 22 fatalities in 2015, a regression of 18.5%. There was a 20% decrease in fatalities on coal mines from 5 fatalities in 2015 to 4 fatalities in 2016. All other mines together (includes diamonds, chrome, copper, and iron ore, and all other mines) reported a total of 12 fatalities in 2015 versus a total of 17 fatalities in 2016, a regression of 29%.
Injuries reported
There has been a 15% decrease in mining-related injuries, from a reported 3138 in 2015 to 2662 in 2016. The Minister attributed these injuries to repeat accidents. The Minister did not provide a breakdown of the injuries per commodity this year, but insofar as he mentioned that despite the decrease the injuries are due to repeated accidents, the 2014 and 2015 breakdowns are relevant in providing a point of reference. Gold mines reported 1228 injuries in 2015 versus a total of 1243 injuries in 2014, an improvement of 1%. Platinum mines reported 1331 injuries in 2015 versus a total of 796 injuries in 2014, a regression of 67%. Coal mines reported 2017 injuries in 2015 versus a total of 267 injuries in 2014, an improvement of 22%. Other mines reported 350 injuries in 2015 versus a total of 394 injuries in 2014, an improvement of 11%.
Comparative analysis
These statistics confirm that South Africa's mining sector's fatality rates continue to compare well to other countries such as the United States of America (U.S.), Australia and Canada. According to the most recent available statistics: the US fatality rates dropped from 28 in 2015 to 26 in 2016, Australia recorded a decrease from 13 fatalities in 2015 to 7 in 2016, the Canadian provinces of Ontario and Alberta reported zero and 3 fatalities in 2016.
Occupational Health reports
Last year the Minister noted an improvement in statutory reporting, with mines timeously submitting their occupational hygiene statutory returns and annual medical reports. The Minister emphasised this year that the reports continue to show that the mining sector is still reporting a high number of occupational diseases, more specifically tuberculosis, silicosis and noise-induced hearing loss. While this may be so, what is encouraging, the Minister noted, is that occupational diseases reported by the gold, coal and other mines have reduced by 15%, 4% and 8% respectively.
Health and Safety improvement measures
The Department of Mineral Resources has also emphasised that occupational health remains high on its priorities. A way in which it is prioritising is through the integration of compensation systems to address inequalities due to occupational health programmes being executed unsystematically and inconsistently.
The Minister made reference to the 2016 high court case of Bongani Nkala and Others v Harmony Gold Mining Company Limited and Others, current major mine health and safety litigation. This case involves a class action by miners who applied for, and were granted, certification of class actions to be launched against gold mining companies, in whose employ they claim to have contracted silicosis and tuberculosis. The Minister highlighted this case as indicating the need for more preventative action to be taken in addressing exposure to hazards which result in occupational diseases in the industry.
The Minister reiterated the Department's measures towards the enhancement of health and safety. These measures include: engaging and promoting stakeholder collaboration; enhancing skills development; implementation of the 2014 Mine Health and Safety Tripartite Summit Commitments, notably the objective of achieving zero fatalities; conducting mine inspections to enforce legal compliance; conducting group audits with a threefold objective: firstly, to evaluate the effectiveness of control measures that mines have put in place to prevent rock falls, rock bursts and transport equipment accidents, secondly to evaluate mine management systems for preventing employee exposure to noise and dust (including silica dust), and thirdly to evaluate mines' tuberculosis, HIV and AIDS programmes in order to ensure that there are improvements achieved through these health programmes.
Furthermore, the enforcement of the Mining Charter commitments regarding health and safety has become a key priority. To facilitate its realisation, the Minister stated that the Mine Health and Safety Inspectorate will be checking whether mines are complying with the Mining Charter commitments for improving living conditions of employees and the conversion of single sex hostels, as research findings have confirmed that poor living conditions also exacerbate tuberculosis, HIV/AIDS and other health and safety challenges.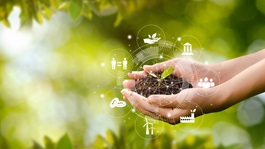 Publication
"Climate cartel" or sustainability?
On December 31, 2022, Republican members of the House Judiciary Committee sent a letter to a member of the steering committee of Climate Action 100+, an investor-led initiative that pursues decarbonization and greenhouse gas reduction at companies in which its members invest.