---
FINRA Adopts Rule Relating to Algorithmic Trading Strategies
Global | Publication | August 9, 2016
In June 2016, the Financial Industry Regulatory Authority ("FINRA") released Regulatory Notice 16-21, which addresses an amendment to NASD Rule 1032(f). The Regulatory Notice follows in the wake of the approval of the amendment by the SEC. These actions are the latest examples of increased regulatory scrutiny of the use of automated trading strategies, including high-frequency trading.
The amendment will mandate registration of associated persons who are primarily responsible for the design, development or significant modification of algorithmic trading strategies, or who are responsible for the day-to-day supervision or direction of such activities. Such persons generally will be required to register as Securities Traders under FINRA rules, which involves passing a qualification examination and meeting certain continuing education requirements. The amendment defines an "algorithmic trading strategy" as "an automated system that generates or routes orders or order-related messages – such as routes or cancellations – but does not include an automated system that solely routes orders received in their entirety to a market center."
In its original March 2015 request for public comment in respect of the proposed amendment, FINRA noted that the proposal was being prompted by a concern that certain individuals involved in algorithmic trading strategies may not have sufficient knowledge of FINRA's rules relating to the securities markets, which may result in the implementation of algorithmic trading strategies that, in turn, do not conform to such rules. In fact, FINRA noted, further, that it had observed algorithmic trading strategies that resulted in improper trading activities and potential securities laws violations, including potential violations of "Regulation NMS, Regulation SHO, SEA Rule 15c3-5 and other critical market and investor protection safeguards".
The amendment is the latest of several recent rulemaking proposal initiatives by regulators to increase regulatory oversight of high-frequency and other algorithmic trading activities. Such other rulemaking proposal initiatives include proposals by the SEC, which would require high-frequency proprietary traders to become members of FINRA, and the Commodity Futures Trading Commission's (the "CFTC") proposed Regulation AT, which would have imposed certain registration requirements and controls for persons engaged in certain futures markets algorithmic trading activities. The CFTC recently reopened portions of proposed Regulation AT for public comment after numerous complaints regarding arguably onerous provisions of the Regulation, including language that potentially would have given the CFTC access to source codes.
The amendment to NASD Rule 1032(f) is effective January 30, 2017.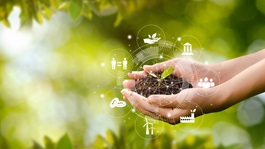 Publication
"Climate cartel" or sustainability?
On December 31, 2022, Republican members of the House Judiciary Committee sent a letter to a member of the steering committee of Climate Action 100+, an investor-led initiative that pursues decarbonization and greenhouse gas reduction at companies in which its members invest.