---
Norton Rose Fulbright, Schwab, Hillwood win Dallas Business Journal's 'Best Real Estate Deals' award
Recognition | April 28, 2017
Norton Rose Fulbright won the Dallas Business Journal's "Best Real Estate Deals of 2016" for outside relocation with its representation of Charles Schwab in the development of a new US$100 million regional campus in Westlake, Texas.
Now in its 25th year, the awards highlight "the stakeholders and dealmakers that brought about 2016's biggest transactions and projects." We, along with our clients, accepted the honor at an evening awards event April 20 at The Ritz-Carlton, Dallas.
Spanning 70 acres of land, the North Texas campus will bring at least 1,200 new jobs upon completion and anchor a large proposed mixed-use development. The State of Texas extended a US$6 million Texas Enterprise Fund grant offer to Charles Schwab in connection with the project, the largest such grant given during Texas Gov. Greg Abbott's administration.
Charles Schwab, a leading financial services corporation, has more than 330 offices, 10 million active brokerage accounts, 1.6 million corporate retirement plan participants, 1.1 million banking accounts and US$2.62 trillion in client assets.
The Norton Rose Fulbright team that handled this matter was led by Jane Snoddy Smith (Austin) and included: Jay Chadha (Houston), Alicia Groos, Amy Mitchell, Jeff Pettit (Austin), Tim Walsh, Luke Maher (St. Louis) and Julie Tassi (Washington, DC).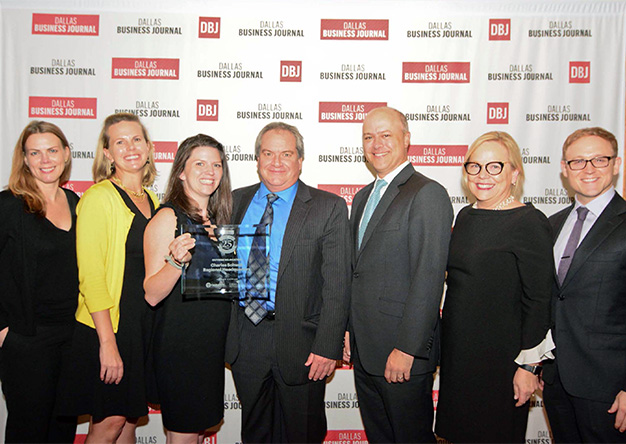 Key players of the Schwab deal include Denise Gow (from left), Beth Gambaro, Katie Blair, Glenn Cooper,
Steven J. Aldrich, Jane Snoddy Smith and Jeff Pettit