---
US lawyer named one of Dallas Business Journal's Top Minority Business Leaders
People | February 21, 2018
Paul A. Braden has been named one of the Dallas Business Journal's 2018 Minority Business Leaders. The list lauds the top determined professionals that "have a proven track-record of excellence in advocating for others in their communities and workplaces" and spotlights 30 highly-effective ethnic minority leaders of successful companies, who advocate for any ethnicity in a corporate setting.
As our US Head of Public Finance, Braden advises on a variety of debt issuance matters, including venue project financings, pension bonds and tax credit bonds. Serving as bond counsel, underwriters' counsel and issuer counsel, he has represented clients in financings involving billions of dollars of debt securities.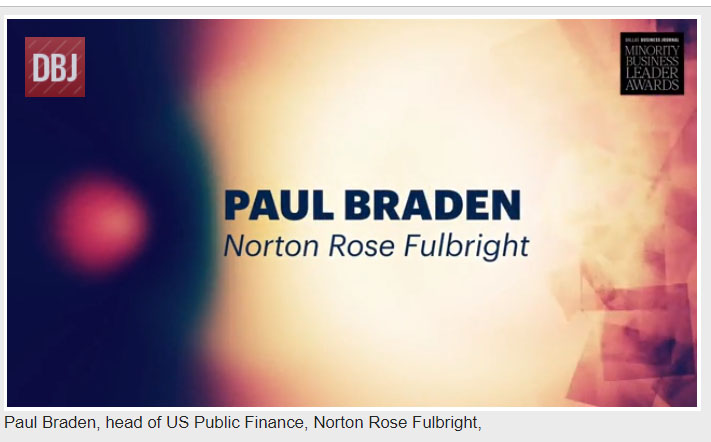 In 2017, Braden was appointed to the governing board of the Texas Department of Housing and Community Affairs. The TDHCA is a Texas state agency which provides housing and community development opportunities for low income individuals, nonprofit organizations, rural communities, local governments and investors. Prior to his appointment to the TDHCA, Braden served for 10 years on the Texas Pension Review Board, including two years as its chair.
This year's class received their awards at a luncheon on February 20 and were featured in Dallas Business Journal articles both in print and online (subscription required).
Contact
Head of Public Finance, United States