---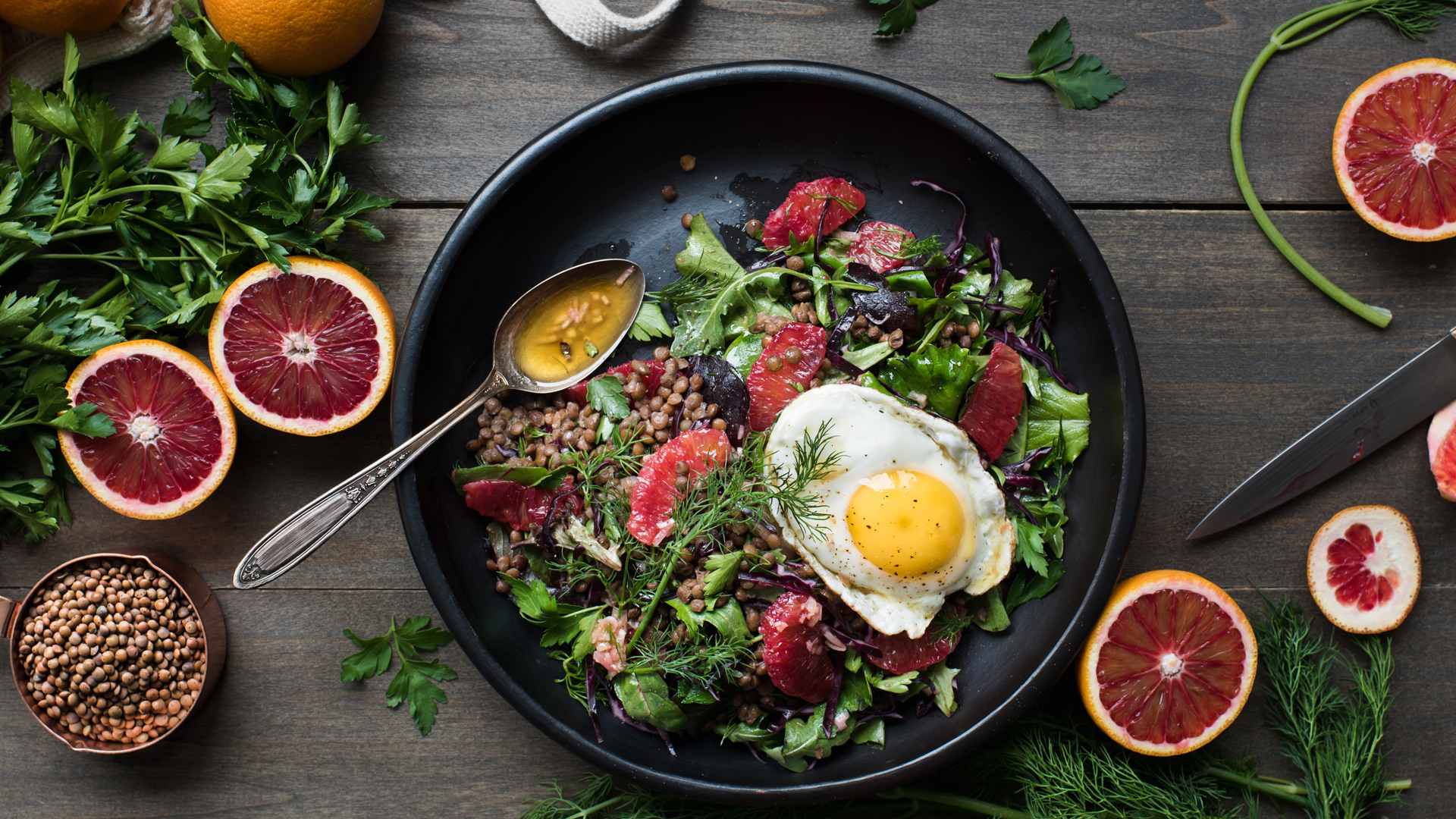 Sonia Wong
Summer and winter salads

RE | Issue 13 | 2018
Sonia Wong is an acclaimed food writer and photographer based in Toronto
My food is intended to nourish, to indulge, and everything in between. In my family, we eat tons of veggies and grains like rice, oats and quinoa. We generally look for foods that are hormone- and additive-free and we eat our way through large quantities of organic nuts. We consume meat as a component of the dish rather than the main event. But that doesn't mean we don't indulge in the occasional ribeye steak or have a bottle of Sriracha in the fridge. We do! We are not all-the-way healthy nor are we all-the-way careless.
Plant-based. Gluten-free. Paleo. Our way of eating does not fit neatly into any of these labels: we pull from them the components that work for us. Whatever our way of eating is called, my wish is for us to be thoughtful about what we consume with a strong emphasis on the whole and the good. And so, today, I bring you salads—a quintessential summer salad rich in peaches; and a winter salad that celebrates the gorgeous blood oranges of the season.
There is one surprise ingredient that I hope you will enjoy getting acquainted with: umeboshi vinegar—also known as ume (Japanese plum) vinegar. Umeboshi is a pickled Japanese plum and umeboshi vinegar is a by-product, a salty 'brine' with a bit of tang and fruitiness. You may have tasted it at Japanese restaurants. My first encounter, years ago, was in the form of umeboshi paste inside a sushi roll along with shiso leaves. And when I go to a favorite Toronto joint for a bowl of ramen, I love that there's a single, whole umeboshi bobbing in the bowl; the idea is to eat it at the end to aid digestion.
The art of food blogging
'Food blogger' is a title I acquired quite by accident. I see myself simply as someone aiming to create healthy eating habits for the family— especially our two little girls, who are young enough that their food outlooks and taste preferences can be shaped by what they grow up with. Aside from that, I am passionate about food photography. When I picked up a DSLR three years ago and began sharing my homemade meals on Instagram, I didn't know this is where I would end up. But I love sharing my images and my tried, tested and true recipes!
---
PEACH AND TOMATO SUMMER SALAD
For 4 people
Gluten-free, refined sugar free.
Also paleo, vegan, dairy-free if the bocconcini is omitted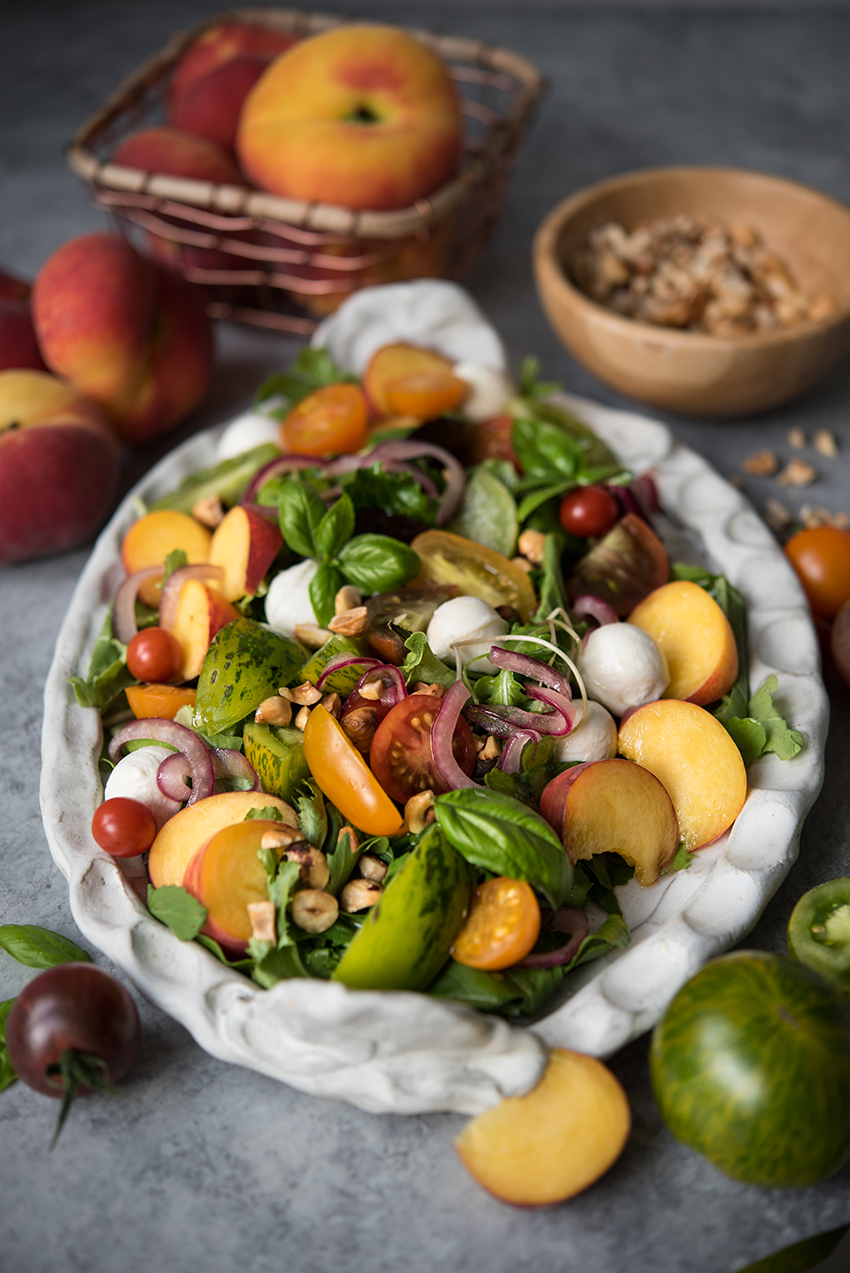 Pickled red onion
Combine the ingredients. Set aside for at least 15 minutes, at most 36 hours.
1 small red onion, thinly sliced (~1.5C)
3 tbsp extra virgin olive oil
2 tbsp pure maple syrup (or honey)
2 tsp red wine vinegar
2 tsp umeboshi vinegar (or sub more red wine vinegar)
Vinaigrette
Combine the ingredients, whisking until emulsified. Taste. Set aside.
1/4 C extra virgin olive oil
1 tsp Dijon mustard
2 tsp red wine vinegar
2 tsp umeboshi vinegar (or sub more red wine vinegar)
2 tsp pure maple syrup (or honey)
1/4 tsp kosher salt
1/8 tsp fresh ground black peppercorn
Salad
Toss salad greens and microgreens gently with 3/4 of vinaigrette. Taste. Spread on platter. Toss peaches, tomatoes and bocconcini in remaining vinaigrette. Spread atop salad. Scatter the basil, red onion (some of that yummy liquid too) and toasted chopped hazelnuts over the whole thing.
1 box (312g / 11 oz) organic mixed salad greens, preferably with arugula (~10C loosely packed leaves)
2 medium peaches, cut into wedges (~2C)
1 pint (~2.33C) baby tomatoes, halved or quartered
2 handfuls of microgreens (or sprouts)
1 handful of fresh basil leaves
1 carton bocconcini, cocktail size
1/2C hazelnuts, toasted and skin rubbed off, rough chopped
Kosher salt
---
WINTER SALAD WITH LENTILS AND HERBS
For 4 people
Gluten-free, dairy-free, refined sugar free.
Also paleo, vegetarian, vegan, if you omit the eggs
Salad stage 1

Cook the well-drained lentils in a medium pot, covered with 3 to 4 inches of broth and/or water plus a pinch of salt if broth is unsalted. Bring to a boil; reduce to simmer and cook uncovered until lentils are tender but still firm, about 20–25 minutes. Top up with water if needed. Check on them, starting from the 15-minute mark, to make sure they don't get overcooked—we're definitely not going for mushy lentils! Drain and set aside.
Supreme the blood oranges—i.e. separate out the segments from the membranes. Do this over a shallow bowl to catch all the juice. Set aside segments and juice.
1 1/2C brown, green or french lentils, rinsed well and picked over
3–4 blood oranges, supremed (reserve the juice for the vinaigrette)
Blood orange vinaigrette

(Makes just over 1/2C)
Combine the ingredients and whisk until everything emulsifies.
2 tbsp finely minced shallots
1/2C extra virgin olive oil
2 tsp Dijon mustard
2 tsp red wine vinegar
2 tsp honey
4 tsp blood orange juice (or other citrus juice)
1 tsp kosher salt, or to your taste
Fresh cracked black peppercorns

Salad stage 2
Finely shred the purple cabbage. Give the parsley and dill a rough chop. In a large mixing bowl, gently toss the mixed salad greens, shredded cabbage, parsley and dill. Drizzle vinaigrette around and down the side of the mixing bowl while tossing everything. Finally, add the lentils and orange segments, with a small toss just to coat.
2C purple cabbage (or radicchio), shredded
1 1/2C fresh parsley leaves, rough chopped
3/4C fresh dill, rough chopped
6C mixed salad greens and/or frisée
Eggs
Serve the salad with 1 or 2 crispy fried eggs per person. Warm egg on salad is epic!
---
First published in RE: issue 13 (2018)