---
Wanted: compliant and effective global mobility program
---
Wanted compliant and effective global mobility program
Executives, consultants and observers agree – the talent market is undergoing a profound transformation, and expectations are shifting on both sides of the employment equation.
While the new wave of millennial talent is infamous for requesting work-life balance, broader engagement with society at large, and variety in their careers (source: Deloitte), businesses are increasingly seeking soft skills such as negotiation, influence and, in the case of a prominent pharmaceutical company, curiosity (source: Merck Group).
One argument has held steady despite this shifting landscape – global mobility programs are viewed as an important career development opportunity, and a tangible employee benefit. Well-run mobility programs not only help attract mobile millennial talent, but also retain long-term contributors searching for their next move and have an overall positive impact upon employee satisfaction levels (source: HRO Today).
Compliance is a first-line concern when designing a high-impact mobility program. With caution dictating policy across the world, the risk of noncompliance with evolving tax and legal immigration requirements is increased for businesses of all sizes. While companies must balance cost efficiency, talent strategy and growth objectives, they should also review existing schemes and planned initiatives to ensure that they are meeting their duty of care.
The good, the bad, and the noncompliant
Global mobility programs are an important part of the talent strategy and employer branding for many companies. However, a global mobility program's ROI is only as good as the overall experience for the employees concerned.
Compliance plays a critical part in guaranteeing a smooth process, and clarifying roles and responsibilities for employers and employees alike. Unfortunately, the potential of tax, legal and regulatory noncompliance increases the larger a globally mobile workforce becomes.
A resilient internal immigration infrastructure, complete with development and location-specific processes, compliance guidelines and risk management strategies and manuals across work-related and business-traveller visas, is critical to deliver a seamless experience for mobile employees.
When designing or reviewing their global mobility strategies companies can employ a number of best practices:
Making risk awareness an integral part of the process: from reviewing risks related to specific projects or locations to enhancing general awareness in relation to regulatory compliance, it is important to integrate risk awareness into a company's (and its employees') way of thinking.

Applying 'compliance by design' to processes and systems. An example of this practice is exercising duty of care in relation to business travel, and ensuring that appropriate visa arrangements are made, and that the employees in question are aware of their obligations.

Using technology platforms to improve compliance and reporting, particularly in relation to work visas and ongoing expat agreements. Technology can deliver enhanced compliance and cost efficiency through streamlined processes, timely reminders and clear reporting.

Citizens of nowhere
While global mobility programs remain all-time favourites for businesses and their employees, the global regulatory landscape is evolving in a different direction. Developed and emerging economies alike are taking an increasingly cautious stance when it comes to immigration.
In Australia, the Prime Minister announced on April 18, 2017 that the 457 visa will be abolished and replaced with a new Temporary Skill Shortage (TSS) visa starting March 2018. The main changes include the removal of 216 occupations from the skilled list, the introduction of caveats for a further 59 occupations which have been maintained, and the removal of the residency pathway for short-term streams visa holders. Language testing and penal clearance certificate requirements will apply to all applicants. You can access more information regarding the changes here. The modifications are expected to impact certain industries in the short- to medium-term, with technology and natural resources companies particularly vulnerable, and start-ups across all fields potentially needing to consider different recruitment strategies.
The US is tightening its requirements for H1B visas and is more strictly deporting aliens who overstay lawfully granted entry visas. Both of these directly impact globally mobile employees who work in or visit the United States. The H1B is the most commonly used visa for business visitors to the US. It primarily only requires employer sponsorship to be approved. It has long been capped in numbers issued annually. However, under the new Trump administration, efforts are underway in the future to lower the cap numbers (fewer visas issued) and to apply heightened scrutiny to each application. In addition, the Trump administration has begun more strictly enforcing US immigration laws and has been rounding up aliens who have overstayed lawfully issued visas and permanently deporting them. This means that multinational employers who regularly place non-citizens into the US for work will now need to plan further ahead, make sure that their workers do not overstay any visas (even if done innocently), and work with mobility counsel to ensure visa approvals and legal compliance with these developing new requirements.
Canada has recently released new provisions whereby, in certain circumstances, foreign nationals can work in Canada up to 30 days per year without a work permit. It is essential that global mobility professionals not only evaluate whether a foreign national is a business visitor or a worker, but also select the most expeditious and least onerous application category when a work permit is required. The penalties for non-compliance with the Immigration rules can result in fines to the company and exclusion of the foreign national from Canada for up to two years, as well as the company name appearing on a public 'black list' of employers.
At this time foreign nationals who enter Canada temporarily to provide employment-related services require a work permit unless they fit into one of the specifically enumerated criteria for entry as a business visitor. The challenge is differentiating between business and employment activities. The common misconception held by companies is that if the foreign national is not being paid in Canada, then he/she is automatically a business visitor. In fact, the most important criteria in determining whether an individual is a business visitor or requires a work permit is an analysis of the actual duties to be performed in Canada – not the source of remuneration, duration of entry or nationality of the individual.
If a foreign national undertakes a work activity, then a work permit is required. Clear examples of functions requiring a work permit include a foreign-based employee who holds a title within a Canadian office, has direct reports in Canada, or provides direction to a Canadian office. This captures senior managers who have cross-border managerial responsibility for employees or a function. Also included are foreign management consultants engaged on a project for a Canadian client. Once it is determined that a work permit is required, then the appropriate work permit category must be selected. There are over twenty work permit categories, each with its own procedure, processing time and documentation requirements. It is extremely important that the appropriate and most expedient category be selected.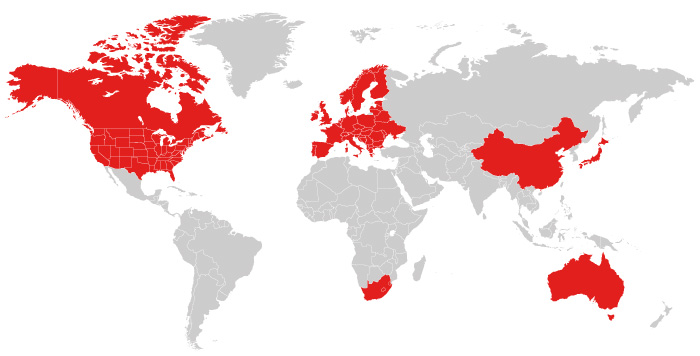 Brexit is expected to impact immigration regulation on both sides of the Channel. The rights of EU citizens to live and work in the UK and of UK citizens to live and work in the EU will be affected. In its recent Policy Paper (updated May 2017), the UK Government Department for Exiting the EU has reiterated that it wishes to secure the status of EU citizens who are already living in the UK and that of UK nationals living in the other Member States as early as possible in the withdrawal negotiations, and to reach a reciprocal deal with its European partners. However, there is a danger that following Brexit, immigrations rules and rights of residence may become more complex as between the UK and the EU and, going forward, there will not be unrestricted freedom of movement as is currently the case.
The APAC region is the only one to display a variation in trend. While Singapore has recently reviewed its immigration policy in order to impose more stringent qualifications and salary requirements upon applicants, North Asia is relaxing its stance, with Japan taking timid steps towards a more expat-friendly framework (source: Business Insider), and China announcing a series of policies designed to attract foreign talent (source: The Diplomat).
In South Africa, the Department of Home Affairs has indicated that it is in the process of overhauling its policies on international migration. The Department of Home Affairs recently presented a progress report towards its white paper on international migration. The existing policy does not enable South Africa to adequately embrace global opportunities while protecting national security. In line with global immigration trends, visa holders would no longer automatically qualify for permanent residence and ultimately citizenship based simply upon the number of years spent in the country. Instead, the proposed policy will focus on attracting and retaining high-valued migrants. Permanent residency and citizenship can be used as tools to attract skilled migrants, including international students graduating with critical skills. The proposed policy seeks to work towards the African Union's '2063 vision', which supports the ideal of an Africa whose citizens can move freely across national borders, where intra-Africa trade is encouraged, and greater integration of the African continent is achieved.
Mobile employees or mobile ways of working?
Taking into account the shifting regulatory landscape, as well as increasing cost and profitability pressures, companies need to keep an open mind when it comes to their talent attraction and retention strategies.
When it comes to global mobility programs, traditional long-term assignments are becoming scarce, with preference being given to permanent relocation or short-term assignments. Since each option presents different tax, immigration and legal requirements, a close look at the compliance and cost aspects is recommended.
Actively influencing policy is another strategy, and appears to be favoured by start-ups in Australia (source: InnovationAus). The new Temporary Skill Shortage visa program occupation list will be reviewed by the Department of Education on a biannual basis – this provides companies in all sectors, and particularly those active in the fast-moving technology, research and energy industries, with the opportunity to contribute their views in shaping medium and long-term policy. Specifically, new occupations such as 'growth hacker', that have not been included in the list yet are critical in order to keep Australian businesses competitive, could be suggested for consideration by policymakers.
Independent of the talent strategy selected by each organisation, compliance should remain core to global mobility program design and application, with regular reviews and reporting incorporated into the process design.
To find out more about our global risk advisory offering, please visit our RiskReady microsite.