---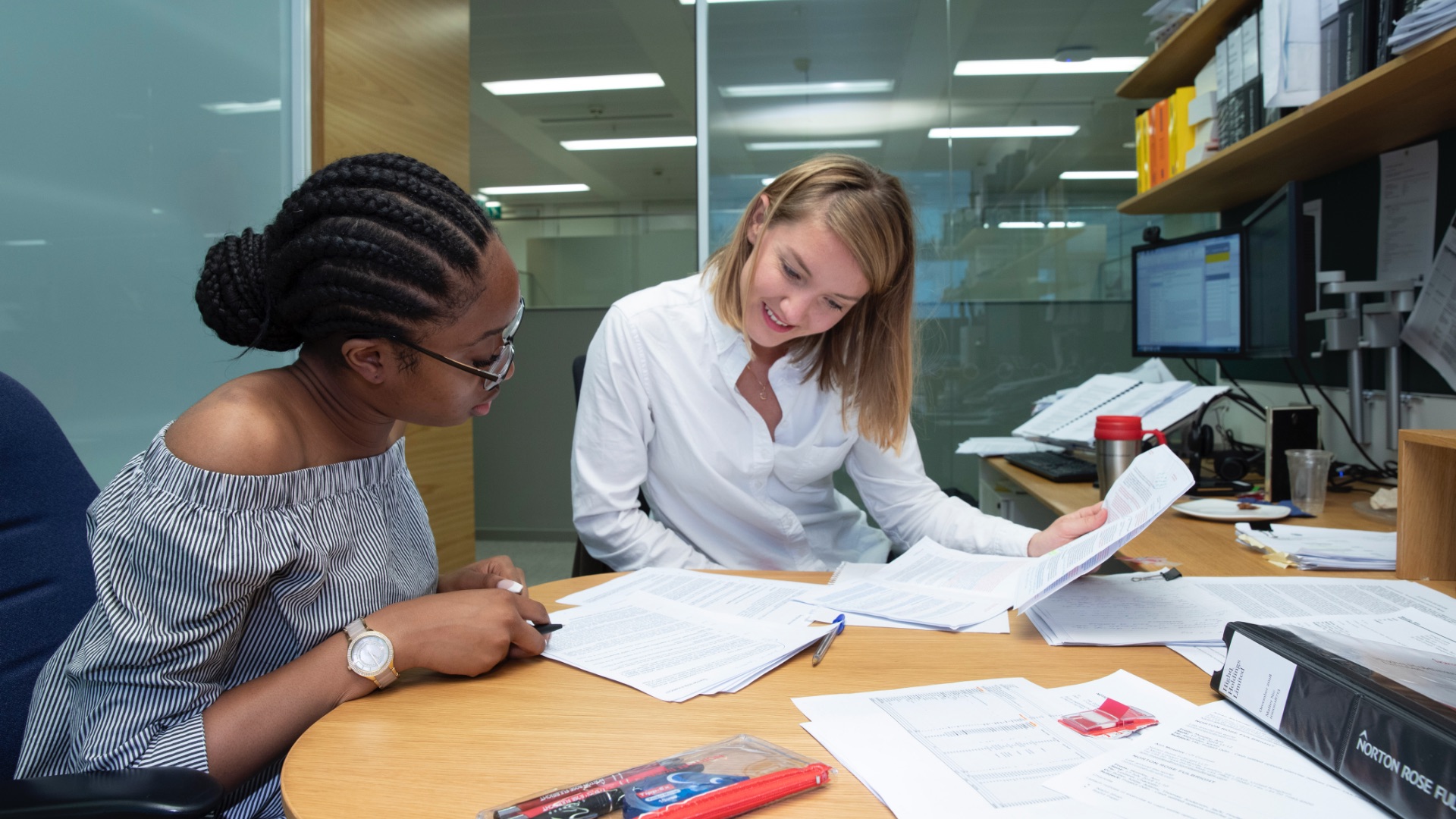 We all think we know what a law career is. But from the outside, it's hard to picture exactly what work will fill your day. Whether you're coming to us as a trainee, a vacation schemer, or a First Step student, here's what you'll work on, from the everyday aspects to the more amazing ones.
"Your work is very varied. In my advisory seat I attended inquests, wrote articles, prepared witnesses. You become expert in lots of little areas."
- SALLY, FOURTH-SEAT TRAINEE
What does a trainee commercial lawyer do?
Beyond what we've all seen on TV or learned at university, what's involved in a trainee commercial lawyer's day? Here are just some of the tasks our trainees perform daily:
Managing the Conditions Precedent process
Making sure that clients provide the documents required to complete a transaction.
Research for projects and deals
Helping colleagues and clients get up to speed in unfamiliar territory.
Research for new bids
Helping the firm pitch for new business with new and existing clients.
Due diligence
Reviewing businesses and assets to assess financial condition and spot any red flags or information gaps.
Drafting, reviewing and circulating documents
Making sure your team and your clients are abreast of new developments.
Preparing a deal for close
Making the arrangements for a deal to be signed and sealed, often on an international scale.
What we've worked on
We spoke to our trainees about some of the most memorable work they've been involved with:
"I worked on a finance deal that involved six banks, counsels in different legal jurisdictions and a variety of departments across the firm. It wasn't straightforward, but I was trusted to manage a major part of the process."
- THEON, FIRST-SEAT TRAINEE
"I was involved in the merger of two goldmining companies which, at £18billion, was one of the largest Merger & Acquisition deals we've ever done."
- STEPHANIE, THIRD-SEAT TRAINEE
"We handled a big, ongoing investigation into various household-name companies that were accused of being involved in an anti-competitive cartel. I helped sift through all the documents for evidence."
- GEORGIA, SECOND-SEAT TRAINEE
"I worked on a large, cutting-edge transaction that involved the sale of a number of aircraft to a well-known airline. It meant a great deal of contact with the client – I was seeing them every day in the office."
- CHARLES, SECOND-SEAT TRAINEE
"I helped restructure a large construction company that was in danger of going into administration. It was a great feeling when the deal went through, and a bonus to see it on the news."
- DANIEL, SECOND-SEAT TRAINEE
Our practice areas
The kind of work you do will vary, depending on what practice area you're working within in each seat. Find out about the ones we specialise in:
Antitrust and competition
Combining merger control and non-transactional practices, we're highly regarded for our expertise in anti-trust and competition.
Banking and finance
Whether it's banks or sovereign entities, the world's biggest financial institutions turn to us for a comprehensive range of services.
Corporate, M&A and securities
Here, you'll find our teams' knowledge and capability at play in complex domestic, cross-border and multi-jurisdictional transactions.
Dispute resolution and litigation
Advising world-leading businesses, we're capable hands in disputes, multi-jurisdictional mandates and international arbitration, in all sectors.
Employment and labour
We cover all aspects of contentious and non-contentious employment and labour law, from the most sensitive severance issues to global share plans.
Intellectual property
Our extensive experience here sees us navigate everything from registration to commercialisation and enforcement – all with insight and agility.
Real estate
Innovative development. Regeneration. Property finance transactions. Our real estate work is complex and varied, covering all kinds of projects and disputes.
Regulation and investigations
Regulation and enforcement by regulators are foremost matters for any business. Our combined expertise helps clients respond positively, all over the world.
Risk advisory
Crossing all industries, our global risk advisory group brings impressive experience to bear, embedding risk management and mitigation in our clients' working practices.
Tax
In our tax planning, investigation and litigation services, clients of all sizes rely on our flexibility, our comprehensive knowledge, and our international reach.
Explore your first deals
In the vast majority of your seats, you'll find that your work revolves around particular deals. So what does a deal really mean beyond the handshake? This is where you find out.
Deconsolidating Barclays Africa
Jess and her supervisor Alan tell you about a deal that involved the biggest book build in South African history.
Masterminding a £18 billion merger
Stephanie and her supervisor Jon talk you through one of the largest cross-border deals we've ever done.
Our people
Here's where you find out what you might be doing day to day from trainees who've been there, done that and moved on to the next challenge.
Pro bono work
You won't just work with our paying clients. You'll also do your first pro bono work at our law centre in Croydon, where you'll provide face-to-face advice and legal aid to those most in need.
Akbar, Fourth-seat trainee
"Pro bono isn't just a fantastic opportunity to give back: it's also a way to gain perspective – every penny counts. You also interact with clients, see the more human side of law and come across really interesting scenarios. Recently, I met a mother who wanted to reclaim money paid to a sham modelling agency that her fifteen-year-old son had signed up to. Emotions usually run high because the issues are so personal, which means you have to be very sensitive. After going to the law centre, the trainees usually end up having a post pro bono meal where we discuss what we came across."
Laura, Fourth-seat trainee
"Volunteering at the law centre is really rewarding, and a great way to develop your interpersonal and communication skills. You have to think carefully about how you ask questions as well as about how you respond to the information you receive. It's humbling to know your clients are relying on you to solve their legal problems and hard when you have to give them bad news. I always try to go the extra mile to help them however I can, framing bad news around the various other possibilities and looking to find positives in the approach we take."
Ramzia, First-seat trainee
"I helped a woman who'd had a letter of claim from a debt collector for a debt she denied incurring. Emotions ran high as she explained she was in a financially difficult position and couldn't afford to pay. I've learnt that in these situations it's important to make good use of the limited time by asking the right questions to get the information needed to help your client. In doing so, we found a way to dispute the claim. Helping people who face such challenging situations has made me really appreciate being part of a firm that encourages us to give something back from the very start of our careers."