---
Financial services regulation and COVID-19 video diaries: An update from Brussels
Adapting to change is business as usual: keeping you connected throughout the pandemic
United Kingdom | Video | May 2020 | 07:21
Video Details
Hello. My name is Anna Carrier and I am a member of Norton Rose Fulbright's Financial Services and Regulatory team based in Brussels. In today's edition of our video diaries,
I would like to provide you with a very brief update on what is currently happening in European legislative agenda in the area of financial services. So, as one may expect, COVID-19 outbreak had a very disruptive effect on legislative processes in Brussels, and suffice to say that published in January 2020, the European Commission's work programme, which set up an agenda for the year, became very quickly outdated and some serious reprioritisation exercises had to take place at Commission Services levels in order to update it and allow it to reflect the current priorities. So we are expecting to see the updated version of the work programme being published very soon. But in the meantime, after this moment of very serious disruption and very little work ongoing, we see legislative processes picking up again with new initiatives being published or considered to be published very soon.
So in respect of some of those initiatives, I would maybe characterise them in a very simplistic manner and put them into two different separate categories, one being strictly COVID-19-related, and those are the initiatives which were published or being considered for publication in response to the COVID-19 situation, and there is also another broader set of initiatives which are not related strictly speaking to the COVID-19 situation but are ongoing and progressing on their own pace.
So in respect of the COVID-19-specific initiatives, here we are talking about what we call quick fixes and quick fixes are a set of very targeted and limited amendments to a given legislative act which are aimed at helping a given set of market participants to mitigate the impact of COVID-19 and here what we already have on the agenda is a proposed amendment to capital requirement regulation that was published by the Commission on 28 April and are just currently undergoing legislative review by the European Parliament and by the Council. So here the objective is to help, was to introduce amendments to the CRR framework which will provide incentives for banks to continue lending, to the economy, to market participants, in times of COVID-19 crisis. A set of initiatives is currently ongoing. We're hoping and expecting it to be finalised relatively quickly, potentially end of June, beginning of July. The other quick fix proposal which is currently being considered and is in much earlier stages than the CRR quick fix is potential quick fix to MiFID. Again, same objective, is to help securities market participants to mitigate the impact of COVID-19. Here, discussions are on a much earlier stage. We understand that the Commission initially discussed that with member state experts this week and the focus of those proposed amendments would be on investor protection issues but the content and the timing of the proposal is obviously remains to be confirmed. Just one thing to note here is that if and when it happens, this MiFID quick fix is something separate to the much broader and comprehensive review of MiFID II and MiFIR which is currently underway and which is going to continue throughout this year.
So in terms of proposals and initiatives which are not strictly speaking COVID-19 related, I would like to mention two: one includes the potential amendments to European benchmarks regulation and with this review being currently fairly well advanced and underway and we understand that this proposal is likely to be published as soon as end of June, beginning of July. Content mainly focused on issues relating to critical benchmarks and facilitating IBOR transitions but also most likely including amendments to other provisions of the BMR such as third countries regime and others. So again, quite accelerated timeframe and we are expecting to see the proposal very shortly.
The final proposal which I would like to mention here is completely new, it's a completely new area and an area in which there is currently no European legislation and that includes potential European legislative and regulatory framework for markets in cryptoassets. Again, the European Commission completed a public consultation on their proposed area this year and we are expecting the legislative proposal to be published towards Q3 of this year. Currently the Commission Services are hosting a series of roundtables with external stakeholders and there are also going to be discussions between the Commission and member state experts. So this is something which is progressing quite fast and, as I said, Q3 is the aim for the legislative proposal to be published.
As you can see there is no shortage of issues currently being discussed at European level. Obviously what I have just discussed is just a very small sample and is by no means exhaustive, there are very many other issues and initiatives ongoing, but I will stop here and I hope to come back with a further set of updates very shortly but in the meantime, if you do have any questions please do not hesitate to contact me or any member of the team. Thank you for your attention and stay safe.
In our latest financial services video diary Anna Carrier delivers an update from Brussels regarding the latest legislative developments in financial services at a European level.
Contact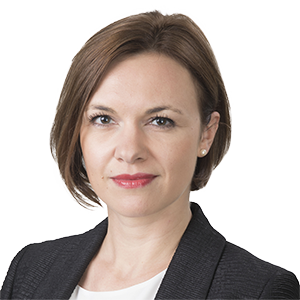 Senior Government and Regulatory Affairs Advisor